Getting a puppy
Where a puppy is born and raised has a huge impact on their future health and happiness. From April 2020, there will be a ban on third-party sales of puppies under Lucy's Law. This will help owners to find more trustworthy breeders and healthy puppies.
When you're getting a puppy, remember to always ask yourself, 'who's the person behind the pet?'.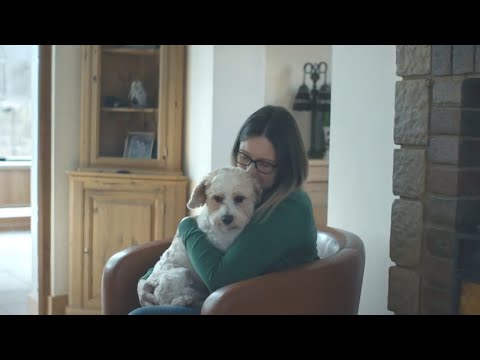 Video found at youtu.be/vpBjwBwRdFs
One of the most important things to do before you buy a puppy is download the free Puppy Contract and Puppy Information Pack. Supported by PDSA, veterinary organisations and other charities, these will help protect you against getting an unwell, puppy farmed or illegally imported puppy, and make sure you get a dog that is healthy and happy.
If you're thinking about getting a puppy, follow these steps put together by our vets. This advice is designed to help you avoid unintentionally buying a puppy from a puppy farm, or a puppy that has been brought up in an inappropriate environment:
Make sure you see the full litter of puppies with their mother and, if possible, their father. They should be interacting normally and the mother should be interested in the puppies. It isn't unusual for puppy farmed puppies to be moved into homes for sale and placed with a fake mother who has no interest in the litter.
Visit the breeder at least twice to interact with the puppies.
Puppies who are not yet fully weaned (around 7 weeks) should still be suckling from the mother.
The puppies should be bright, alert and clean.
Look our for signs of any potential health problems, including discharge from nostrils or eyes, snuffling or coughing or poor skin and coat.
The breeder should allow you to handle all of the puppies and the parents should be friendly and good with people.
Make sure the puppies have been raised in the home and not in an outdoor kennel or off-site. Some will just be brought in for viewing but ask to see where they have been brought up.
Make sure the breeder has been worming the mother and puppies properly. Ask whether the puppies will be vaccinated at 8 weeks before being purchased.
Reputable breeders will be willing to answer all of the questions in the Puppy Information Pack and to sign the Puppy Contract - if they won't, walk away.
There shouldn't be several litters available at the same time – particularly of different breeds. This can be the sign of a puppy farm.
If you are buying a pedigree dog, make sure you are aware of the genetic conditions common in the breed and make sure the breeder has had health tests on the parents. Ask to see the paperwork and check the test results and scores.
The breeder should not be willing to allow the puppies to leave their mum before 8 weeks of age as this can do damage to their social development and welfare.
There will be a ban on third-party puppy sales as of April 2020. Any puppy under six months must be sold directly by the breeder (or rehomed directly from a rehoming shelter). They must also be sold from the place they were born (with mum), which means buyers will be able to see the conditions the pups were raised in.