Lola receives PDSA Commendation for immense courage and determination
Lola the crossbreed was just nine months old when her owner, 28-year-old Laura Mason was attacked while the pair were out walking.
Lola and Laura already enjoyed a very special relationship, but when Laura was attacked, Lola would prove to be more than a loving companion – she would also become Laura's fierce protector.
Laura explains: "I decided to get a dog to help bring me out of my shell. I've suffered with anxiety and depression for a number of years and the effect that Lola has had on me is incredible. She really has changed my life. We quickly got into a lovely habit of going out for walks and the impact of my mental health was dramatic."
But one of those therapeutic walks took a sinister turn, as a man jumped out on Laura and grabbed her by the throat. Laura said: "As soon as the man grabbed hold of me, Lola went for him. She grabbed his trouser leg and was snarling and growling at him. She knew I was in danger and that the man wanted to hurt me. She didn't hesitate. The man managed to shake Lola off – he kicked her, which sent her flying into the air. I couldn't see her but I could hear Lola gasping for breath."
The man then put both hands around Laura's neck and began to tighten his grip, but Lola hadn't finished her protection detail. Laura recalls: "Lola launched at him from nowhere and bit him on the leg, causing him to let go of me. As I ran for my life, Lola stood in the man's path, barking and growling, giving me time to get away.
"The courage and determination she showed that day was incredible."
For Lola's devotion to Laura, she was awarded the PDSA Commendation in May 2018.
PDSA Vet Rebecca Ashman, said: "We see every day the special relationship that exists between pets and their owners. Laura and Lola share a very special bond and Lola's remarkable actions that day undoubtedly saved Laura from further farm. Lola is an extremely worthy recipient of the PDSA commendation."
On Lola's award, Laura said: "Seeing Lola with her award has really helped me deal with this horrid situation. The attack left me low and totally lacking in confidence but Lola has helped me through and I am delighted to celebrate with her. Lola's PDSA Commendation has been a ray of light following a very dark event in my life. She is my everything and I am so proud of her."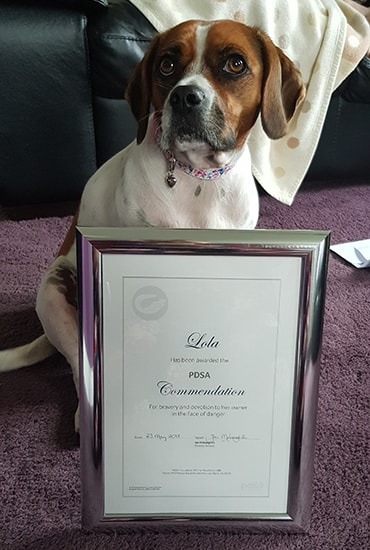 We honour acts of incredible animal bravery with our series of globally recognised medals.
Our awards
Heroes come in all shapes and sizes and the PDSA Commendation aims to celebrate the unparalleled devotion and enrichment that animals bring to our lives.
Read more
Your donations help treat sick and injured pets in need of treatment. Can you donate today and save lives?
Donate