PDSA Dickin Medal for hero dog Chips
Posthumous PDSA Dickin Medal for WWII hero dog Chips
We're delighted to announce that WWII hero dog Chips, has been honoured with a PDSA Dickin Medal for his bravery and devotion to duty during the beach landings in Sicily, 1943.

Husky-crossbreed, Chips, was donated to the newly formed Dogs for Defense (DfD) by the Wren family when the US joined the war. DfD was the K9 Corps created to support the war effort and of the 40,000 dogs that were donated, only 10,000 made the cut, post-training.

Following his training, Chips and his handler, Private Rowell, sailed to French Morocco, where they saw action behind enemy lines. Chips' unrivalled skills were also put to important use when he and his handler were deployed to patrol the Casablanca Conference, where Prime Minister Winston Churchill and US President Franklin D Roosevelt met to discuss the Allied Forces' strategy for the rest of the war. Chips met both leaders while he performed his protection duties.

Chips and Private Rowell were then deployed to Sicily as part of 'Operation Husky', where their platoon was to assist in the invasion of the island.

On 10 July 1943, as Chips lead his platoon ashore under the cover of darkness, the soldiers were attacked on the beach by an enemy machine gun team, hidden in a nearby hut. As the platoon dived for cover, Chips broke free and ran straight for the hut, despite a barrage of gunfire. Private Rowell described what happened next:

"There was an awful lot of noise and the firing stopped. Then I saw one soldier come out of the door with Chips at his throat. I called him off before he could kill the man."

Private Rowell reported that three other enemy soldiers followed, hands above heads.  During the incident, Chips sustained a scalp wound and powder burns, and required treatment for his injuries.  The hut turned out to be a machine-gun nest.

It transpired that Chips had grabbed the machine gun by the barrel and pulled it off its mount. Chips' actions undoubtedly saved the lives of the men in his platoon.

Chips' actions on that day make him a worthy recipient of the PDSA Dickin Medal. His medal was presented by PDSA at the Churchill War Rooms on Monday 15 January, the 75th anniversary of the Casablanca conference.

The PDSA Dickin Medal was introduced by the charity's founder, Maria Dickin CBE, in 1943. It is the highest award any animal can achieve while serving in military conflict.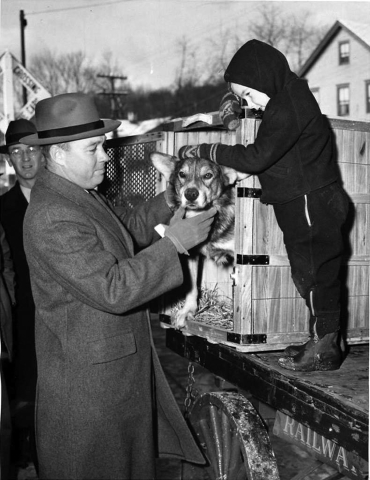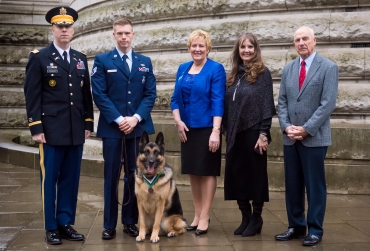 Your donations help treat sick and injured pets in need of treatment. Can you donate today and save lives?
Make a donation
Read more about US army dog, Chips, and his PDSA Dickin Medal for bravery and devotion to duty
Read more about Chips
We honour acts of extraordinary animal bravery with our series of globally recognised medals.
Our Awards