PDSA Dickin Medal for Lucca
We're really proud to announce that Lucca, a retired US Marine Corp dog, has been awarded the PDSA Dickin Medal – the animal equivalent of the Victoria Cross.
During her six years of active service, Lucca successfully completed 400 separate missions and her skills as a search and rescue dog protected the lives of thousands of troops. Lucca and her handler were at the front of patrols to ensure the safety of those behind them. Thanks to Lucca's skills there were no human causalities during any of her patrols.
On her final patrol on March 23 2012 an IED detonated underneath Lucca, resulting in the loss of her leg.
Cpl Rodriguez, said: "The explosion was huge and I immediately feared the worst for Lucca. I ran to her and saw her struggling to get up. I picked her up and ran to the shelter of a nearby tree line; applied a tourniquet to her injured leg and called the medics to collect us. I stayed with her constantly throughout her operation and her recovery. She had saved my life on so many occasions – I had to make sure that I was there for her when she needed me."
Through all of her emergency treatment and recovery, Cpl Rodriguez never left Lucca's side.
Lieutenant Colonel Abby DuBaree from the Royal Army Veterinary Corps, said: "Lucca's story has become famous in the US and I am so pleased that PDSA is honoring her contribution to the military campaigns in both Iraq and Afghanistan."
Lucca is now retired and lives with Gunnery Sergeant Chris Willingham (pictured), who she served with in Afghanistan, and his family in California. Chris Willingham, said: "Lucca is very intelligent, loyal and had an amazing drive for work as a search dog. She is the only reason I made it home to my family and I am fortunate to have served with her…Today, I do my best to keep her spoiled in her well-deserved retirement."
In a special ceremony at Wellington Barracks, London, Lucca became the 67th recipient of the PDSA Dickin Medal. She is the first U.S. Marine Corps dog to receive the esteemed honour.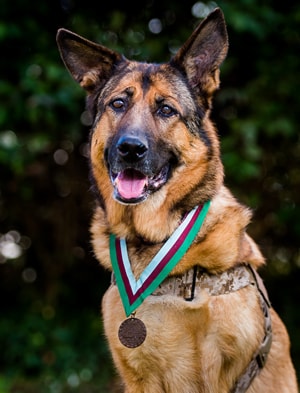 We honour acts of extraordinary animal bravery and devotion with our series of globally recognised medals.
About our awards