Simon - PDSA Dickin Medal 54
Date of award: 1949
"Served on HMS Amethyst during the Yangtse Incident, disposing of many rats though wounded by shell blast. Throughout the incident his behaviour was of the highest order, although the blast was capable of making a hole over a foot in diameter in a steel plate."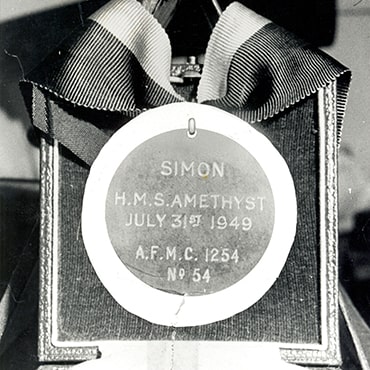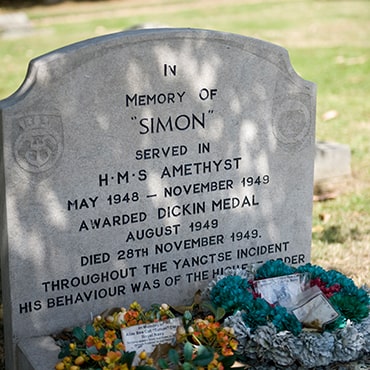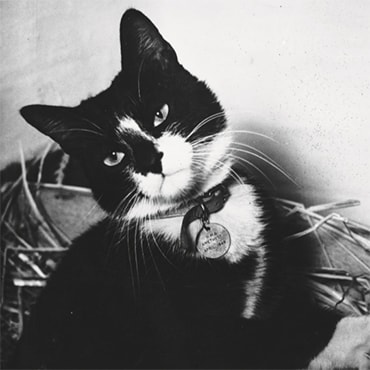 Simon's story
In the summer of 1949, at the height of the Chinese Civil War, HMS Amethyst came under People's Liberation Army artillery fire while cruising along the Yangtze river. The ship's captain, Lieutenant Commander Skinner, died when an artillery shell blew a 15-foot hole in the bulkhead and many others were injured, including the ship's cat, Simon.
HMS Amethyst received more than 50 direct hits and despite the efforts of a passing Navy Frigate to pull it to safety, the ship and the crew members left on board ended up stranded in mid-river for almost 10 weeks.
Hot, humid conditions were the perfect breeding ground for a rat infestation. The already limited food supplies were in danger of being completely destroyed. Despite shrapnel wounds to his legs and burns to his back and face, Simon was all that stood between the rats and the crew's essential supplies.
The rats were big and fierce, and had even attacked crew members, but this didn't stop Simon from hunting them down. One particularly vicious rat, nicknamed Mao Tse-tung, carried out repeated attacks on the meagre food supplies. When Simon killed it, the crew were so impressed they promoted Simon to 'Able Seaman' in recognition of his achievement.
As the weeks went by, Simon continued protecting supplies and lifting his injured shipmates' morale when accompanying the Maintenance Officer on his daily rounds. Simon later received the Amethyst campaign ribbon for 'distinguished and meritorious service… single-handedly and unarmed stalk down and destroy 'Moa Tse-tung' a rat guilty of raiding food supplies which were critically short. Be it further known that from April 22 to August 4, you did rid HMS Amethyst of pestilence and vermin, with unrelenting faithfulness'.
We know animals are incredible, which is why the PDSA Animal Awards Programme helps to recognise the amazing contributions our four-legged friends make.
Our awards programme
Every day our vets and nurses care for thousands of sick and injured pets whose owners can't afford veterinary treatment. Your support will help us continue our vital work.
Donate today
We work tirelessly to save the lives of pets in need, prevent their pain and unnecessary suffering.
Meet our pet patients