Diesel
Diesel - an extraordinary family dog from Dartmouth, Devon, has become the latest recipient of the PDSA Gold Medal – the animals' George Cross. His award comes after he woke his family, saving their lives, when a terrifying fire ripped through their home.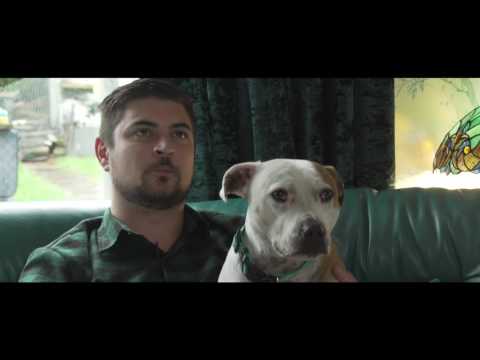 Video found at youtu.be/_dgMU4OD_bI
Diesel's story
During the early hours of Saturday 28 May 2016, Jordan Ash (25) was woken by his dog, Diesel, who had been sleeping at the foot of his bed. Diesel – who was rescued by the Ash family after being abandoned when just months old – was barking, scratching and pulling at the duvet, desperate to wake his owner.
Jordan immediately knew something was seriously wrong, as Diesel's behaviour was so out of character. He is usually very calm and relaxed, rarely barking.
Jordan got up to take him downstairs but, on opening his bedroom door, he was met with a wall of flames only six feet away. He raced to wake up his parents, Chris (50) and Tina (54), shutting Diesel in his room to keep him safe.
Unable to use the stairs due to the fire, Jordan helped them escape through a small bedroom window over the kitchen roof.
Once they were safe he went back to collect Diesel. At this point he was almost overcome with the smoke and acrid fumes but managed to reach him. He passed Diesel through the open window to his dad and they all climbed down to safety.
The family later discovered that the fire had been caused when their fridge freezer, located under the stairs, caught alight. It caused 60% fire damage and 90% smoke damage to their home. They weren't able to move back in for ten months. Their smoke alarm had been temporary removed while they decorated.
Jordan said: "I like to think it was his way of repaying us for rescuing him. Staffies have such a bad reputation but he has the most lovely, placid nature. Diesel undoubtedly saved our lives that night, without him I wouldn't be standing here today and I will be forever grateful.
Award Reaction
PDSA Director General Jan McLoughlin said: "We are proud that Diesel has become the latest recipient of the PDSA Gold Medal. His determination and bravery in the face of a terrifying situation shows unwavering devotion to his family."
"He joins an honourable line-up of dogs who, in their own unique and individual ways, have displayed incredible bravery and outstanding devotion."
On-call Crew Manager at Devon and Somerset Fire and Rescue Service, Andy Callan, added: "The fire caused extensive damage to the family's home, blocking the staircase, meaning they were trapped on the first floor. When we arrived they had escaped from an upstairs window and needed medical treatment for smoke inhalation. Carbon monoxide takes effect incredibly quickly - just a few more minutes breathing in the toxic fumes and Diesel may not have been able to wake them. It shows the importance of having a working smoke alarm. Had Diesel not acted so quickly and woken Jordan that night, the family wouldn't be with us today."
At PDSA, saving, protecting and healing pets is what we're all about – by educating owners, preventing disease and carrying out life-saving operations.
Find out more
We honour acts of extraordinary animal bravery and devotion with our series of globally recognised medals.
More about our awards