Hero dog Bacca receives PDSA Gold Medal for life-saving actions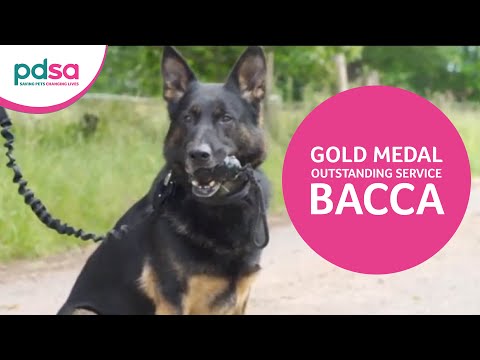 Video found at youtu.be/zNz2VvIUHBU
In the early hours of Wednesday 6 June 2018, West Mercia Police received reports of a man smashing shop windows and acting in a violent, unpredictable manner, in Bromyard High Street.
PC Mike Davey and PD Bacca arrived on the scene minutes later, along with a first response unit.
On seeing the Police arrive, the assailant began wielding a large knife. Officers noted that he appeared extremely distressed. He refused to engage with PC Davey and it was the Officer's opinion that the man was intent on inflicting serious harm to anyone in his path. Though late at night, there were several members of the public close by.
The man then started to hack at his neck with the knife, in a clear attempt to take his own life. PC Davey released PD Bacca, in an attempt to disarm him. He immediately attacked PD Bacca with the knife, slashing and hacking at his head. Officers used Parva spray to incapacitate the suspect but it had no effect and he continued his attack.
A violent struggle ensued in which both PC Davey and PD Bacca received several knife wounds.
Following the skirmish, the man managed to break free and run down a nearby alleyway. PC Davey and PD Bacca gave chase and PD Bacca wrestled him to the ground, incurring further stab wounds in the process. Again, the man freed himself but PD Bacca caught him and brought him to the ground again. PD Bacca detained him until PC Davey successfully disarmed and handcuffed him.
PD Bacca, who is now retired from the Force, sustained eight wounds to his head and neck, which required emergency veterinary treatment including stitches following the incident.  PC Davey also required medical attention to a deep wound on his hand.
Without question, his courageous and professional actions make him a worthy recipient of his PDSA Gold Medal, which was presented at a ceremony at Birmingham Repertory Theatre on 26 July 2019.