151 years on: the story of Maria Dickin and PDSA
For over 100 years, PDSA has been helping pets and their owners when they need it most. None of what we do would have ever been possible without our incredible founder, Maria Dickin, who would have been 151 this year.
Maria was one of the leading voices in improving the lives not just of so many animals, but of their owners, too. While doing social work with the poorer people in the East End, she saw how their animals were suffering because they couldn't afford private veterinary care and decided to take action.
We still live and work by Maria's mantra that no animal should suffer. Hear about her incredible story and how PDSA began in her own words: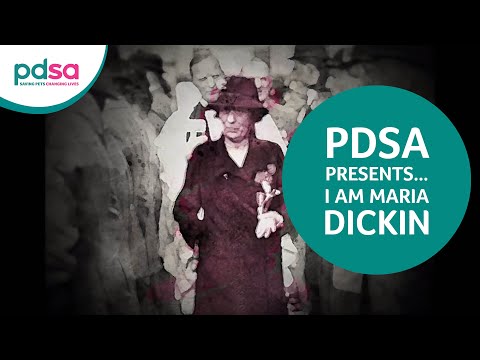 Video found at youtu.be/Q52qaVQmY1g
Learn more about PDSA
Want to learn more about us and our incredible story? Join the PDSA family to receive updates
Maria Dickin's story
Born in 1870 in London, Maria Dickin had always been passionate about helping those in need. When she married in 1899, Maria gave up her job as was expected of her. She was an independent thinker and wanted to help people, so instead of a full-time job Maria decided to put her efforts into social work.
During the war, Maria was visiting the slums in London helping women and children. She was shocked by the level of poverty and wanted to do whatever she could to help.
Up until this point, even Maria would admit she'd never considered that animals could suffer in the same way we could. It wasn't until she saw animals suffering in the slums, their owners too poor to get them veterinary treatment, along with the suffering of her own dog when he fell ill that she realised.
Maria saw no difference between the cry of a suffering animal and the cry of a suffering person. For her, they were one and the same. She decided she couldn't let animals suffer and did something about it.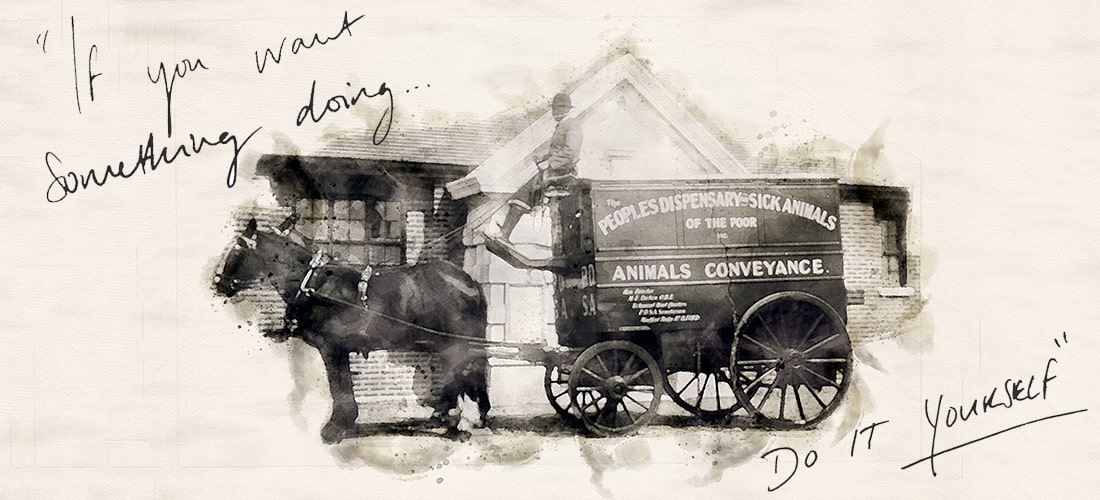 People and pets
Maria was no stranger to how the poor were suffering. After her dog fell ill and having seen the animals in London slums, she couldn't bear the thought that there were animals suffering simply because their owners couldn't afford veterinary treatment.
It was then that Maria founded the People's Dispensary for Sick Animals – the beginnings of the PDSA as we know it today. Not only did she want to stop animals suffering, but she also wanted to help their owners, too.
In 1917, Maria opened the doors to the very first PDSA clinic in a basement in Whitechapel. People needed their animals just as much as their animals needed them and Maria refused to tolerate suffering in any shape or form. She put a sign outside for owners stating:
"Bring your sick animals. Do not let them suffer.
All animals treated. All treatment free."
Despite having no veterinary training, Maria wanted to help as many animals as she could. As word spread, people were queuing for hours with their pets – the service was so popular that Maria soon had to find somewhere bigger. Even though lots of professional vets were against her, she stood her ground and carried on because she knew she was helping people and that PDSA was needed. As Maria said – if you want something doing, do it yourself!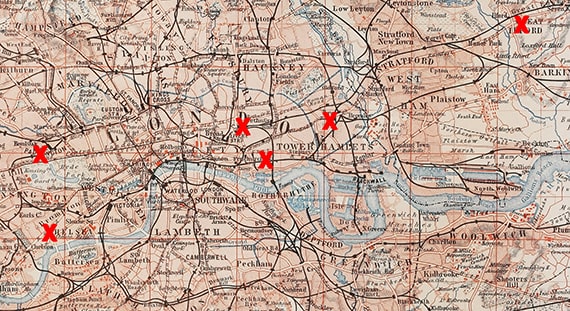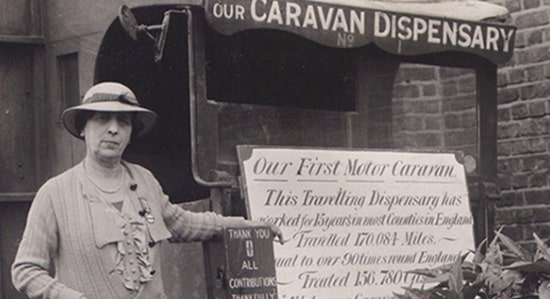 Helping London and beyond
In just four years there were seven PDSA clinics across London, treating around 40,000 animals. It was in these years that the first of PDSA's "mobile clinics" was created from a horse-drawn caravan.
Maria's determination didn't just stop at helping the animals of London. She had a vision of clinics across the UK and further – across the world! In the first 10 years of founding PDSA, Maria saw 57 new clinics created, 3 mobile clinics and over 400,000 sick animals treated between 1926 and 1927 alone.
By now, PDSA was across the UK and in Paris, Romania, Tangier, Egypt, Greece and Palestine. Despite doing battle with the Royal College of Veterinary Surgeons who considered Maria a threat to their livelihoods, Maria continued to work and grow PDSA (after all, her clients couldn't afford vet care anyway!).
Maria wanted to extend her message and passion for helping animals and people beyond her work in the clinics. She set up a training centre for veterinary students in Ilford (where a modern PDSA Pet Hospital now stands) and launched the Busy Bees club for children. Young supporters everywhere were soon learning how to take good care of their pets and helping to fundraise for PDSA.
Not only did Maria want to help animals in need, she also wanted to raise awareness around how important they are in our lives. She founded the PDSA Dickin Medal in 1943 – known as the animals' Victoria Cross – to recognise the importance of our military service animals and the sacrifice they also make.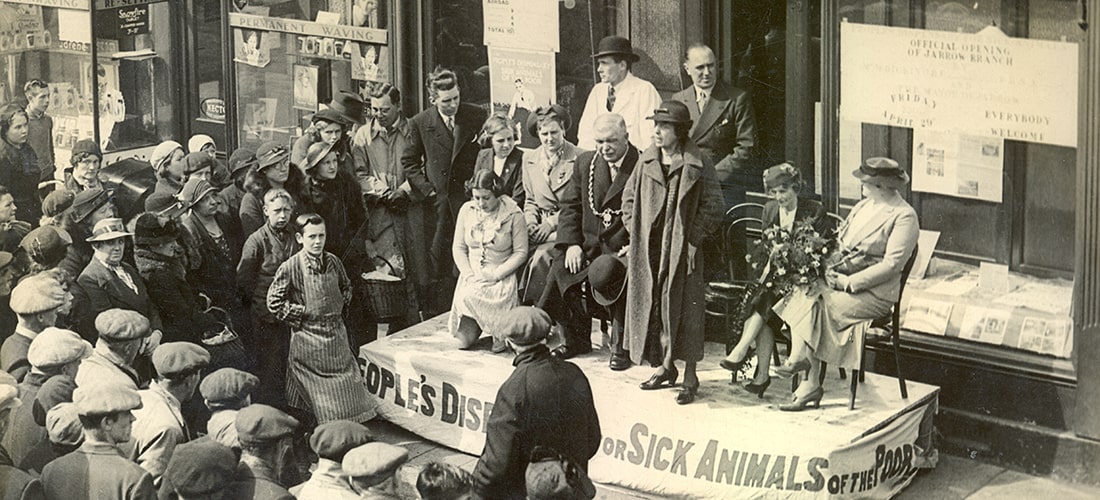 Maria Dickin's legacy
Maria worked hard to help animals and people throughout her life. She helped save more than 250,000 pets injured and lost during the Blitz and established the PDSA Dickin Medal to honour the bravery and devotion of service animals. When Maria sadly passed away in 1951, PDSA was carrying out more than a million treatments every year and had become a leading animal charity.
With the help of our supporters, we are still carrying on Maria's work today. While we might look a bit different, Maria's vision and core values are very much at the heart of everything we do. So while Busy Bees became Pet Protectors, we're still educating young people on how to take great care of their pets. From our 48 Pet Hospitals we're treating thousands of pets in need every year.
While we may seem smaller, there's a bit of Maria in all of us – from our vets and hospital staff, to our office staff, to our volunteers and fundraisers. It's the people that make us and keep Maria's legacy going. Maria is PDSA. We are PDSA.