The PAW Report is the largest annual survey of pet wellbeing in the UK and is demographically representative of dog, cat and rabbit owners.
By working with YouGov, our annual PDSA Animal Wellbeing (PAW) Report is representative of the UK pet owning population. This creates an accurate picture of pet wellbeing across the nation.
The first Report was launched in 2011; this provides us with 13 years of trend data allowing reporting on how owners are meeting the 5 Welfare Needs of their pets, insights from the veterinary profession, and estimates of the UK pet dog, cat and rabbit populations.
Data sources used in the PAW Report:
Annual nationally representative survey of pet owners
Surveys of veterinary professionals
YouGov data on the incidence of pet ownership in the UK (used in the pet population calculations)
ONS data (used in the pet population calculations)
Annual survey of pet owners
In conjunction with YouGov, each year we survey a large and demographically representative sample of UK dog, cat, and rabbit owners using YouGov's panel methodology.
In the latest Report, the survey sample totalled 5,507 cat, dog, and rabbit owners over the age of 18 and living in the UK. Therefore, when talking about 'owners' throughout the Report, we're discussing cat, dog, and rabbit owners, not owners of other types of pets.
The data was gathered between 23 December 2022 and 18 January 2023 through an online survey where demographic quotas are set to ensure data gathered is as nationally representative as possible. Any small errors in the final sample are corrected through weighting where necessary. The demographic quotas and weighting that this method uses are determined by a separate YouGov panel survey of 10,000 UK adults which provides demographic information such as regional breakdowns as well as age and gender profiles of owners.
Survey of veterinary professionals
Periodically we survey veterinary professionals online via an open survey. We repeated this survey in 2023 and collected responses from 745 veterinary surgeons, veterinary nurses, students, nursing support staff, veterinary academics, practice owners, partners and managers.
Fieldwork was undertaken between 6 January and 13 February 2023, hosted by YouGov using an open link. Due to the nature of this survey these figures are not collected in line with any demographic quotas or weighted as per the survey of pet owners. Details of the survey are shared via social media and professional networks to encourage participation. Participants are invited to be entered into a prize draw to win a prize.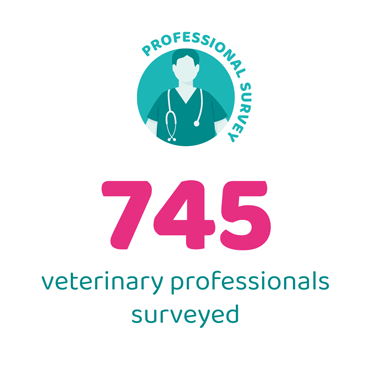 Pet population calculation
We work with YouGov to annually calculate estimates of the pet dog, cat and rabbit populations. Three data sources are used in this calculation:
Separate sampling from the YouGov online survey panel to determine the percentage of UK adults who own each species of pets (n=10,000).
Data from the PAW Report survey of pet owners on the number of pets owned by each owner.
Data from the Office for National Statistics (ONS) on the number of households.
Data presentation
Percentages throughout the Report are rounded to the nearest whole number. Other figures, such as the estimated numbers of pets, are rounded to two significant figures. When calculating these we have taken the total estimated population figure for that species of pet and multiplied it by the percentage taken at two decimal places. The resulting figure is then rounded to two significant figures.
For example, to calculate the estimated number of dogs acquired from abroad:
Estimated dog population (March 2023) = 11 million
Percentage of dogs acquired from abroad = 8.20%
11 million x 8.20% = 902,000
The figure is then rounded and presented as: 900,000 dogs acquired from abroad.
These estimated numbers of pets are calculated by PDSA.
Where differences between figures are communicated (e.g. there is an increase in the proportion of UK adults who own a pet from 51% in Feb 2020 to 53% in 2023) the differences are statistically significant and validated by YouGov (CI 95%, p<0.05).