Belle suffered from ovarian cysts that needed to be removed with careful surgery.
Four-year-old guinea pig, Belle, came to see PDSA vets as she had a hard and swollen tummy. Belle had developed ovarian cysts – large fluid filled sacs, which were extremely painful.
Belle's owner, Matthew McMillan (30), knows the importance of a Guinea Pig's welfare needs, so when he noticed she was squeaking in pain whenever she moved, he called his local PDSA Pet Hospital for advice.
Matthew said: "I could tell something was wrong when Belle wasn't her usual active self and just wanted to hide away. But the real warning signs were that she wasn't drinking and she only wanted to pick at the hay around her.
"Belle lives with a group of four guinea pigs and is very much the leader - the others could also tell something wasn't right too."
Staff at Glasgow Shamrock Street PDSA asked him to bring her in for an examination.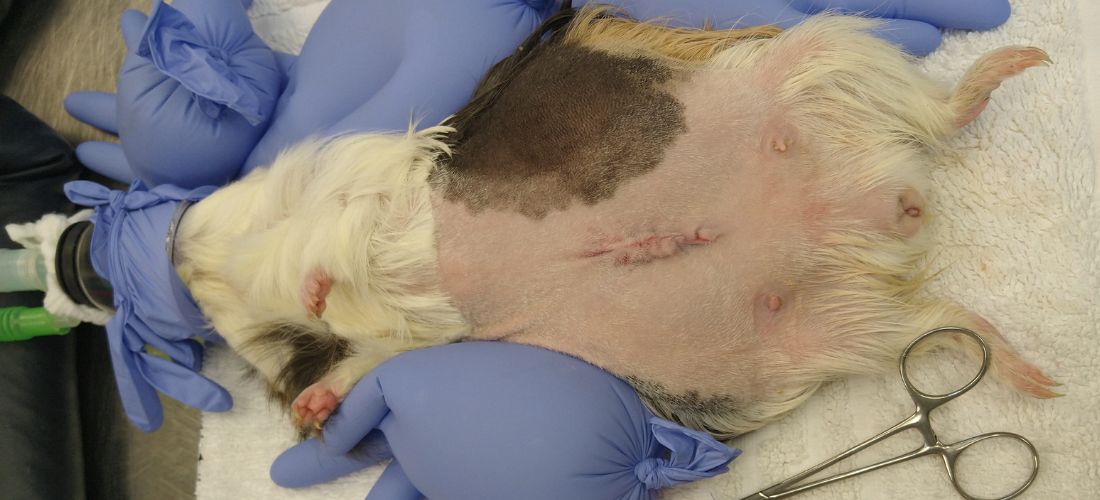 PDSA Vet Olivia Anderson-Nathan said: "When I saw Belle we gave her a thorough examination. I felt a firm mass in her abdomen, which raised suspicions of ovarian cysts. We gave Belle some medication to relieve her pain and discomfort and to support her digestive system to help avoid extra complications, and arranged for further tests once she was stabilised.
"After some X-rays and an ultrasound scan, our suspicions were confirmed as we discovered she had two very large ovaries covered in cysts. She needed an operation called an ovariohysterectomy, which involves the surgical removal of her ovaries and uterus, as the cysts were causing Belle extreme pain.
"Unfortunately, surgery posed a risk to Belle's life due to the anaesthetic and surgical risks guinea pigs face. However this was the best choice for her to relieve her of the symptoms and so her loving owner, Matthew, agreed to the procedure. During the surgery, I found that Belle's ovaries had swollen to become bigger than the average Labrador dog's ovaries! I was amazed that she had been carrying on with them in her tiny abdomen."
Despite the risks, Belle came through the surgery and recovered well. She was discharged home the same day with pain relief and medication to keep her gut moving.
Matthew was advised that during her initial recovery, he would need to keep a close eye on her wound healing and syringe feed her to prevent gut stasis, a condition guinea pigs can be at risk of after any surgery or illness, when the movements of the guts slow down or stop, meaning that food can't move through their digestive tract. This can be very painful and even life-threatening so Matthew was advised to monitor Belle's appetite and poo production closely to make sure things were moving post-op.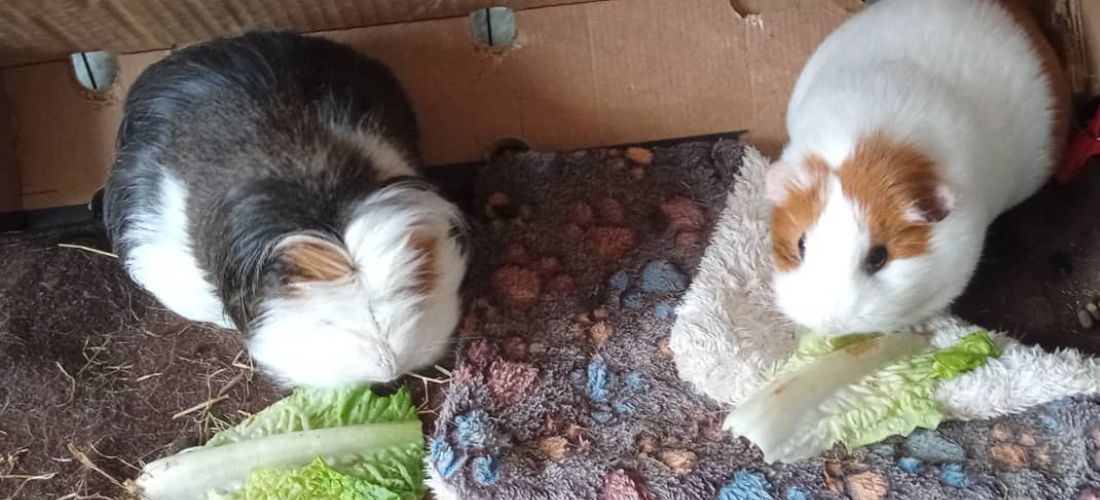 Matthew said: "Since her surgery, Belle has recovered really well at home and is once again enjoying being the leader of her group.
"I would've really struggled to cover the costs of vet bills without PDSA. I'm a student and my sister usually helps cover the costs of the guinea pigs' food and essentials.
"Without the amazing veterinary care from PDSA, it's likely Belle wouldn't have survived. And since she is the leader, who knows what it would have done to the others emotionally. I am really thankful for everything PDSA have done."

PDSA is the UK's leading veterinary charity. Through our 48 Pet Hospitals and Pet Care scheme, we save the lives of poorly pets who would otherwise be left untreated.
Every year, we helped over 388,000 pets. Without us, emergency cases like Belle's would be left untreated and many pets could lose their lives or be separated from families who love them.
We wouldn't be here for rabbits like Belle's without your support. Please consider donating today.

We need your help so we can treat more pets like Belle
Pets who have been there for us deserve somewhere to turn when they need life-saving treatment.
Your support will help us continue to treat pets like Belle
Every £1 donated will help us make sure sick and injured pets get the treatment they desperately need.
Donate to PDSA
Poorly pet?
Get vet-approved advice on common symptoms, conditions and medications for pets on our Pet Health Hub.
Visit the hub
Sign up to our newsletter
Want to read more stories like Belle's, keep up with the latest pet wellbeing news, or perhaps you just want to support PDSA? Get your latest PDSA news with our Newsletter.
Sign up today