PDSA Vets help to manage Bertie's recurring nose problems.
Since 2019, Katrina has brought her beloved family pet Bertie, a five-year-old Welsh Terrier, to Stoke PDSA for ongoing problems with his nose. 
Speaking about Bertie, full-time carer Katrina, from Cheshire, said: "Without a shadow of a doubt, Bertie is the main character in our family… everything revolves around him! He gives the best cuddles and watches everything we do - he's always by our sides like a shadow."
Katrina moved in with her mum, Margaret (79), over four years ago to become her full-time carer. Since then, Katrina has got to know and helped to look after her mum's best friend, Bertie, who provides love and companionship to Margaret. Bertie provides comfort to the family's neighbours too.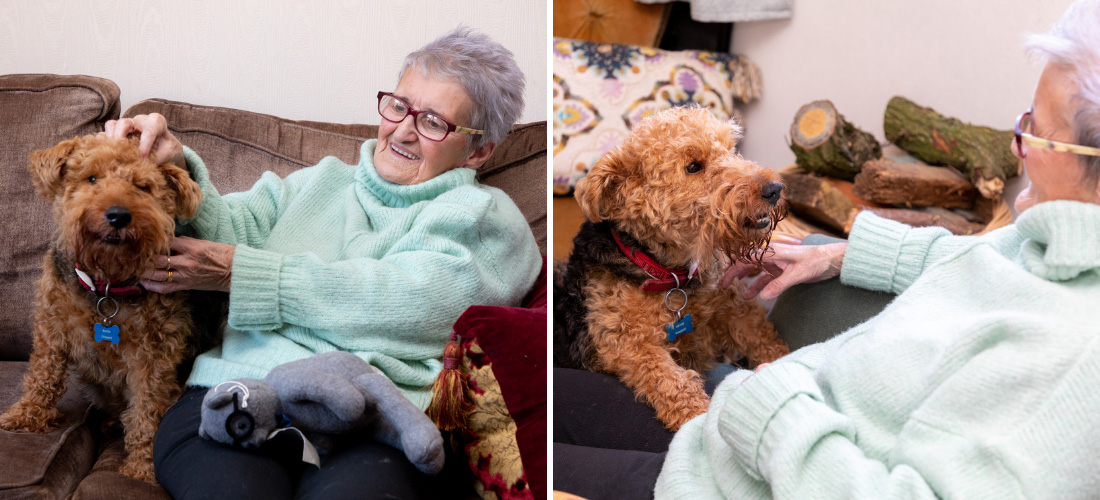 Katrina said: "Our next-door neighbours are elderly, so I visit them often and take Bertie with me – we call them Bertie's Nanny and Grandad. He loves going there because Grandad hand-feeds him treats, and Nanny sings lullabies whilst he falls asleep on her lap. He's adored by everyone who knows him and adores everyone in return."
When PDSA first saw Bertie in 2019, he had discharge from his nose, causing discomfort. At the time, he was admitted for X-rays and an examination of his nose under a general anaesthetic, but no underlying cause was found. Since then, further tests have been carried out to find the cause of the problem, including a blood test for a fungal infection. However, these test results also came back negative.
To help ease Bertie's discomfort when the problems with his nose flare up, his symptoms are controlled with prescribed anti-inflammatory painkillers. Bertie can live with his family happily and healthily thanks to his medication and ongoing check-ups.
A PDSA Vet said: "Although the cause of the discharge is still uncertain, we are pleased that we can treat Bertie's symptoms to make sure he is comfortable at home with his family."
Since Katrina moved in with her mum, she has grown a close bond with Bertie and has helped to care for him by taking him to his appointments at PDSA. 
Katrina said: "When Bertie first became poorly with his nose, PDSA was there for our little family. The initial and continuous support given by the team was life-changing. We wouldn't have been able to afford Bertie's vet bills, which is why we never take PDSA for granted. I always donate what I can every time I'm at the Pet Hospital, and my mum has included a gift in her will to PDSA as her way of saying 'thank you'."
Like so many other pet owners in the UK, Katrina and her family have been impacted by the rising cost of living. To date, the total cost of Bertie's investigations and treatment is over £1,600, which Katrina says they wouldn't have been able to afford without PDSA.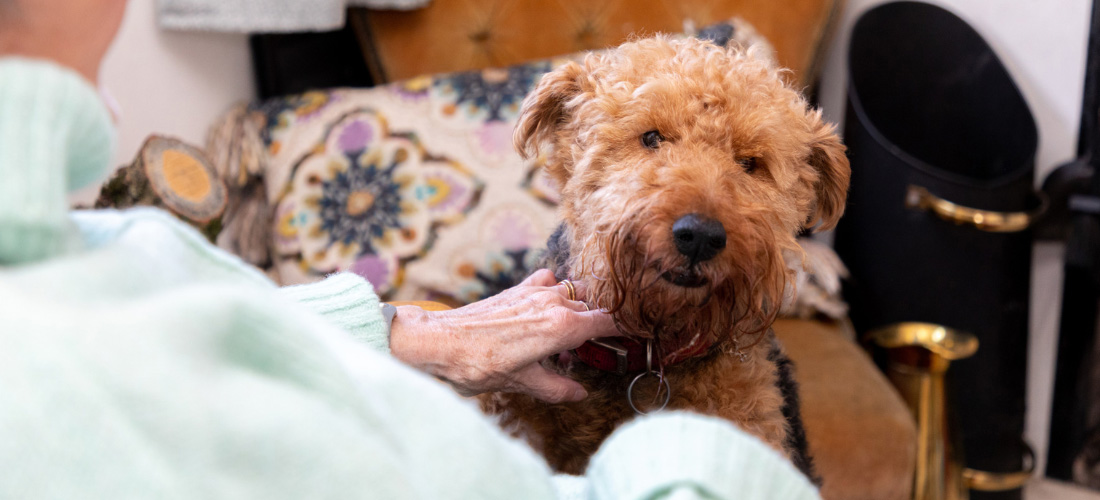 She continued: "We've had to cut back on many things to cope during the cost-of-living crisis. We've held back Bertie's everyday treats; instead, we're bulking out his food with rice and vegetables, which is more cost-effective. Luckily, he loves carrots and sweetcorn.
"Sadly, we know many families will have to make heart-breaking decisions because of what's happening and that pets risk coming last. The support PDSA gives to struggling families is often the lifeline that keeps everybody together – this was certainly the case for me, my mum, and our little Bertie boy."
Total cost of Bertie's treatment (since 2019): £1,640.90 
Monthly cost for Bertie's anti-inflammatory painkiller: £4.58

PDSA is the UK's leading veterinary charity. Through our 48 Pet Hospitals and Pet Care scheme, we save the lives of poorly pets who would otherwise be left untreated.
Every year, we helped over 388,000 pets. Without us, cases like Bertie's would be left untreated and many pets could lose their lives or be separated from families who love them.
We wouldn't be here for dogs like Bertie without your support. Please consider donating today.

Help us be there for pets in need
Pets are family. They don't deserve to suffer or lose their life because of financial hardship.
Your support helps to provide vital vet care to pets in need
Donate now to keep people and pets together during the cost of living crisis.
Donate to PDSA
Will you give now to help people and pets in need?
As the cost-of-living rises, vet care could be out of reach for many. Please donate today so we can help people and pets like Katrina and Bertie. 
Find out more
Low-cost ways to care for your pet
We've put together top tips and advice, such as low-cost activities to do with your pets and health checks you can do yourself at home, which you might find helpful during this difficult time.
Read our advice
Sign up to our newsletter
Want to read more stories like Bertie's, keep up with the latest pet wellbeing news, or perhaps you just want to support PDSA? Get your latest PDSA news with our Newsletter.
Sign up now