Billy, a cute but curious Jack Russell, needed emergency treatment from PDSA after a chicken bone became wedged in his mouth.
When seven-year-old Jack Russell, Billy, managed to get his paws on a chicken bone, his owner Frank knew he needed emergency treatment from PDSA.
After Frank suffered two major heart attacks, rescue dog Billy has transformed his owner's life. Now, with the help of PDSA, Frank has returned the favour after Billy scavenged fragments of a chicken bone from a local barbeque.
Frank (58, from Brighton) was first alerted to his dog's distress when he spotted Billy frantically pawing at his mouth and making a chewing motion. 
He explained: "Billy was in the garden, rubbing his mouth with his paw as if trying to dislodge something. I went outside, and he looked at me straight before rolling onto his side. I immediately realised something was very wrong, so I picked him up and took him to the Pet Hospital, which is luckily not far from where we live." 
 
Despite Frank's swift action, Billy was in a lot of pain by the time they arrived at PDSA Brighton Pet Hospital – his lower lip was bleeding, and he was finding it very difficult to swallow.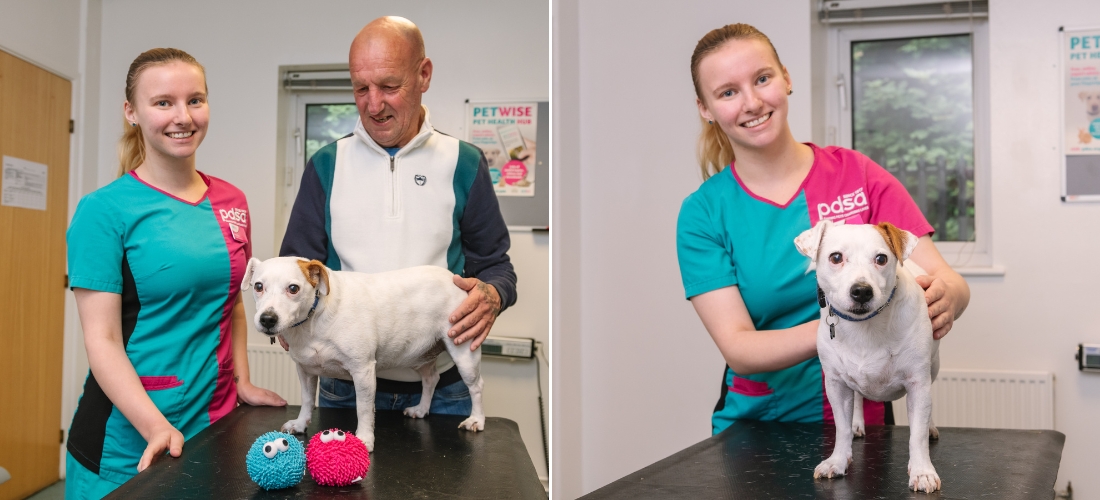 PDSA Vet, Claire Roberts, explained: "Billy was in significant discomfort when he came to the Pet Hospital, and his mouth was so sore that he couldn't be properly examined. However, we could see a bone had become wedged behind his lower back teeth, so he was sedated. Thankfully, the procedure to remove the bone was a success, and there was no damage to his mouth or throat.
"X-rays of Billy's stomach revealed bone fragments, so Frank was advised to feed him bulky food to encourage their safe passage through his digestive system."
Frank said: "The PDSA team was excellent. When we first arrived, they saw Billy was in a lot of pain and told me he needed an emergency procedure, which I agreed to without hesitation. The vet was extremely kind and said he would call me as soon as there was an update. I went home and paced up and down the garden for the next few hours, just waiting for news."
Claire continued: "Billy was extremely lucky that the bone in his mouth and the ones in his stomach didn't cause any serious damage. Cases like this highlight the importance of clearing debris after a barbeque, including skewers, bones, and litter. What may be some harmless fun in the sun for us can easily have disastrous consequences for both pets and wild animals."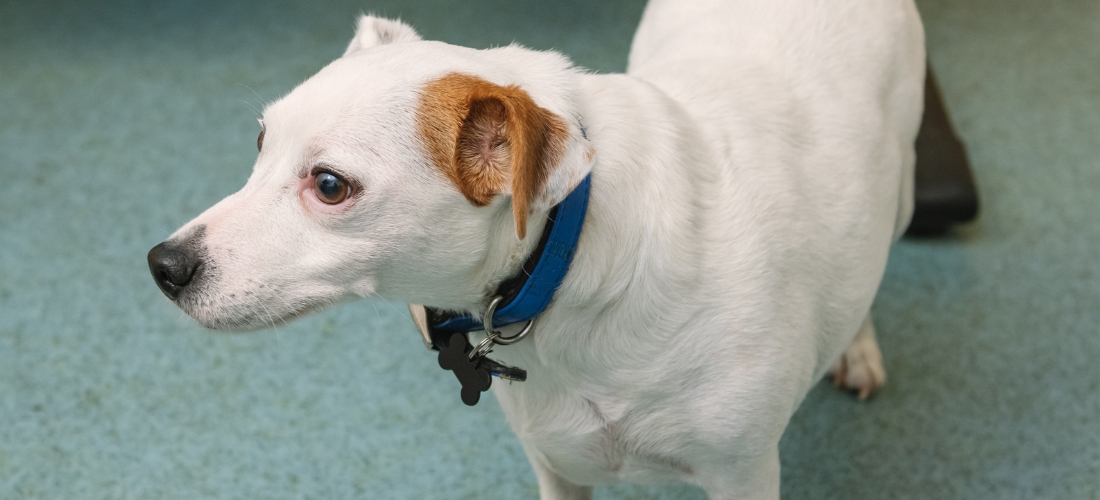 Frank added: "I can't thank PDSA enough for helping Billy - he means the world to me. My circumstances changed dramatically when I had my heart attacks, and the doctor told me I had to give up work. With the rising cost of living and everything going up, it's a weight off my mind to know that I can rely on PDSA to help Billy, should anything go wrong with him.
"Everyone at PDSA Brighton Pet Hospital is so caring and professional – the team always puts the health and welfare of the pet they are treating first, and I know Billy is in safe hands when he is there."

PDSA is the UK's leading veterinary charity. Through our 48 Pet Hospitals and Pet Care scheme, we save the lives of poorly pets who would otherwise be left untreated.
Every year, we helped over 388,000 pets. Without us, emergency cases like Billy's would be left untreated and many pets could lose their lives or be separated from families who love them.
We wouldn't be here for dogs like Billy without your support. Please consider donating today.

Give pets like Billy a fighting chance
Pets who have been there for us during the cost of living crisis deserve somewhere to turn when they need life-saving treatment.
Your help will save pets like Billy
Every £1 donated will help us make sure sick and injured pets get the treatment they desperately need.
Donate to PDSA
Eating issues in dogs
Has your dog stopped eating? Or perhaps they are eating a bit less than usual? Appetites do vary between dogs but if your dog's eating habits have changed it's often a sign of a problem.
Find out more
Caring for your dog
Our vets have tonnes of top tips for looking after your dog.
Find out more
Sign up to our newsletter
Want to read more stories like Billy's, keep up with the latest pet wellbeing news, or perhaps you just want to support PDSA? Get your latest PDSA news with our Newsletter.
Sign up today