Bobby survives deadly skin cancer
PDSA vets saved seven-year-old cat Bobby from skin cancer before it had a chance to spread.
Bobby's owner, Maureen, first noticed something wasn't quite right with her adopted three-legged cat when his ears looked different.
She said: "I noticed the tips of Bobby's ears had started to go black, so I took him to PDSA where they diagnosed skin cancer. They explained that he would need to have the tips of his ears removed to stop it from spreading. I was shocked as I didn't realise cats could get skin cancer."
Bobby needed an operation.
The vet team at Manchester PDSA Pet Hospital operated to remove the tips of Bobby's ears in a procedure known as a partial pinnectomy.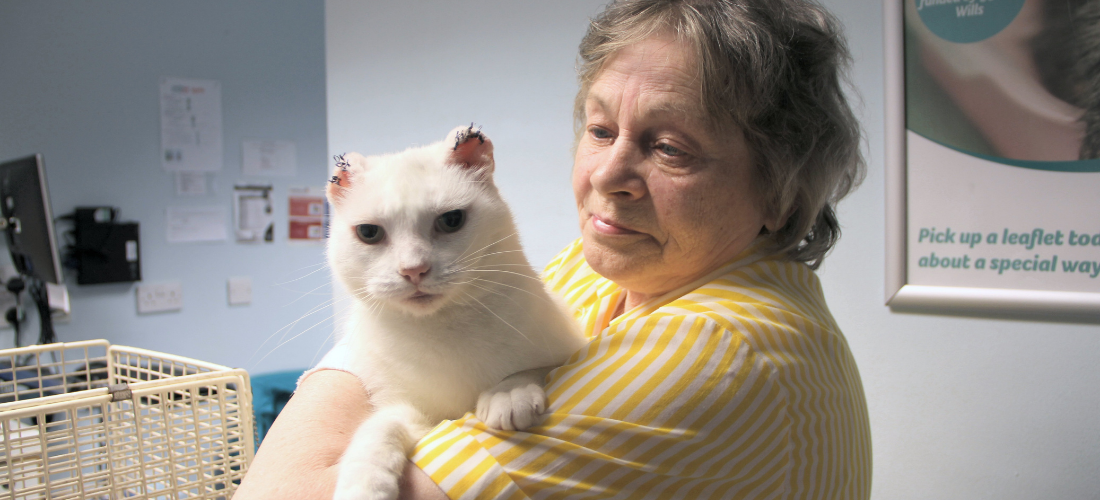 Vet Fiona Buchan, said: "It often comes as a big surprise to owners when they are told their pet has skin cancer because they think their fur acts as a natural sunscreen. White-furred pets like Bobby are at most risk because their skin lacks natural pigmentation which helps to block out the harmful UV rays. Areas with little fur, such as the tips of the ears, also get greater exposure to the sun's UV rays.

"Because Maureen brought Bobby to see us as soon as she spotted the first signs, we were able to operate and remove the cancerous tissue. In the future, keeping Bobby out of the sun as much as possible by providing a safe, shady area for him in the garden and using pet sunscreen will help prevent a recurrence."
PDSA vets successfully operated on Bobby and he was able to go home.
For Maureen, PDSA's free veterinary treatment saved Bobby's life. She adopted Bobby shortly after her husband died, but as a pensioner, she couldn't have afforded the treatment he needed.

Maureen said: "PDSA means the world to me, the vets and nurses in Manchester have kept me and Bobby together and I'm so very grateful."

PDSA is the UK's leading veterinary charity. Through our 48 Pet Hospitals and Pet Care scheme, we save the lives of poorly pets who would otherwise be left untreated.
Every year, we helped over 388,000 pets. Without us, emergency cases like Bobby's would be left untreated and many pets could lose their lives or be separated from families who love them.
We wouldn't be here for cats like Bobby without your support. Please consider donating today.

Give pets like Bobby a fighting chance
Pets who have been there for us during the pandemic deserve somewhere to turn when they need life-saving treatment.
Your help will save pets like Bobby
Every £1 donated will help us make sure sick and injured pets get the treatment they desperately need.
Donate to PDSA
Poorly pet?
Get vet-approved advice on common symptoms, conditions and medications for pets on our Pet Health Hub.
Visit the hub
Sign up to our newsletter
Want to read more stories like Bobby's, keep up with the latest pet wellbeing news, or perhaps you just want to support PDSA? Get your latest PDSA news with our Newsletter.
Sign up today