An 11-month-old puppy, Boomi, needed emergency care after being badly bitten by a larger dog.
When 11-month-old Crossbreed puppy, Boomi, and his owner, Tom (they/them), nipped outside their home for a toilet break, things took an unexpected turn.
Ever since the day Tom, who has autism, brought Boomi home, the two have formed an unbreakable bond.
They said: "Boomi's a cuddly, attention-seeking cutie. He's got those stereotypical puppy dog eyes that he puts on to get belly rubs and ear scratches. He's growing into such a confident and social boy too, which is lovely to watch."
Describing the meaning behind Boomi's name, Tom said: "Boomi's named after a mischievous, fun-loving character in an animated children's show. While my Boomi is still young, I'm sure he'll always have the same cheeky spirit and silly nature, just like his namesake!"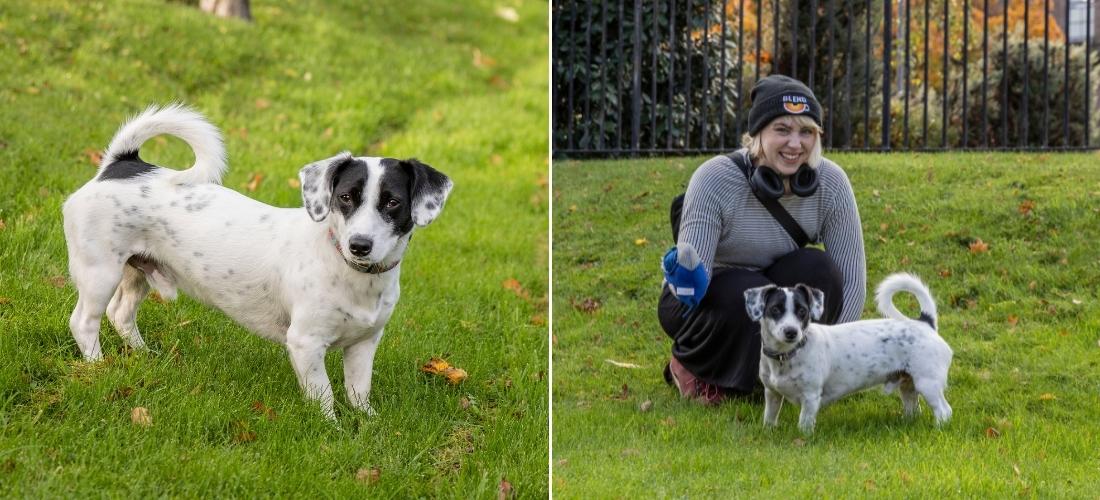 One early evening, Tom and Boomi were outside their home when the tragic incident took place.
They explained: "A large dog saw us from over 15 metres away. He came bounding over with his lead trailing behind and began to jump up at Boomi. I knew we were vulnerable, as the owner of the dog hadn't noticed what was happening. The dog was really trying to get hold of Boomi and eventually managed to sink his teeth in. He began shaking Boomi around in the air. I was frantically holding onto Boomi to try to rescue him despite feeling panicked and scared for my own safety.
"Eventually, the owner managed to restrain his dog with the help of a passer-by. I don't know what I would've done if somebody else hadn't intervened. I immediately scooped Boomi, who was covered in blood and crying out in pain, up into my arms and ran straight to the car to get help."
Boomi was initially seen at a private veterinary clinic, where he was assessed and received emergency care. The next morning, Boomi was transferred to Dundee PDSA Pet Hospital for ongoing treatment.
Tom added: "I was already familiar with the great vet care at Dundee PDSA Pet Hospital from being a client and a member of staff in my previous role as an Animal Care Assistant. I knew Boomi would be in the best hands."
Vet Nurse Paolo Panetta said: "Boomi arrived with a large, deep wound on his leg and was admitted straight away. He was put on a drip and given pain relief, anti-sickness medication, and antibiotic injections.
"Once he was stabilised, we anaesthetised him to assess his wounds further. Thankfully, X-rays showed that there were no fractures, though his muscles had been severely traumatised. The large wound was stitched up but, due to the severity of the trauma, a small hole was left in the wound to allow any fluid to drain out. Boomi stayed overnight for ongoing care and pain relief."
The next day, Boomi recovered well, so he was able to return home to Tom with antibiotics, pain relief medication, and instructions for strict rest. He also needed to wear a recovery cone to protect the wound.
Tom continued: "I was just so relieved to have him back home with me. As well as his prescribed medication, I made sure he had lots of company, cuddles, reassurance, and (of course) his favourite food!"
Sadly, the trauma often inflicted by dog bites can mean that wounds struggle to heal, and Boomi's wound re-opened a few days later. He returned to Dundee PDSA to have the wound re-stitched and was discharged the same day with more antibiotics and pain relief.
Over the next month, Boomi attended several check-up appointments. Each time, the PDSA vet team were delighted with his progress and eventually signed Boomi off from any further treatment.
Explaining the aftermath of the incident, Tom said: "I experienced severe panic and anxiety attacks, and I struggled to sleep properly as I kept having flashbacks. Sadly, the horrific sounds coming from Boomi as he was injured are something I will never forget.
"Thankfully, Boomi is back to his happy self, and you wouldn't know the ordeal he had been through if you saw him. His confidence seems untouched; he has dog friends at the park who are much bigger than him, so it doesn't seem like the size of the dog who injured him has scarred him.
"I'm still keeping an eye on him, of course, but he remains the same silly, cheeky chappie he was before. What always makes me laugh is when you scratch a particular part of his back, he points his nose to the ceiling and gives you a "side-eye" followed by the biggest silliest grin you've ever seen!"
Tom managed to fundraise over £1,330 with the help of friends and their local community and kindly donated this to PDSA to help cover the cost of Boomi's treatment.
They explained: "I asked for donations through social media as I was updating everyone on his story from the minute it happened. Many of my online friends are familiar with Boomi, as I'm always sharing videos and photos of him. A local business, The Little Green Larder, kindly donated an eco-friendly, zero-waste hamper as a raffle prize incentive, so I took entries for that too. If it wasn't for PDSA's care, Boomi might not have survived the ordeal, so I'm glad my local community and friends helped me fundraise for the cost of his treatment.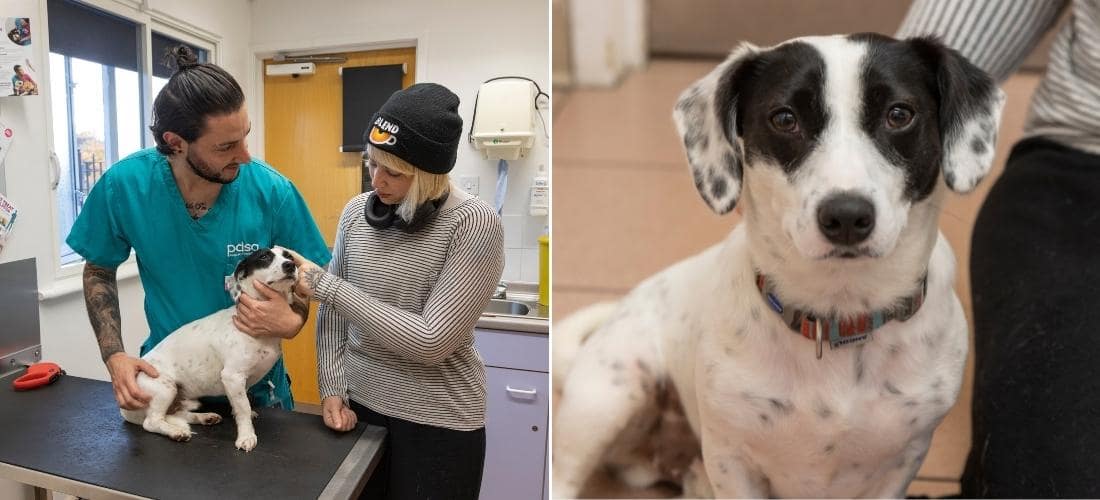 "I cannot emphasise enough how great the team are at Dundee PDSA. After his wound was stitched up the second time, I felt overwhelmed. Noting my worry, the vet took some time aside to explain all the at-home treatment and care Boomi needed. They answered all my questions, which made me feel less panicked about the recovery period ahead.
"Boomi adores the team there too – whenever he goes there, he's as happy to see the vets and vet nurses as they are to see him. Sometimes, when we're on our walks, he'll see the Pet Hospital in the distance and start walking towards it, hoping to visit!"
Total cost of treatment: £1,460.96

PDSA is the UK's leading veterinary charity. Through our 48 Pet Hospitals and Pet Care scheme, we save the lives of poorly pets who would otherwise be left untreated.
Every year, we helped over 388,000 pets. Without us, emergency cases like Boomi's would be left untreated and many pets could lose their lives or be separated from families who love them.
We wouldn't be here for dogs like Boomi without your support. Please consider donating today.

Keep pets like Boomi together with their owners
As many families like Boomi's struggle to pay unexpected vet bills, they need our urgent support to provide their pets with life-saving treatment before it's too late.
Will you help save Boomi's life?
Every £1 donated will help us make sure sick and injured pets get the treatment they desperately need.
Donate to PDSA
Sponsor our Trauma Care
Every year, we provide emergency Trauma Care to thousands of sick and injured pets whose owners cannot afford the full cost of their treatment.
Find out more
Dealing with dog attacks
Get vet-approved advice on dealing with dog attacks, like the one that happened to Boomi. 
Find out more
Caring for your dog
Our vets have tonnes of top tips for looking after your dog.
Find out more
Sign up to our newsletter
Want to read more stories like Boomi's, keep up with the latest pet wellbeing news, or perhaps you just want to support PDSA? Get your latest PDSA news with our Newsletter.
Sign up today