Bounty needed surgery to treat a lump that had become infected
Bounty, a twelve-year-old cat from Derby, became withdrawn and went off his food when a large lump appeared under his chin.
The lump had caused his face and neck to swell, so his worried owner, Juliet Broughton, contacted her local PDSA Pet Hospital for help.
Bounty was seen by a PDSA Vet who was concerned that the soft lump on the right side of Bounty's neck could have been caused by an infection, so he was prescribed pain relief and antibiotics.
Unfortunately, over the next few days, Bounty had scratched at the lump, creating a nasty open wound, which was painful and infected, leaving Bounty at risk of sepsis if left untreated. The vet team drained the infection from the lump, cleaned and flushed the area, and advised Juliet to wash it with salt water at home while continuing his prescribed antibiotics and pain relief.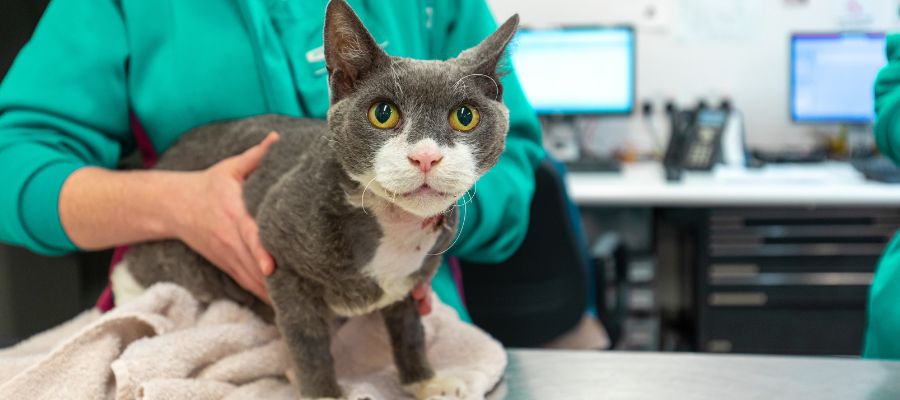 PDSA Vet Rachel Angus said: "When Bounty next came to see us, although his wound was slowly healing, a large area of infected tissue remained. We admitted him so we could remove this infection surgically. As the wound was quite large, we couldn't stitch it completely closed, so we used dressings to encourage the open part to heal. He had a comfortable overnight stay on a drip, pain relief and antibiotics, and was discharged home the following day."
Bounty needed continued care and check-ups at Derby PDSA, so the vet team could ensure he was on the mend. He visited the Pet Hospital regularly to have his wound cleaned and dressed under sedation, and thankfully, it has almost healed.
Bounty's owner, Juliet, said: "I was so worried when Bounty was poorly. He's my little friend, and he brings me so much joy! I struggle with anxiety, and he's always been there for me in my darkest times – I don't know what I'd do without him.
"If I didn't have PDSA's help, I'm not sure how I would have afforded Bounty's treatment.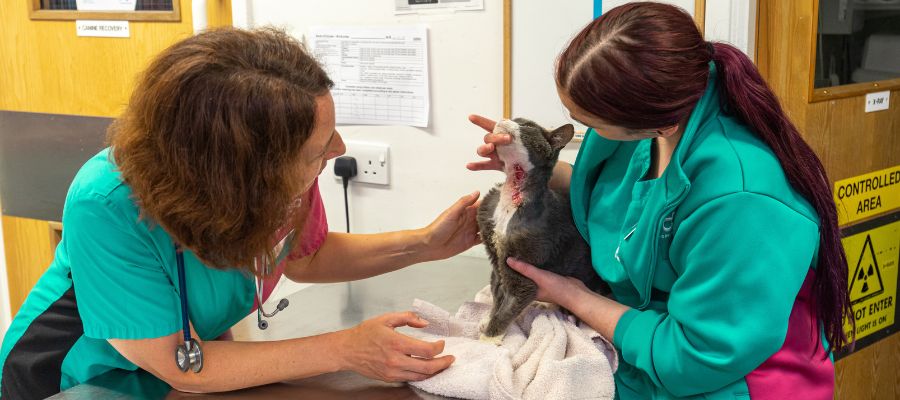 "I've had cats all my life, and I've always paid for private vet care, until last year when I had to give up work due to health issues. Now, I'm on benefits, and with the rising cost of living, I'm finding it hard to afford the essentials, let alone unexpected vet bills.
"The price of everyday items has increased, so I now stick to the supermarket's own-brand products to help keep the cost of my weekly food shop down. I've also noticed a huge increase in my energy bills, so I switch all my appliances off at the walls when I'm not using them. I have to budget and think about where every penny goes - it's frightening."
To date, Bounty's vet care has cost PDSA over £1,300.
Juliet continued, "Despite struggling financially with the cost of living and paying for transport to and from Bounty's appointments at the Pet Hospital, I've donated what I can to PDSA towards the cost of Bounty's treatment. I'm grateful they were able to help us."

PDSA is the UK's leading veterinary charity. Through our 48 Pet Hospitals and Pet Care scheme, we save the lives of poorly pets who would otherwise be left untreated.
Every year, we helped over 388,000 pets. Without us, emergency cases like Bounty's would be left untreated and many pets could lose their lives or be separated from families who love them.
We wouldn't be here for cats like Bounty without your support. Please consider donating today.

Help us be there for pets in need
Pets are family. They don't deserve to suffer or lose their life because of financial hardship.
Your support helps to provide vital vet care to pets in need
Donate now to keep people and pets together during the cost of living crisis.
Donate to PDSA
Keeping people and pets together
As the cost of living continues to rise, vet care could be out of reach for many. Thousands of loving pet owners are facing the impossible decision of whether to heat their home, put dinner on the table or treat their sick pets.
Find out more
Poorly pet?
Get vet-approved advice on common symptoms, conditions and medications for pets on our Pet Health Hub.
Visit the hub