Charismatic cat, Custard, needed emergency treatment at PDSA after being transferred for a blocked bladder.
Custard, an 8-year-old cat, needed PDSA's help after his doting owner, James, heard him yowl out in pain due to a blocked bladder.
James (69) said: "Custard loves an audience. Though he might think he's the boss, he's definitely the baby in our family. He's very patient with kids and likes to watch them as they play, but he's got a cheeky side too – if he wants your attention, he won't hesitate to push things off the table! I have a disability, and beyond doubt, Custard is a huge part of my life."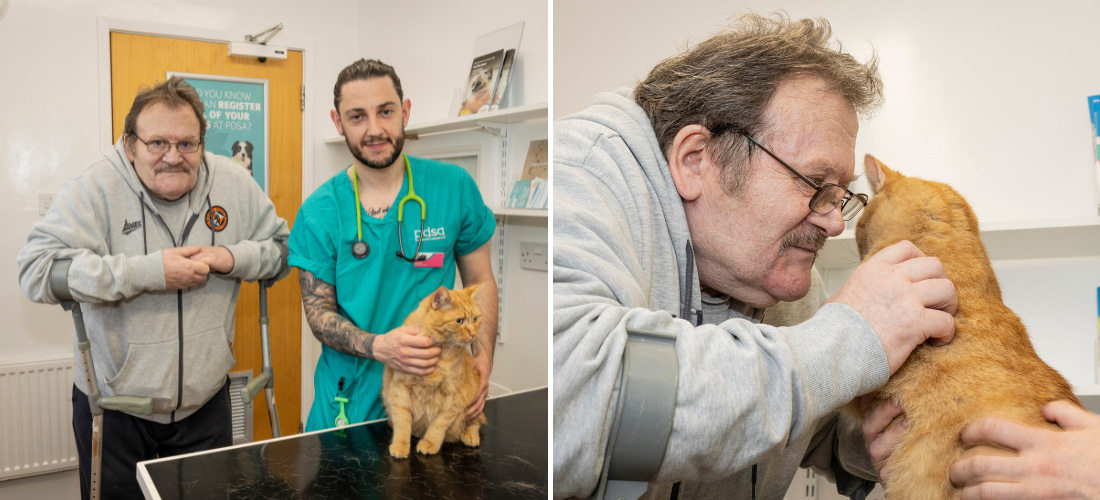 One afternoon, James noticed signs that Custard was in a lot of pain.
He explained: "Custard was weak and distressed. He was crawling around and even yowled a few times. It was awful. His stomach was bloated, so I wondered if he was constipated at first. I took him to the vets, and they told me that he was struggling to pee, which is life-threatening."
At the vets, Custard received emergency treatment and a catheter to help relieve his urinary blockage. However, despite medication, Custard was still struggling to urinate. Worried about the cost of further treatment but desperate to help Custard, James turned to PDSA for help.
Fiona Massie, a Veterinary Surgeon at PDSA Dundee Pet Hospital, said: "When Custard was transferred to PDSA Dundee Pet Hospital, his condition was stable; however, earlier blood tests had shown that his kidney levels were raised. We performed an ultrasound scan and saw that his bladder still contained possible blood clots or crystals, so we flushed his bladder with saline and continued with his fluid drip.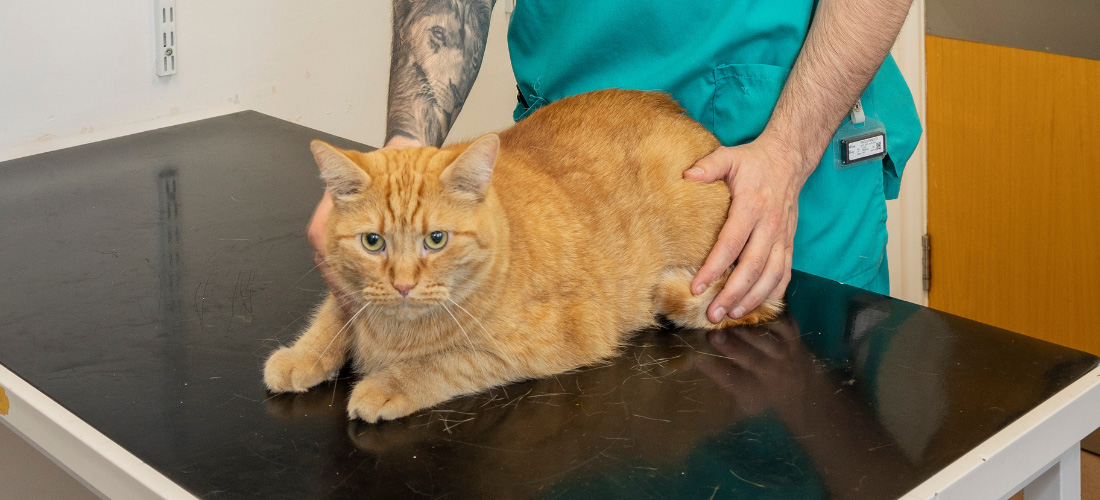 "Later that day, we repeated blood tests and found that his kidney levels had improved, so he went home with anti-inflammatory pain relief and medications to relax his bladder."
Unfortunately, though Custard was much more comfortable, he could only pass small amounts of pee at home, so he returned to PDSA for further treatment.
Fiona said: "One complication of a bladder blockage is a urethral spasm, a condition where the muscles of the urethra become so badly irritated that they're unable to relax. Sadly, Custard did not respond to medical treatment and couldn't pass urine without sedation and catheter placement."
Over the next few days, Custard was hospitalised while the vet team treated him. Sadly, his blockage had caused irritation, swelling, and muscle spasms. Despite all the treatment, he still struggled to pass urine.
With Custard still unable to pee properly, PDSA vets felt the best option was a perineal ureterostomy procedure – a surgery to create a new, wider opening to pee from. Without this, there was a high risk that Custard would continue to suffer from complications and might have to be euthanised. Desperate to have Custard back home with his family, James opted for the surgery.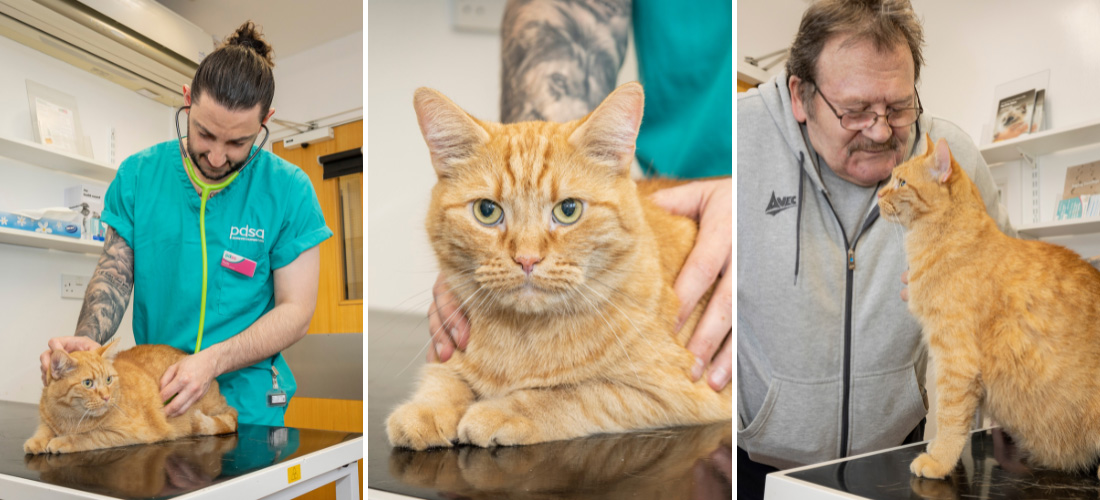 Thankfully, Custard's intricate surgery went well, and he was able to go home the next day with antibiotics and pain relief. After a week of rest, he fully recovered from his operation.
James added: "It's been a few months since Custard's surgery, and he's now a different cat with a new lease of life.
"I hate to think about what could've been, but I know we wouldn't have been able to keep paying for Custard's treatment if it wasn't for PDSA. Their service was amazing – everyone was friendly and patient and took the time to explain everything to us in depth. I felt they did absolutely everything they could to help Custard, and I can't thank them enough."
Total cost of Custard's treatment: £1,488.87

PDSA is the UK's leading veterinary charity. Through our 48 Pet Hospitals and Pet Care scheme, we save the lives of poorly pets who would otherwise be left untreated.
Every year, we helped over 388,000 pets. Without us, emergency cases like Custard's would be left untreated and many pets could lose their lives or be separated from families who love them.
We wouldn't be here for cats like Custard without your support. Please consider donating today.

Give pets like Custard a fighting chance
Pets who have been there for us during the Cost of living crisis deserve somewhere to turn when they need life-saving treatment.
Your help will save pets like Custard
Every £1 donated will help us make sure sick and injured pets get the treatment they desperately need.
Donate to PDSA
Poorly pet?
Get vet-approved advice on common symptoms, conditions and medications for pets on our Pet Health Hub.
Visit the hub
Sign up to our newsletter
Want to read more stories like Custard's, keep up with the latest pet wellbeing news, or perhaps you just want to support PDSA? Get your latest PDSA news with our Newsletter.
Sign up today