Daisy received life-saving surgery from PDSA vets to remove stones from her bladder
12-year-old Labrador Retriever, Daisy, needed emergency life-saving surgery to remove hundreds of stones from her bladder.
When Daisy's owners noticed that she was straining to pee, they immediately contacted the out-of-hours team at their local PDSA Pet Hospital for help.
The team saw Daisy that evening. She managed to urinate, but there were traces of blood in her pee. Once she had been to the toilet, she seemed back to her usual self. She went home with antibiotics and pain relief. The out-of-hours vet team advised her owners to keep an eye on her and bring her back to the Pet Hospital for a check-up the next day.
Daisy returned to Plymouth PDSA the following day. Thankfully, she was able to pee, and her owners had noticed a positive change in her since having the medication – she was back to her usual happy self. However, two weeks later, she was struggling to urinate again.
Daisy's owner, Martin Thomson (58) from Plymouth, said: "When we discovered Daisy was having trouble going to the toilet and she had blood in her pee, we were distraught. Despite medication and the vets' best efforts, Daisy's symptoms had come back. So we got in touch with PDSA."
PDSA vet David Jones said: "Daisy was having difficulty passing urine and when she did, there was blood present. As we'd seen her before with similar symptoms, we felt she needed further investigation, especially as she seemed in pain around her abdomen.
"We sedated Daisy so we could carry out X-rays, which revealed her bladder was full of at least 40 stones of all shapes and sizes. We needed to perform emergency surgery to remove the stones immediately. However, due to Daisy's older age, she was at a higher risk and there was the possibility that she might not make it."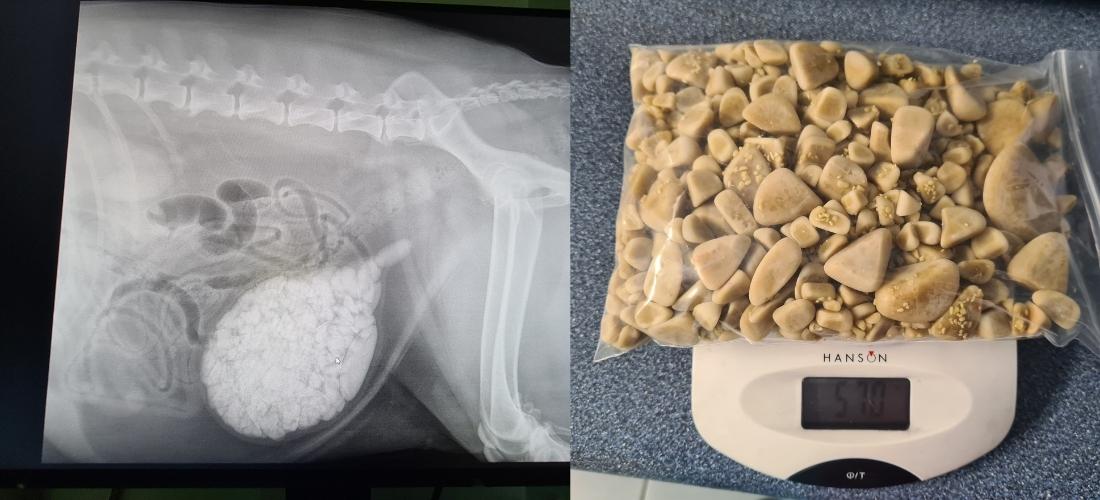 Once vets had explained the risks to Daisy's owners, they agreed that they needed to give their much-loved family pet the best chance of survival and asked the team to operate.
PDSA vet David Jones continued: "Daisy was prepared for emergency surgery with an intravenous fluid drip and a full general anaesthetic. To our surprise, we found hundreds of stones in Daisy's bladder - some were even up to 5cm in diameter! I'd never seen anything like it in my 30-year career as a vet.
"We carefully removed the stones, and thankfully, the operation was a success. Due to the high-risk nature of Daisy's surgery, we kept her overnight for around-the-clock care and close monitoring.
"Thankfully, Daisy soon started to urinate again. Her pee was still bloodstained, but she was now passing good amounts and not straining to go to the toilet. She started to eat and drink again too, which was a great sign that she was well on the road to recovery."
Martin commented: "When the vets called to let us know that Daisy was okay and the operation had been successful, we were so relieved and extremely grateful. My pets are my world. They are part of the family, especially now that our children have grown up and left home.
"If it hadn't been for PDSA, Daisy wouldn't be here with us today. There is no way we could have ever afforded Daisy's life-saving surgery. The team at PDSA were brilliant and provided a first-class service. They offer out-of-this-world care, and we always try our best to support them by dropping off supplies at the Pet Hospital. I can't thank them enough."
Daisy went home with her family the following day with a buster collar, pain relief, antibiotics, and strict instructions to get plenty of rest.
Martin said: "Daisy is getting better each day and is becoming more mobile. We've noticed a big change in her since she was cared for at PDSA. She was looking her age before her operation, but now, she looks very healthy and she has most definitely got her sparkle back."

We need your help so we can treat more pets like Daisy
PDSA is the UK's leading veterinary charity. Every year, we treat over 388,000 pets. Without us, emergency cases like Daisy's would go untreated and many pets could lose their lives or be separated from families who love them.
Your generous support means that we can keep treating pets with the vital care they so desperately need to pull through injury and illness. Every £1 donated will help us make sure sick and injured pets, like Daisy, get the emergency treatment they desperately need.
Can you help us save the lives of sick and injured pets?

We need your help so we can treat more pets like Daisy
Pets who have been there for us deserve somewhere to turn when they need life-saving treatment.
Your support will help us continue to treat pets like Daisy
Every £1 donated will help us make sure sick and injured pets get the treatment they desperately need.
Donate to PDSA
Donate to PDSA
Your generous support means that we can keep treating pets with the vital care they so desperately need to pull through injury and illness
Donate now