Felix the cat was critically ill due to a problem with his waterworks
Four-year-old tabby cat, Felix, from Heanor, Derbyshire needed life-saving treatment for a blocked bladder.
Felix's owner Karen Smith (51) found him 'hiding and making a really distressing cry, unable to get comfortable'. Concerned, she phoned Derby PDSA Pet Hospital for advise, after hearing his symptoms they advised her to bring him straight in for a check-up. 
After running a series of tests, the charity's vet team discovered the cause of Felix's distress was a blockage in his bladder.
PDSA Vet Team Leader, Steffani Gardner, explains: "Felix's bladder was blocked with crystals that had formed in his urine.  It is an extremely painful condition that prevents pets from being able to pass urine.
"He needed urgent treatment. Our team quickly gave him pain relief to make him more comfortable. Then, while under a general anaesthetic, we broke down the blockage using an ultrasonic probe."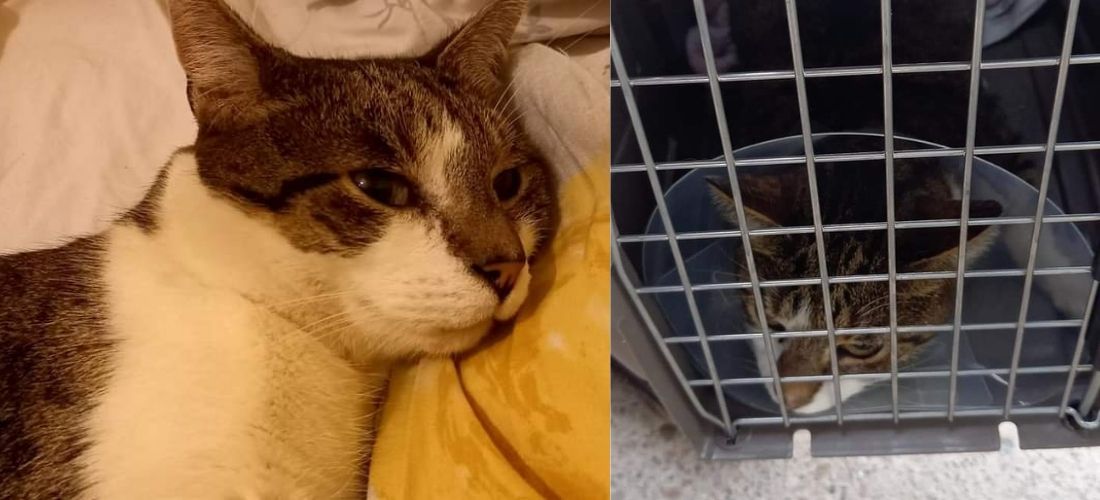 But Felix's problems weren't over yet. The blockage had caused a significant amount of blood in his urine. He was placed on a catheter and IV drip started to help flush any further crystals and blood through his system while he healed.
Felix was then transferred to the charity's Pet Hospital in Nottingham for 24-hour care.  He remained in the hospital for the next two night, receiving medication and being closely monitored until his system was clear and he was able to urinate comfortably.
PDSA Vet Team Leader, Steffani Gardner, explains: "A blocked bladder is a serious emergency. If it isn't treated quickly it can lead to kidney failure and in the worst cases it can be fatal. It is more common in male cats, so it's really important for owners to make sure they are passing urine every time they go outside or in the litter tray.
She continued: "Lucky for Felix, Karen brought him to see us in time and we were able to unblock his bladder and get him back home to his family.
"Unfortunately for Felix it is likely he will develop further problems in the future, so we will keep a close eye on him going forward to make sure we spot and treat any problems as soon as they start."
He was sent home with antibiotics and hypovase, a medication that helps to relax the muscles around the bladder to allow easier passing of urine. Karen said: "After a couple of weeks Felix was back to his cheeky, loveable self, but we were told that there is a chance of it happening again."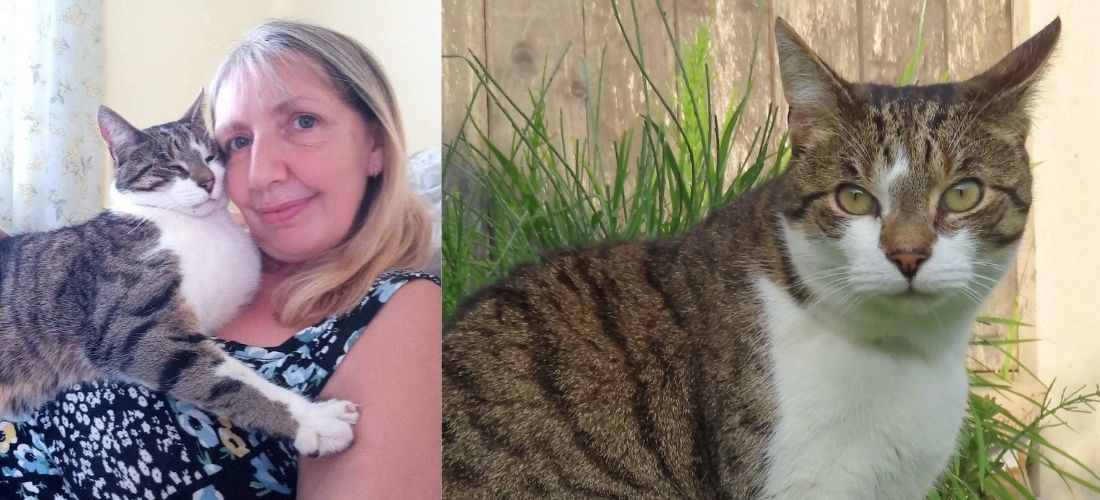 Felix is extremely special to Karen's family and is one of four pets in the Smith family. Her husband, Simon, daughter Katie and sons Jake and Nathan all love their pets and were so distraught when Felix feel unwell.
At the age of one he went missing and they tried to trace him to no avail but 8 months later, he was spotted and reunited back with his owners. Luckily, thanks to Felix's microchip, they were able to easily identify him.
Karen said "our pets, including Felix, helped us tremendously through lockdown, they are always ready to give you love when you're having a bad day. I had a bad nervous breakdown in 2017, due to many personal issues, which led to me being finished from work. Alongside medication and therapy, the love and comfort I have received from my pets has been one of the most important factors to getting me back on my feet."
She added: "During lockdown, like for many people, I found it very difficult but I grew a special bond with Felix and my other pets which helped when I had a down day. Also, my husband, Simon is self-employed, so at times it has been difficult with a lower income. Whenever the stress of the pandemic has got too much, my pets know and they curl up with me which instantly lifts my mood."
"The vets and nurses at PDSA were amazing, and I have no doubt that they saved Felix's life. Without PDSA I don't know what we would have done, I could never manage without Felix in my life."

PDSA is the UK's leading veterinary charity. Through our 48 Pet Hospitals and Pet Care scheme, we save the lives of poorly pets who would otherwise be left untreated.
Every year, we helped over 388,000 pets. Without us, emergency cases like Felix's would be left untreated and many pets could lose their lives or be separated from families who love them.
We wouldn't be here for cats like Felix without your support. Please consider donating today.

Give pets like Felix a fighting chance
Pets who have been there for us during the pandemic deserve somewhere to turn when they need life-saving treatment.
Your help will save pets like Felix
Every £1 donated will help us make sure sick and injured pets get the treatment they desperately need.
Donate to PDSA
Poorly pet?
Get vet-approved advice on common symptoms, conditions and medications for pets on our Pet Health Hub.
Visit the hub
Sign up to our newsletter
Want to read more stories like Felix's, keep up with the latest pet wellbeing news, or perhaps you just want to support PDSA? Get your latest PDSA news with our Newsletter.
Sign up today