Ghost nearly dies after wolfing down 24 chocolates
A four-month-old Doberman puppy called Ghost needed life-saving treatment after polishing off an entire advent calendar.
Owner, Erin, from Croydon, said: "Ghost was at home with my sister when she found her advent calendar had been ripped to pieces and all twenty-four chocolates were gone! The foil had been torn up too, so we were worried he'd also eaten that.
"I called PDSA straight away as I knew chocolate can be really poisonous to dogs, and I was told to bring him straight in."
Erin rushed Ghost to Croydon PDSA Pet Hospital where he was given treatment to safely make him sick and then medication to prevent his body from absorbing any remaining potentially deadly toxins. 
PDSA Vet Hermione Hillen, said: "It was a good job that Ghost's owner contacted PDSA and that he was brought into the hospital straight away. Chocolate toxicity can be life-threatening, but sadly, not all pet owners are aware of the risk. The amount of chocolate he'd eaten was dangerous for a puppy and it could have been fatal if he'd been left untreated."
Ghost was incredibly lucky he didn't suffer further damage, or that the foil he'd eaten hadn't caused a blockage, and thankfully he was able to go home in time for Christmas.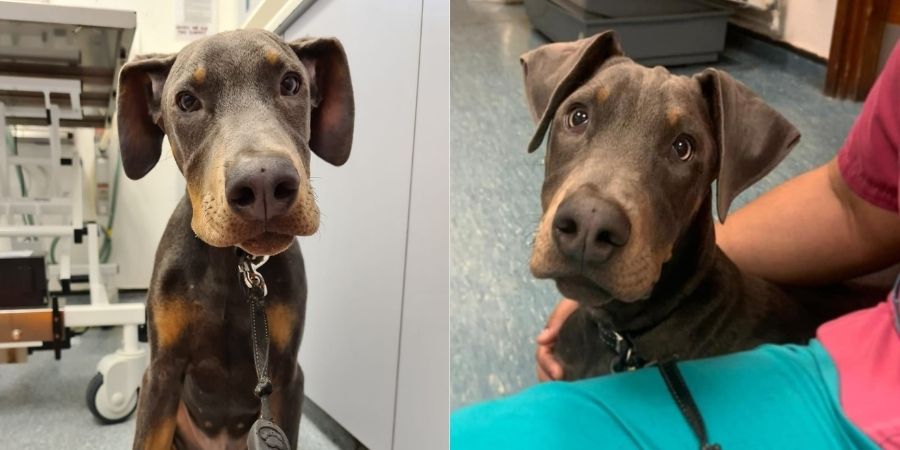 PDSA Vet Hermione added: "Chocolate contains a chemical called theobromine, which is toxic to most animals including dogs and cats. Signs a pet may have eaten chocolate can include vomiting, diarrhoea, drinking excessively, shaking and restlessness. At higher doses, signs can even progress to an abnormal heart rhythm, raised body temperature, rapid breathing and seizures.
"Without rapid treatment, severe chocolate poisoning can be fatal. It's best to contact the vet as soon as you notice your pet's eaten something they shouldn't rather than waiting for symptoms, as by the time you see these signs the toxin has already passed into the body.
Erin said: "We're so grateful to PDSA for their help, I don't know what we would have done without them. Thankfully Ghost is back to his usual self just in time for Christmas."
We're warning all pet owners to be extra vigilant this Christmas as many festive treats, including chocolate, can be toxic to our pets.
If you think your pet might have eaten something they shouldn't, call your vet immediately as they might need urgent treatment.

PDSA is the UK's leading veterinary charity. Through our 48 Pet Hospitals and Pet Care scheme, we save the lives of poorly pets who would otherwise be left untreated.
Every year, we helped over 388,000 pets. Without us, emergency cases like Ghost's would be left untreated and many pets could lose their lives or be separated from families who love them.
We wouldn't be here for dogs like Ghost without your support. Please consider donating today.

Give pets like Ghost a fighting chance
Pets who have been there for us during the pandemic deserve somewhere to turn when they need life-saving treatment.
Your help will save pets like Ghost
Every £1 donated will help us make sure sick and injured pets get the treatment they desperately need.
Donate to PDSA
Chocolate poisoning
Find out what to do if your pet eats chocolate with veterinary advice on our Pet Health Hub
Visit the hub
Your dog's diet
Your dog's diet has a huge impact on their health and happiness. Find out about the best diet for them on our pet health pages.
Find out more
Sign up to our newsletter
Want to read more stories like Ghost's, keep up with the latest pet wellbeing news, or perhaps you just want to support PDSA? Get your latest PDSA news with our Newsletter.
Sign up today