A lawn meower! PDSA Vets treated Ginge after finding a 10cm blade of grass up his nose.
6-year-old cat Ginge – who has transformed the life of his owner, Laura (52), after she was diagnosed with cancer – was treated by PDSA Vets after they found a 10cm blade of grass up his nose.
Laura became worried and took Ginge to Nottingham PDSA Pet Hospital after realising he was struggling to breathe and sneezing blood.
She explained: "It was very scary. Ginge was having sneezing fits and coughing, and then all of a sudden, he started bringing up blood.
"I took him to PDSA and, when we arrived at the Pet Hospital, the team sedated Ginge and pulled out a huge 10cm blade of grass, I couldn't believe it. You couldn't see anything stuck in his nose or mouth, so it must have been pretty far back. After the vets got it out, Ginge was back to his normal self almost instantly."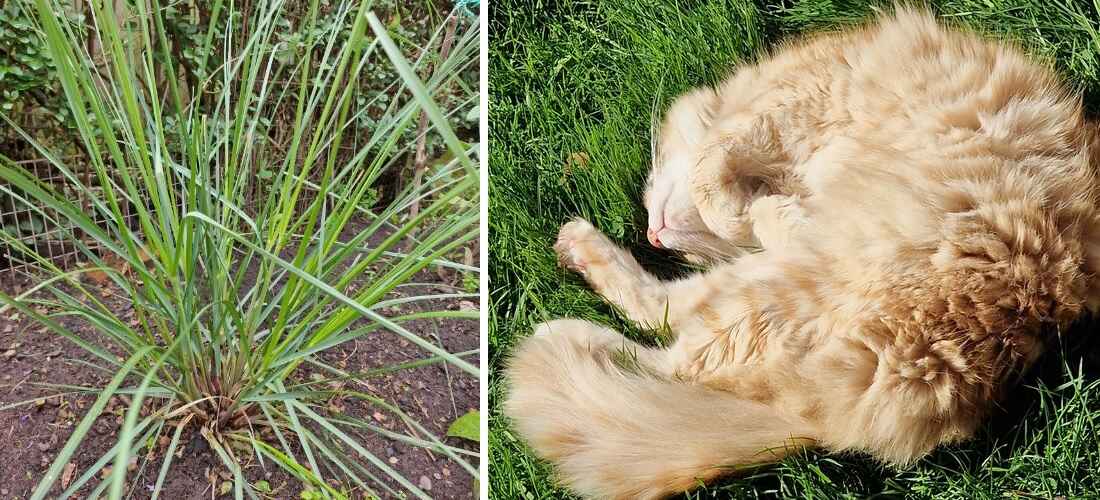 Explaining the potential dangers of grass, PDSA Vet Catherine Burke said: "When a cat gets a blade of grass lodged in the back of their nose or throat, it can cause severe bouts of sneezing or coughing. In some cases, such as Ginge's, the cat can start sneezing or coughing up blood which can be very distressing for both the cat and its owner. Sneezing from time to time is nothing to worry about, but you should contact your vet if your cat can't stop sneezing, sneezes blood or seems to be in pain."   
"It can be really difficult to prevent cats from eating grass, as they will often wander where we can't keep an eye on them. If your cat eats grass in your garden, make sure it's cut short to reduce the risk of the longer grass blades getting stuck. 
Laura, who lives in Bestwood with her partner Sam (62), was diagnosed with breast cancer at the start of the pandemic and had to give up her job at Tesco. Because of her Employment and Support Allowance (ESA), it meant she was eligible for the charity's veterinary services.  
Laura said: "Ginge came into our lives around the same time I was diagnosed with cancer. I feel like he chose us, to be honest. He was a stray cat who used to come and sit in our garden. One day he came in through the back door and never left. We tried to see if anyone owned him – we asked our neighbours and took him to be scanned for a microchip, but nothing came of it. 
"Now we wouldn't be without him for the world – he's an amazing cat! He's slow and chilled out; he plods around the garden and sits in the sun.
"From my diagnosis to the pandemic and now the cost-of-living crisis, it's been a hard few years, and I'm so thankful to PDSA for being there for Ginge and for me.
"He's always eating bits of grass, and even though I tell him to stop, I didn't think it would cause much harm. But I'll definitely be a lot more mindful of this from now on."  
Total cost of Ginge's treatment: £75.76

PDSA is the UK's leading veterinary charity. Through our 48 Pet Hospitals and Pet Care scheme, we save the lives of poorly pets who would otherwise be left untreated.
Every year, we helped over 388,000 pets. Without us, emergency cases like Ginge's would be left untreated and many pets could lose their lives or be separated from families who love them.
We wouldn't be here for cats like Ginge without your support. Please consider donating today.

Give pets like Ginge a fighting chance
Pets who have been there for us during the pandemic deserve somewhere to turn when they need life-saving treatment.
Your help will save pets like Ginge
Every £1 donated will help us make sure sick and injured pets get the treatment they desperately need.
Donate to PDSA
First aid advice
Knowing what to do in an emergency can be the difference between life and death. Our vets' advice will help you deal with a range of common situations.
Find out more
Sign up to our newsletter
Want to read more stories like Ginge's, keep up with the latest pet wellbeing news, or perhaps you just want to support PDSA? Get your latest PDSA news with our Newsletter.
Sign up today