Ginger needed emergency help after a suspected road traffic accident
PDSA vets save Ginger, a five-year-old cat, after he was severely injured in a suspected road traffic accident.
When a member of the public first found Ginger injured, he was taken to a private vet where he was given pain relief. Thankfully, Ginger is microchipped, so the vet team at the practice were able to contact his owner, Wendie (56). Ginger was then transferred to his registered vets at Oldbury PDSA. 
A PDSA vet said: "When we saw Ginger, it was clear he had suffered head trauma, but he was too unstable to undergo any further investigations at that point. We put him on a drip to treat his shock, gave him further pain relief and monitored him closely overnight for any signs of deterioration while he rested.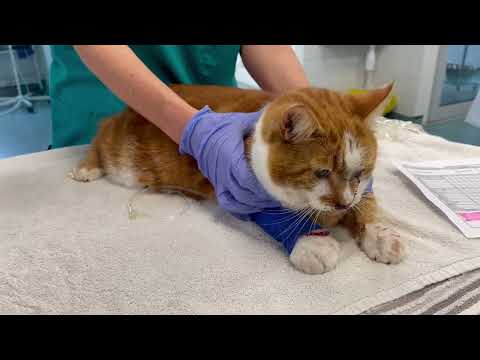 Video found at youtu.be/YA27V88E8ZQ
 "Thankfully, the following morning, we found that his vital signs were starting to stabilise. However, he had a lot of swelling on his face and some dried blood around his nose, which needed careful cleaning by the veterinary team.
"He also had ulcers in both his eyes, as well as some blood in his sclera (the white part of the eye) for which he was prescribed eye drops. Thankfully, there were no fractures to his jaw, but through the day he continued to have minor nosebleeds. Although Ginger initially seemed reluctant to walk, as the day went on, he became more comfortable, so we were hopeful that he didn't have any further injuries."
After another night at Oldbury PDSA with pain relief, around-the-clock care and monitoring, Ginger managed to eat, urinate, and walk around normally. The veterinary team were happy with his progress, so he was discharged with pain relief and eye drops.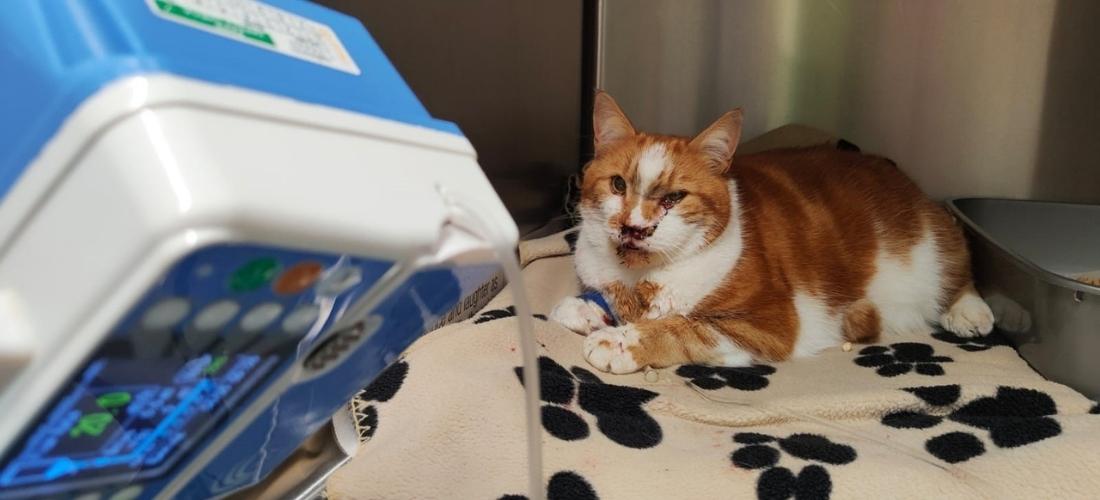 Ginger's owner, Wendie, said: "I was distraught when I got the call to say Ginger had been found seriously injured from what was thought to be a road traffic accident. However, the team at Oldbury PDSA have been brilliant. The care they have given to Ginger is second-to-none. I'm on Universal Credit, so there was no way I could have afforded private veterinary care. I'm so grateful for everything they have done for Ginger."

PDSA is the UK's leading veterinary charity. Through our 48 Pet Hospitals and Pet Care scheme, we save the lives of poorly pets who would otherwise be left untreated.
Every year, we helped over 388,000 pets. Without us, emergency cases like Ginger's would be left untreated and many pets could lose their lives or be separated from families who love them.
We wouldn't be here for cats like Ginger without your support. Please consider donating today.

Give pets like Ginger a fighting chance
Pets who have been there for us during the pandemic deserve somewhere to turn when they need life-saving treatment.
Your help will save pets like Ginger
Every £1 donated will help us make sure sick and injured pets get the treatment they desperately need.
Donate to PDSA
Poorly pet?
Get vet-approved advice on common symptoms, conditions and medications for pets on our Pet Health Hub.
Visit the hub
Sign up to our newsletter
Want to read more stories like Ginger's, keep up with the latest pet wellbeing news, or perhaps you just want to support PDSA? Get your latest PDSA news with our Newsletter.
Sign up today