Thanks to the help of PDSA Vets, Harry the cat is now pain-free and adjusting to life on three legs
When Harry, a four-year-old cat, returned home after exploring, his owner, Barbara, knew he needed emergency veterinary help.
Talking about Harry, Sharon, Barbara's daughter, said: "Harry belongs to my mom, Barbara. She's 84 and lives alone, so Harry is her furry companion. While he may only be a little cat, he certainly has a big personality. He loves people, cuddles, and playing with my brother's dog – we're convinced he thinks he's one too!"
One day, Harry returned home unable to walk on his back right leg. Straightaway, Barbara called Sharon for help, who then rushed Harry to Oldbury PDSA to have his injuries assessed.
A PDSA Vet said: "When Harry arrived, he couldn't bear any weight on his injured leg. He had some extremely nasty, deep wounds down to the bone in his lower leg, and the bottom part was very swollen. We admitted him for X-rays under anaesthetic, which revealed he also had a fractured metatarsal bone (one of the long bones in the foot). His wounds were cleaned and dressed to prevent further infection, and he was kept in overnight for pain relief and close monitoring.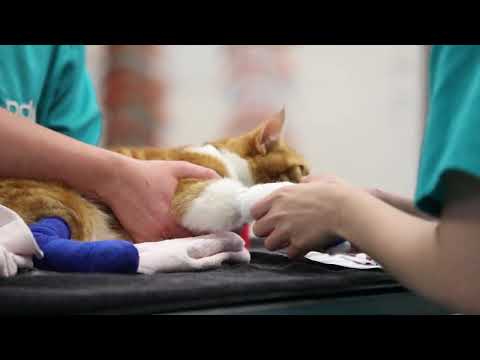 Video found at youtu.be/lQEDQ6WjQcE
"Sadly, the seriousness of Harry's wounds meant they carried a high risk of potentially life-threatening complications, such as sepsis. The vet team discussed his injuries with Barbara, and it was agreed that amputating the leg under general anaesthetic would be the best course of action so Harry could be pain-free and go home as soon as possible."
Sharon added: "When the Vet advised that it would be best to amputate Harry's leg, we were instantly worried. Harry's young, active and loves to play, so we didn't know if he would adjust. However, the PDSA team were so helpful in answering all of our questions and gave us the reassurance we needed – we knew he was in safe hands."
Thankfully, Harry's surgery was a success, and he was well enough to go home to Barbara the following day with pain relief and antibiotics.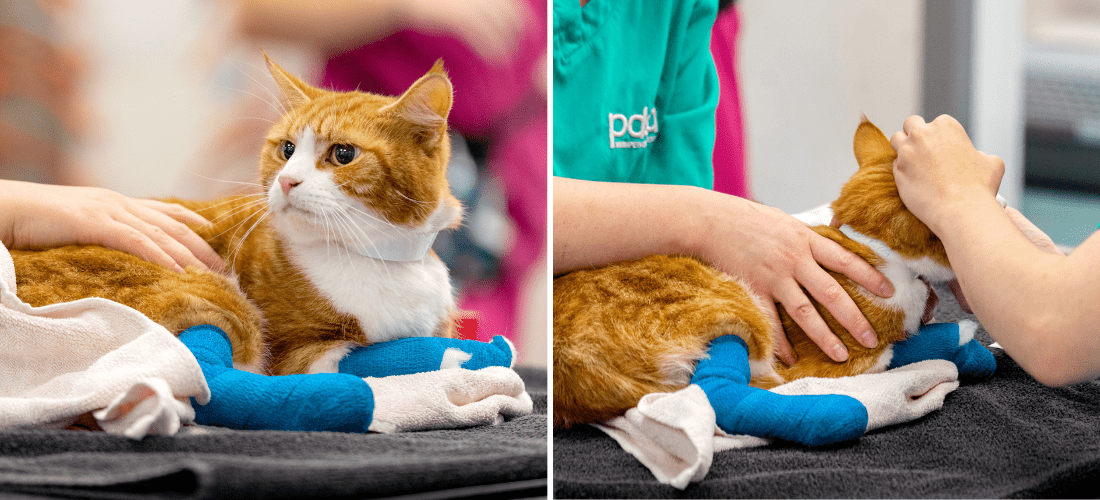 Sharon continued: "At first, Harry found it difficult on three legs, but now he's not letting it hold him back. He's determined to return to his old self, though we're keeping a close eye to ensure he gets all the rest he needs. His check-up appointments have gone really well, and we're relieved he's on the mend.
"Our family is so grateful for PDSA - and not only for Harry's treatment. Not too long ago, my mom's beloved dog, Tilly, was diagnosed with kidney failure whilst my mom was in respite care. She had been my mom's constant companion since my Dad passed away, so I took Tilly to visit her every day. Sadly, Tilly's health quickly declined, and we agreed with the PDSA Vet that the kindest thing was to let Tilly go. It was a very tough time, but PDSA were amazing.
"Without PDSA, my mom would have really struggled to cover the cost of Harry's treatment. The cost-of-living crisis is having a massive impact on both myself and my mom as, like most people, we have limited incomes. My mom is now totally housebound and cannot walk, so we cover the cost of her care. Food and household bills are so expensive now, so an unexpected vet bill on top of everything else would have been really stressful."
Total cost of Harry's treatment: £1,468.41

PDSA is the UK's leading veterinary charity. Through our 48 Pet Hospitals and Pet Care scheme, we save the lives of poorly pets who would otherwise be left untreated.
Every year, we helped over 388,000 pets. Without us, emergency cases like Harry's would be left untreated and many pets could lose their lives or be separated from families who love them.
We wouldn't be here for cats like Harry without your support. Please consider donating today.

Give pets like Harry a fighting chance
Pets who have been there for us during the pandemic deserve somewhere to turn when they need life-saving treatment.
Your help will save pets like Harry
Every £1 donated will help us make sure sick and injured pets get the treatment they desperately need.
Donate to PDSA
Poorly pet?
Get vet-approved advice on common symptoms, conditions and medications for pets on our Pet Health Hub.
Visit the hub
Sign up to our newsletter
Want to read more stories like Harry's, keep up with the latest pet wellbeing news, or perhaps you just want to support PDSA? Get your latest PDSA news with our Newsletter.
Sign up today