Hetty receives emergency care for anal gland abscess
A four-year-old Lurcher called Hetty was rushed to Bradford PDSA for emergency treatment for a painful anal gland abscess.
Hetty's owner, Joanne Wilkinson (50), became worried when her much-loved dog began acting strangely at the family home in Leeds.
Joanne said: "As usual, I let Hetty out into the garden so she could do her business. However, I noticed that she was acting oddly and was struggling to go to the toilet. I was worried that she was in pain. I lifted her tail and found that her bottom was bulging; I'd never seen anything like it. I called PDSA straight away, and they asked to see her at Bradford PDSA Pet Hospital."
Hetty's worried owner rushed her into the Pet Hospital for emergency vet care.
"On our way to the vets, she started bleeding heavily from her bottom," continued Joanne. "She was bleeding so much I thought she was going to die. I was terrified and began to cry."
PDSA Vet, Mary Donaldson, said: "When we examined Hetty, she was hunched over and appeared to be in pain. She had swelling and blood around her back end from an anal gland abscess that had burst on her way to see us. Anal gland abscesses are extremely painful and can occur when the anal glands don't empty properly while toileting.
"We cleaned Hetty up, gave her some welcome pain relief and an antibiotic injection. She was well enough to go home that day with a course of antibiotics, further pain relief and instructions to rest."
Joanne commented: "I was so relieved when the vets reassured me that she would be okay with the right care and medication. The whole team were incredible from the moment they picked up the phone. They saw Hetty quickly and explained everything so clearly to me; I can't thank them enough.
"My 18-year-old daughter Alana is autistic, and she was distraught that Hetty was unwell. They're the best of friends."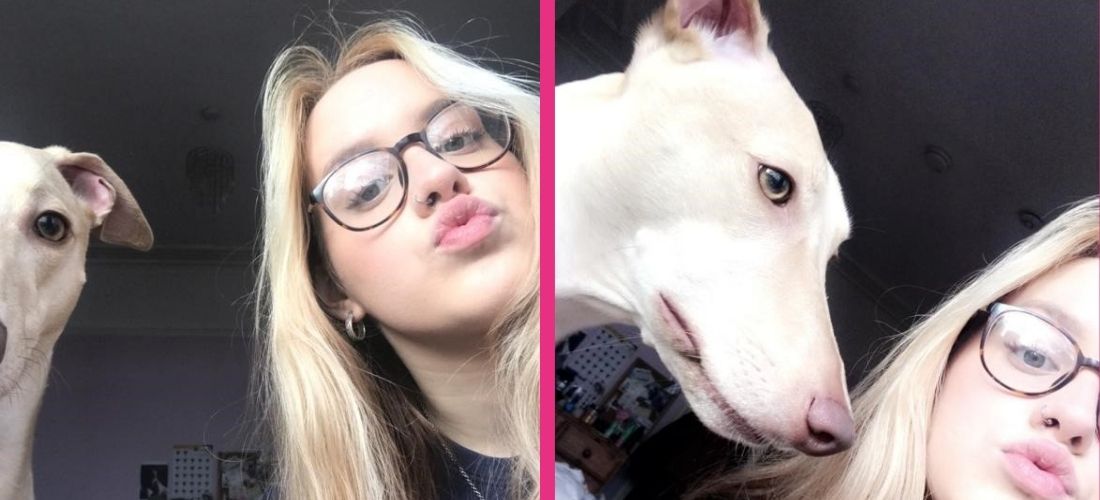 "Hetty has been a great support to both of us during the pandemic. I have long-term health conditions that affect my joints, so I was apprehensive about leaving the house and catching Covid. However, Hetty needed her daily walks, which pushed me to get outdoors and did wonders for my mental health. She is always there to keep me company with her cuddles, sleeping on (or sometimes in!) my bed, and has such a lovely, affectionate nature."
Hetty has now made a full recovery thanks to PDSA vets. She's back to her usual self, enjoying walks, naps and quality time with her family.
Joanne continued: "Three days after Hetty visited PDSA, the vets called to check how she was doing. It just goes to show how caring and compassionate they are towards pets. I felt the whole team really cared about Hetty and did their best for her.
"I'm so thankful to PDSA. They were there for us when we had nowhere else to turn. My health conditions mean I cannot work, so there was no way I could afford costly vets bills. But thankfully, PDSA was able to help us when we needed it most."

PDSA is the UK's leading veterinary charity. Through our 48 Pet Hospitals and Pet Care scheme, we save the lives of poorly pets who would otherwise be left untreated.
Every year, we helped over 388,000 pets. Without us, emergency cases like Hetty's would be left untreated and many pets could lose their lives or be separated from families who love them.
We wouldn't be here for dogs like Hetty without your support. Please consider donating today.

Give pets like Hetty a fighting chance
Pets who have been there for us during the pandemic deserve somewhere to turn when they need life-saving treatment.
Your help will save pets like Hetty
Every £1 donated will help us make sure sick and injured pets get the treatment they desperately need.
Donate to PDSA
Poorly pet?
Get vet-approved advice on common symptoms, conditions and medications for pets on our Pet Health Hub.
Visit the hub
Get a free Pet First Aid guide
Our vets have put together a special Pet First Aid guide with handy tips, advice and steps to follow if you ever find yourself in an emergency situation where your pet is in danger.
Download now