Jay needed a miracle after being hit by a train
Jay was scared and in pain. He didn't understand what had happened as he tried to drag himself home. He had lost a leg and was bleeding too much. He needed help urgently, before it was too late.
If it wasn't for PDSA, Jay's family would've lost him.
Jay was a curious cat. The one-year-old loved to go exploring when he wasn't spending time with his family. He meant the world to his owner Darren and even more so to Darren's wife who is deaf. Jay always comforted her and lifted her up if she was feeling down.
When Jay was out on his usual wander one day, Darren became worried when he didn't come home as he usually does. Jay never strayed too far from home, so not coming back was really out of character.
A worried Darren began looking for their beloved cat and spotted him lying on the other side of the fence. He knew something was wrong and started calling him. He was horrified to see the poor cat hobbling with one of his legs missing.
It was a race against time to get Jay the emergency care he needed.
Jay's chances were looking slim
Darren was able to get Jay to their local PDSA Pet Hospital. He was in a critical condition and the team got to work straight away to stabilise him and give him pain relief.
X-rays revealed the severity of his injuries: what was left of his leg was fractured as well as his tail. He needed emergency surgery to amputate what remained of his leg and his tail.
Despite the vets carrying out the complex and risky procedure, sadly Jay needed another operation a week later due to an infection following his accident. The PDSA veterinary team worked tirelessly to save his life and he needed round-the-clock care for a week to help him recover.
Jay made a miraculous recovery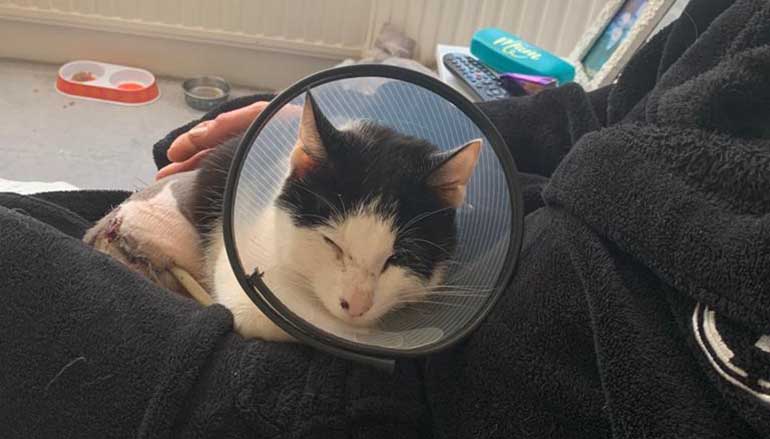 Thanks to the skill of the veterinary team, Jay is home with his family and well on the way to recovery (even if he is on three paws!).
Darren and his wife are so happy to have their cat back, but there are still thousands of pets who need PDSA's help every day who our vets are working hard to save.

PDSA is the UK's leading veterinary charity. Through our 48 Pet Hospitals and Pet Care scheme, we save the lives of poorly pets who would otherwise be left untreated.
Every year, we helped over 388,000 pets. Without us, emergency cases like Jay's would be left untreated and many pets could lose their lives or be separated from families who love them.
We wouldn't be here for cats like Jay without your support. Please consider donating today.

Give pets like Jay a fighting chance
Pets who have been there for us during the pandemic deserve somewhere to turn when they need life-saving treatment.
Your help will save pets like Buddy
Every £1 donated will help us make sure sick and injured pets get the treatment they desperately need.
Donate now
Pet First Aid
Would you know what to do in an emergency? Download our free pet first aid guide.
Download
A little treat
Looking to pamper your pet? Why not shop some of our vet-approved products! When you buy with us, you'll help pets like Buddy.
Shop now