PDSA vets rescue cat from a stick-y situation!
Jiggy, a cheeky 6-year old cat, needed help from PDSA when his owner, Kelly, realised he had a wooden stick lodged inside the roof of his mouth.
Speaking about her cherished cat, Kelly said: "We took Jiggy in from the streets five years ago. He was an abandoned cat, so we didn't know his name or his age at the time. Nevertheless, when we saw him, we knew he was a missing piece in our jigsaw puzzle, so we called him Jiggy! He's a very cheeky cat and he has an unusual habit of sniffing people's armpits! In addition to his mischievous side, he's also very affectionate and loves nothing more than a cuddle on the sofa."
One February afternoon, when Jiggy returned to the house from the family garden, Kelly, a full-time mum, noticed his behaviour wasn't quite right.
"I knew something was wrong with Jiggy when he came home. He was lifting his paw to his mouth, looked very uncomfortable and wouldn't eat. When I looked into Jiggy's mouth to see what might be wrong, I saw the wooden stick caught in the roof of his mouth. I was really worried that he would swallow it or that it would cut his mouth, so I immediately called PDSA for help.
My young son was distraught when he found out Jiggy needed to go to the vet but, having used PDSA several times before, I knew Jiggy would be in safe hands."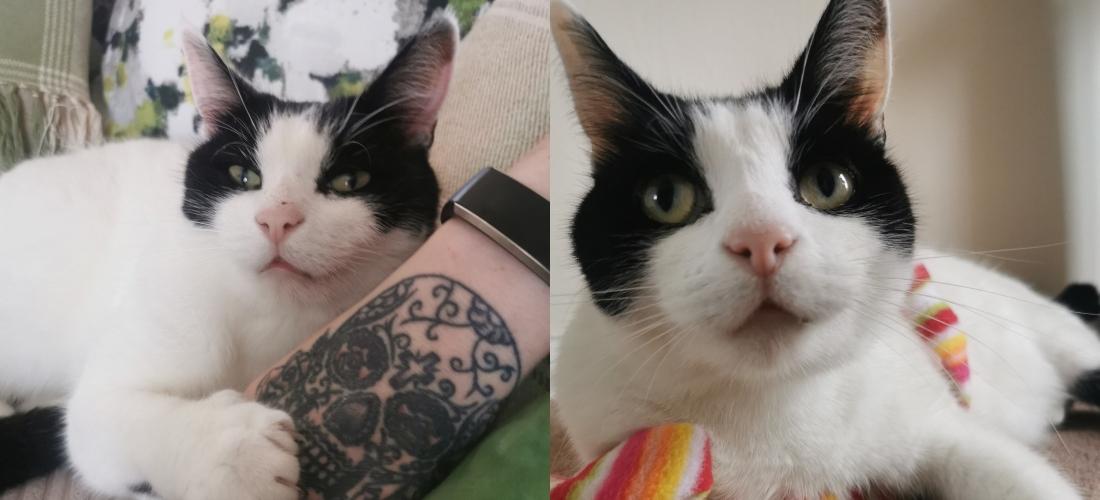 PDSA vet, Jenny Powell, said: "When Jiggy was presented to us at Stoke PDSA Pet Hospital, we were able to safely remove the lodged stick from the roof of his mouth without the use of anaesthesia. We carefully checked Jiggy's mouth for any cuts or signs of infection, luckily there were no serious injuries, so he was able to return home the same day with some anti-inflammatory medication. If the stick had been left any longer without veterinary treatment, Jiggy's mouth could have become infected, which would have caused him severe pain and discomfort and may have led to serious complications."
Kelly continued: "Thankfully, Jiggy made a quick recovery and he is back to his usual, mischievous self.  He is very lucky that the stick hadn't cut him and caused any long-lasting damage. The team at PDSA were so quick to help us, and so helpful and kind throughout.
Without PDSA, we would have faced the stress of the costs of registering Jiggy at a veterinary clinic. I know just how much the charity is needed by myself and other pet owners and I always donate for this reason. Jiggy is a very important member of my family - he's comforted me through some tough times, and I'm so grateful to PDSA for making sure he was okay."

PDSA is the UK's leading veterinary charity. Through our 48 Pet Hospitals and Pet Care scheme, we save the lives of poorly pets who would otherwise be left untreated.
Every year, we helped over 388,000 pets. Without us, emergency cases like Jiggy's would be left untreated and many pets could lose their lives or be separated from families who love them.
We wouldn't be here for cats like Jiggy without your support. Please consider donating today.

Give pets like Jiggy a fighting chance
Pets who have been there for us during the pandemic deserve somewhere to turn when they need life-saving treatment.
Your help will save pets like Jiggy
Every £1 donated will help us make sure sick and injured pets get the treatment they desperately need.
Donate to PDSA
Poorly pet?
Get vet-approved advice on common symptoms, conditions and medications for pets on our Pet Health Hub.
Visit the hub
Sign up to our newsletter
Want to read more stories like Jiggy's, keep up with the latest pet wellbeing news, or perhaps you just want to support PDSA? Get your latest PDSA news with our Newsletter.
Sign up today