Krug needed emergency surgery after swallowing a whole corn-on-the-cob
A French Bulldog named Krug urgently needed an emergency operation after wolfing down a corn-on-the-cob!
Thankfully, our vet team were on hand to help by performing life-saving surgery. The doors to our Pet hospitals are still open to provide emergency treatment for pets in need during the coronavirus crisis.
Krug's owner Victoria, who named her beloved pooch after Krug Champagne, urged other pet owners to be cautious if having a BBQ this bank holiday weekend.
"The weather has been beautiful so we decided to have a BBQ. That night Krug started vomiting, and I guessed immediately that he'd eaten one of the corn-on-the-cobs which had gone missing. He kept being sick and acting strangely until the early hours, so I called PDSA first thing the next morning."
After a phone consultation, Victoria was advised to take Krug to Gillingham PDSA Pet Hospital. He was admitted for investigations where vets performed scans and an X-ray, which made them suspicious that something could be lurking in his stomach.
Without emergency surgery, Krug may not have made it
PDSA vets warned Victoria that her beloved pet would need an emergency operation to remove the cob causing a potentially fatal blockage. Anaesthesia and surgery always carry risks, but these risks are higher in brachycephalic (flat-faced) breeds, like Krug. The shape of the face and size of the airways in these breeds (such as French Bulldogs and Pugs) leaves them more vulnerable to serious complications.
PDSA Vet Jenni LePard, said: "Krug's stomach was painful, and the scans and symptoms all suggested a foreign body.
"We knew we had to operate and when we opened up his stomach we found an entire corn-on-the-cob! 
"With the warm weather here we're seeing more cases of pets swallowing corn-on-the-cob and other harmful BBQs foods, such as bones and skewers. These can be incredibly dangerous, or even fatal in severe cases if they cause a blockage or perforations."
Luckily, Krug made a full recovery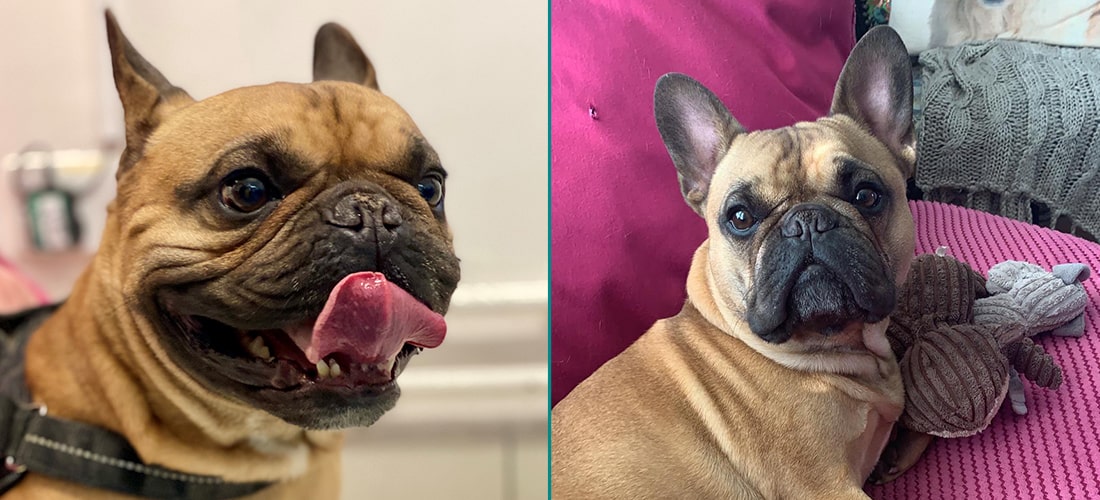 After surgery, Krug was kept overnight at the hospital for monitoring before being discharged on pain relief. After lots of rest, he's now gone on to make a full recovery.
Victoria said: "I was so worried when Krug was in hospital, but I can't thank PDSA enough for saving him.
"Krug is really prone to eating things he shouldn't so I'll have to be even more cautious, especially at this time.
"I'm so pleased he's made such a good recovery – he's back to his usual self now and starting to enjoy his daily walks again."

PDSA is the UK's leading veterinary charity. Through our 48 Pet Hospitals and Pet Care scheme, we save the lives of poorly pets who would otherwise be left untreated.
Every year, we helped over 388,000 pets. Without us, emergency cases like Krug's would be left untreated and many pets could lose their lives or be separated from families who love them.
We wouldn't be here for dogs like Winston without your support. Please consider donating today.

Give pets like Krug a fighting chance
Pets who have been there for us during the pandemic deserve somewhere to turn when they need life-saving treatment.
Your help will save pets like Krug
Every £1 donated will help us make sure sick and injured pets get the treatment they desperately need.
Donate now
What to do if your dog eats something harmful
Find out what to do if your dog eats something harmful like Krug did.
Visit the Hub
Sign up to our newsletter
Want to read more stories like Krug's, keep up with the latest pet wellbeing news, or perhaps you just want to support PDSA? Get your latest PDSA news with our Newsletter.
Sign up now
A little treat
Looking to pamper your pet? Why not shop some of our vet-approved products! When you buy with us, you'll help pets like Krug.
Shop now