Lightning the cat back on three paws thanks to PDSA
Eleven-year-old Lightning the cat had to have her back leg amputated by PDSA vets after suffering a devastating injury.
Lightning lives with her owner, Sarah Gray (43), and her family, in West Sussex.
One day, after adventuring outside, Sarah noticed Lightning limping, unable to put any weight on one of her back legs and struggling to hold herself up. Sarah knew something wasn't right and took her to her local vet.
On arrival, Lightning was carefully checked over, with a full veterinary examination and x-rays. Pain relief was given to relax her and make her feel more comfortable. Sarah said: "Lightning had been suffering, but once her pain killers started working she relaxed and was so good, letting the vet check her over thoroughly."
Sarah said: "They discovered her leg was badly broken, and the break was causing Lightning a lot of pain and discomfort."
"There was no way I could afford the treatment she needed which broke my heart. I had already paid for the x-rays and medication which thankfully had relieved her pain; but I was in shock and I didn't know who to turn to."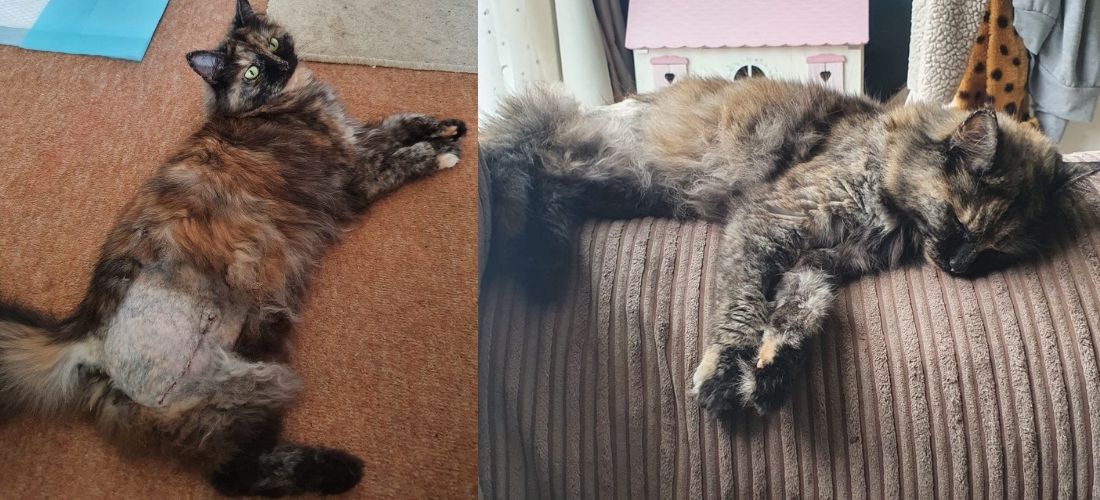 Sarah reached out to Brighton PDSA Pet Hospital for help and was relieved to hear she was eligible for support. Lightning was transferred from the private veterinary practice to PDSA.
PDSA vet Erika Moon explains: "While Lightning was more comfortable with pain relief, the x-rays from her previous vets showed us the extent of her serious injuries. Unfortunately the severity of the break meant that any attempt at repair would have needed specialist surgery and came with a high risk of complications. With her owner, we made the difficult decision to amputate Lightning's leg to relieve her pain and get her back on her feet as quickly as possible."
She continued: "Cats can adapt extremely well to becoming three legged, which enables them to go on and lead a normal life."
Lightning's surgery went well and once had fully recovered, she was able to return home with pain relief, strict cage rest and regular post operative checks with our remote consulting service.
She has gone on to make a full recovery and her amputation isn't holding her back. She enjoys spending time out in the garden and getting lots of love and attention from her family.
During lockdown, Lightning became inseparable from Sarah's son, Ethan (13). She would often finding her 'helping' him with homeschooling. She was also a regular attendee at her daughter Jessica's (7) gymnastics zoom classes, amusing everyone on the call.
Sarah said: "Lightning is such a huge part of our family and we couldn't imagine a life without her on the arm of the sofa in the sunshine."
The vets and nurses were amazing, and I would have been incredibly lost without their help. What they do for poorly pets and their owners every day is incredible."

PDSA is the UK's leading veterinary charity. Through our 48 Pet Hospitals and Pet Care scheme, we save the lives of poorly pets who would otherwise be left untreated.
Every year, we helped over 388,000 pets. Without us, emergency cases like Lightning's would be left untreated and many pets could lose their lives or be separated from families who love them.
We wouldn't be here for cats like Lightning without your support. Please consider donating today.

Give pets like Lightning a fighting chance
Pets who have been there for us during the pandemic deserve somewhere to turn when they need life-saving treatment.
Your help will save pets like Lightning
Every £1 donated will help us make sure sick and injured pets get the treatment they desperately need.
Donate to PDSA
Poorly pet?
Get vet-approved advice on common symptoms, conditions and medications for pets on our Pet Health Hub.
Visit the hub
Sign up to our newsletter
Want to read more stories like Lightning's, keep up with the latest pet wellbeing news, or perhaps you just want to support PDSA? Get your latest PDSA news with our Newsletter.
Sign up today