Mazikine has life-saving surgery at PDSA after swallowing 14 screws
Four-year-old Mazikine, a Cane Corso cross from Portsmouth, demolished a pot of screws after they were accidentally knocked off a shelf.
Unbeknownst to her loving owner, Lola Mai-Wellington (32), Mazikine suddenly got the munchies for metal and hoovered up a handful of screws that had fallen to the floor.
The mum-of-three explained: "My husband and I were in the process of converting the area under our stairs into a dog kennel for Mazikine. The pot of screws was on a shelf in there. Someone must have knocked the pot of screws over and onto the floor. When I noticed, I immediately sent Mazikine outside and swept them up. But, later that evening, I heard her at the back door being sick. There were screws and blood in her vomit - identical to the ones all over the floor. We called PDSA and took her in straight away."
Indeed, our Pet Hospital in Portsmouth was on hand to help and, thankfully, after receiving urgent care, Mazikine is now well on the road to recovery.
PDSA Veterinary Surgeon Emily Sharp said: "When Mazikine arrived at the Pet Hospital, she had already vomited up 8 screws at home. We immediately admitted her for a sedation and X-rays which showed she'd ingested a further 6 screws – 5 of which were in her stomach and 1 in her intestine. We were worried that the screws would cause internal damage or tears in her stomach and intestines, so we took her to surgery straight away to remove them. "
Lola, who rescued her pooch as a puppy and affectionately calls her Maz, said: "The vets rang me and told me they'd have to do a risky operation. I was really worried about Maz. I know there can be complications with these procedures."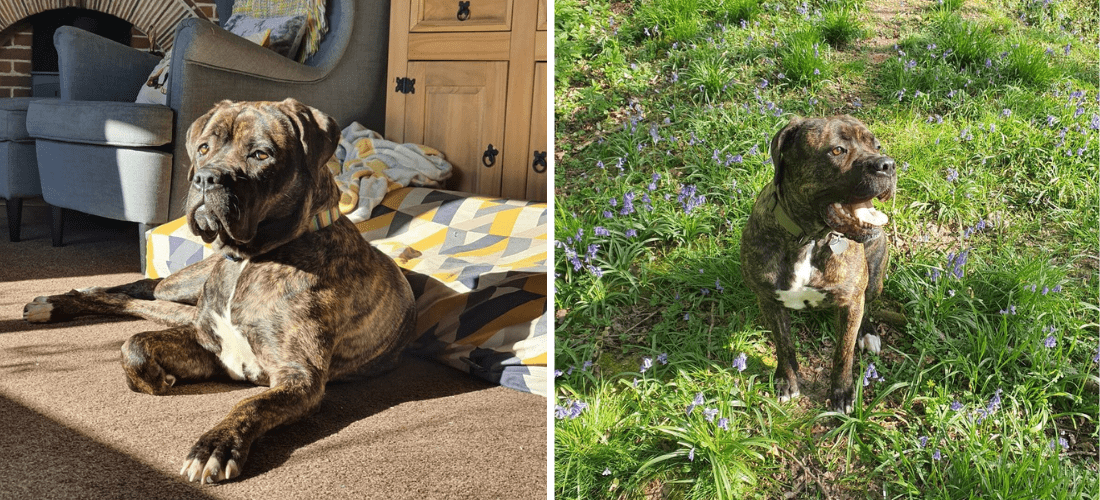 Naturally, like any caring pet owner in this situation, Lola began to reflect on how much her furry best friend meant to her and her family.
Lola said: "Maz helped our family through the loss of our first dog, who the kids had grown up with. When we lost her, Maz was so affectionate. She really helped all of us to grieve and get over our loss. She gave us a purpose. We still had to get up and out with her each day, even if we didn't feel like it. She's so in tune with people's emotions. If the kids cry, she will comfort them."
According to Lola, despite being named after a devilish character in the TV show Lucifer, in reality, Mazikine is a gentle giant.
Lola said: "We live on a farm and have horses, sheep, ferrets and another dog (a Chorkie) - Mazikine is so gentle with them all. When we hatched baby chicks, she was so still and gentle and let them run all over her. She's also scared of the dark. I have to put the torch on when she goes into the garden at night."
She continued: "Mazikine doesn't realise her size and follows us everywhere. She will often give me and my husband a sideways look and then jump on the couch for a snuggle."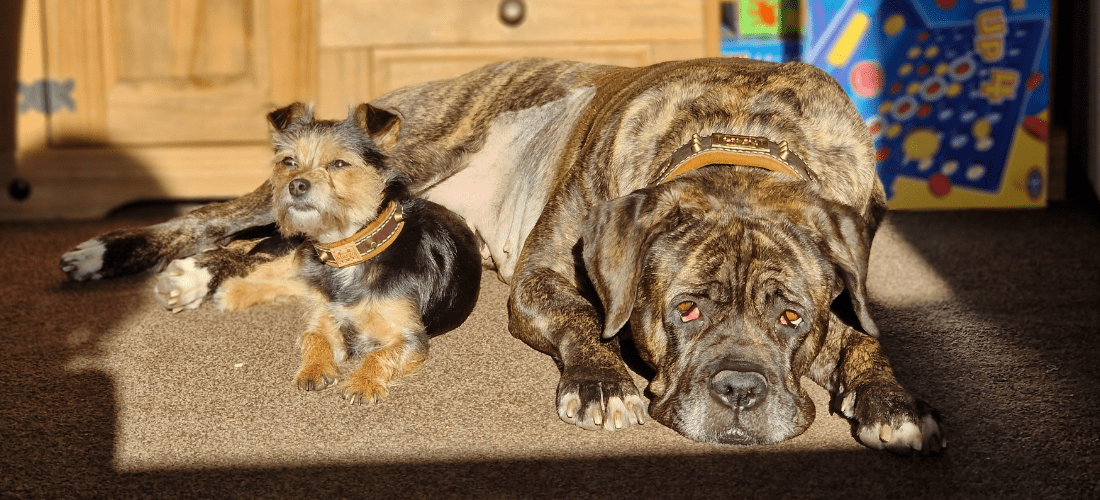 Following the surgery, Mazikine has recovered well and, according to Lola, is back to being her little 'nuisance'!
Lola said: "Mazikine is a very cool dog. She makes this loud, warbling noise when she wants attention – she's back to doing that. I think it's common with her breed. It's like she's talking to me. She's back on her walks round the farm too."
All in all, Mazikine's treatment at PDSA came to a total of £887.71.
Fortunately, Lola (who does not work due to a disability) and her husband were covered by pet insurance.
She said: "We don't get Maz's treatment at PDSA for free but at a reduced rate. We were lucky that we were able to temporarily cover the cost of her treatment until our insurance provider paid it back. If we had taken Maz to a private vets, and didn't have insurance, it would have cost too much."
Despite being in a position to pay for Mazikine's low-cost treatment at PDSA, like many people across the UK right now, Lola is still feeling the pinch due to the cost of living crisis.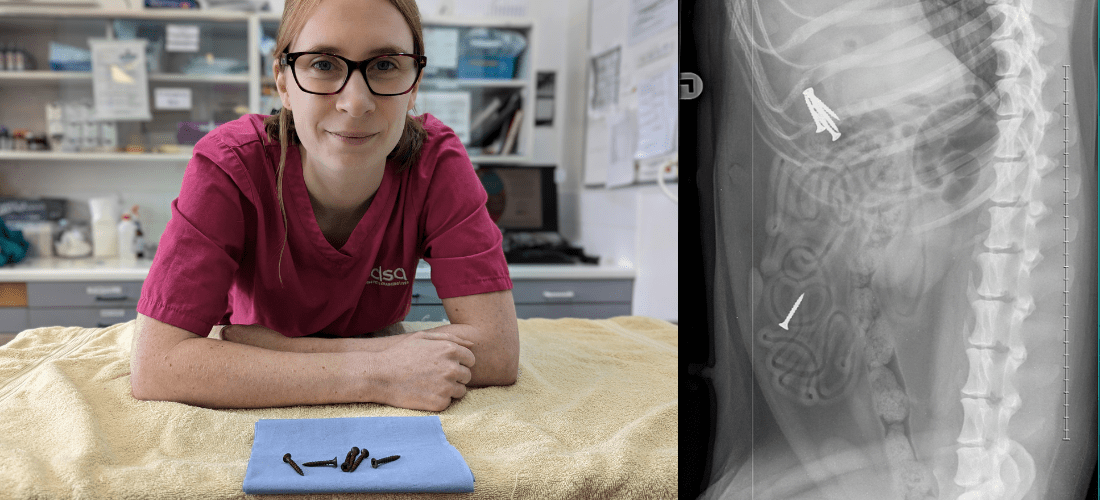 She said: "The cost of everything is increasing each month. For the first time in my life, I'm relying on credit cards and buy now, pay later schemes. We live in a rural area and rely on using our two cars. Due to fuel price increases, my husband can't drive his car as much. We've also tried to cut down on the cost of our weekly food shop by buying non-branded items."
Lola continued: "I think about money constantly. We're not in loads of debt but enough that I have to budget carefully and work out where money is going each month. Recently, our electricity company said we need to increase the amount we pay each month for the second time."
As someone who has worked in a dog rescue shelter previously, Lola's concerns about money extend to other dog owners who might be struggling due to the cost of living crisis.
She said: "I've worked in dog rescue homes before - a lot of the time dogs get rehomed because of the cost of upkeep. If more people had help, more dogs could stay with their families rather than be moved on."
Thankfully, that was not the case for Lola and Mazikine. Here at PDSA, we were able to help keep their family together – something Lola is extremely grateful for.
She said: "I can't sing PDSA's praises highly enough. Every time I've been to PDSA, they take the time to listen and treat Mazikine as an individual. The staff are so lovely, approachable and genuinely want to help. They're my first port of call if anything happens to my pets. I can't fault them. If you're considering donating, definitely do it."

PDSA is the UK's leading veterinary charity. Through our 48 Pet Hospitals and Pet Care scheme, we save the lives of poorly pets who would otherwise be left untreated.
Every year, we helped over 388,000 pets. Without us, emergency cases like Mazikine's would be left untreated and many pets could lose their lives or be separated from families who love them.
We wouldn't be here for dogs like Mazikine without your support. Please consider donating today.

Give pets like Mazikine a fighting chance
Pets who have been there for us during the pandemic deserve somewhere to turn when they need life-saving treatment.
Your help will save pets like Mazikine
Every £1 donated will help us make sure sick and injured pets get the treatment they desperately need.
Donate now
What to do if your dog eats something harmful
Find out what to do if your dog eats something harmful like Mazikine did.
Visit the Hub
Sign up to our newsletter
Want to read more stories like Mazikine's, keep up with the latest pet wellbeing news, or perhaps you just want to support PDSA? Get your latest PDSA news with our Newsletter.
Sign up now
A little treat
Looking to pamper your pet? Why not shop some of our vet-approved products! When you buy with us, you'll help pets like Mazikine.
Shop now