Miley receives emergency surgery to treat a painful wound.
A 3-year old female cat called Miley needed emergency surgery at PDSA Brighton Pet Hospital when she returned home one evening with a deep wound.
Talking about Miley, her proud owner Jackie (74, retired), said: "Miley is a young, playful cat. A ball is her favourite toy, but she's also very fond of my daughter's pet Chihuahua. Whenever I visit my daughter, Miley always comes with me and the two often play together which is very sweet to watch. On the other hand, Miley is also very affectionate and loves being warm and cosy - the airing cupboard is her favourite sleeping spot!"
On the day of the incident, Jackie noticed Miley was more vocal than usual when she returned home that rainy afternoon: "Miley came dashing through the window wailing. She hates the rain or having wet fur so I didn't think too much of it at first - I simply assumed she was unhappy due to the weather. It was only when I began to dry her that I realised something was wrong."
"As I pressed the towel against her fur, she instantly went to bite me. It was completely out of character. I looked at her closely and became very worried when I discovered the wound on her stomach. For a brief moment, I began to question what could have happened - had she been in a fight? Had she caught herself on the railings? Regardless of what had caused the injury, I knew that she needed emergency care so I immediately called PDSA."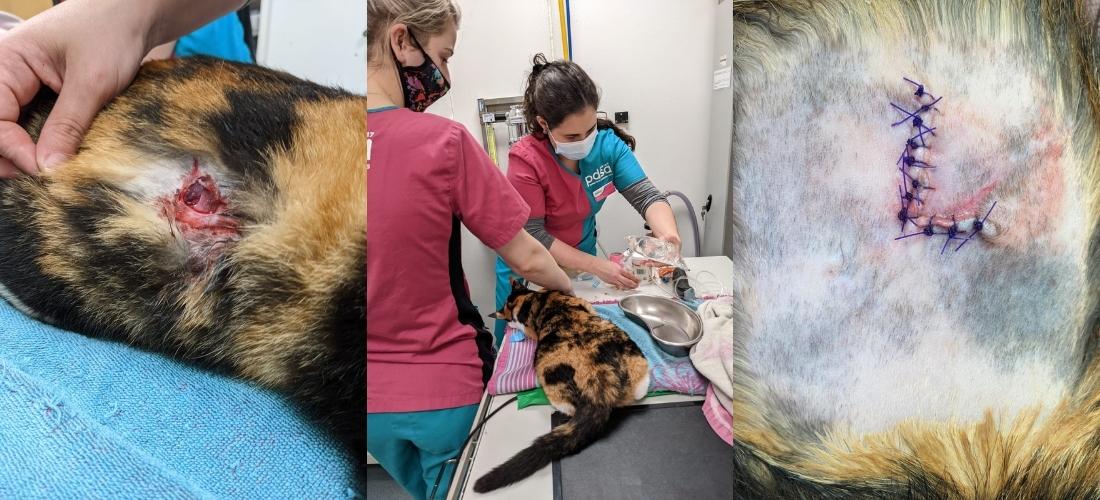 A PDSA Vet said: "Miley was taken to PDSA Brighton Pet Hospital for out-of-hours emergency treatment. Upon examination, the Veterinary team saw that Miley had a large, deep wound on her side that required emergency surgery."
"Within a few hours of arriving at the Pet Hospital, Miley received a general anaesthetic so her wound could be extensively cleaned, flushed with saline, and stitched closed. As the puncture wound was so deep, there was a danger of peritonitis, an infection of the inside of the abdomen (belly) that can be life threatening."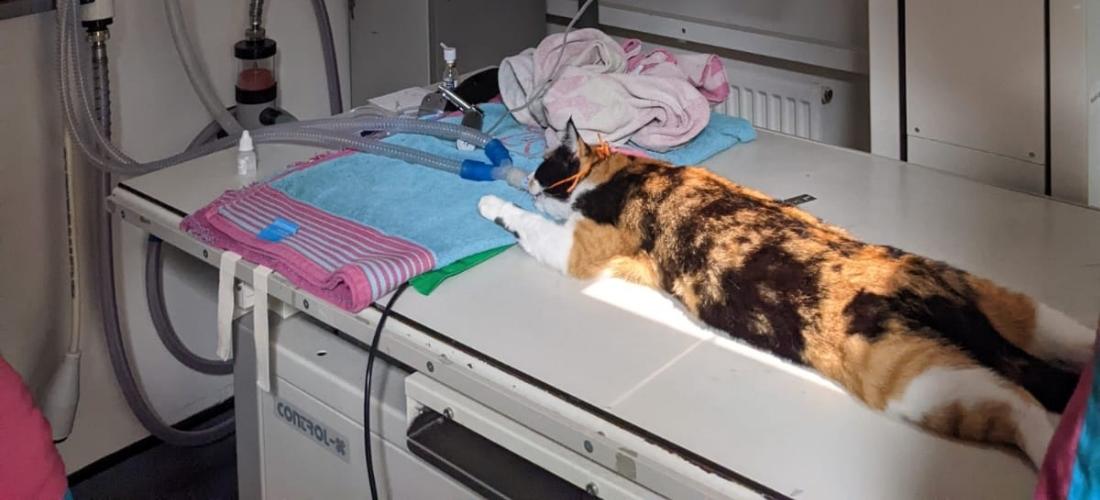 Following the successful surgery, Miley remained at PDSA Brighton Pet Hospital overnight for close monitoring before returning back home to a very worried Jackie the next day. To aid her post-surgery recovery, Miley needed antibiotics, pain relief medication, and indoor rest. Miley later returned for a follow-up appointment and both Jackie and the Veterinary team at PDSA Brighton Pet Hospital were glad to see that the wound was healing very well.
Jackie said: "Without PDSA, it would be hard for me to afford the pet fees and insurance. I am 74, retired, and live alone. To me, Miley is much, much more than just a pet - she is company. The care PDSA provided was excellent and I'm so grateful that Miley received the emergency treatment she needed so she could come back home to me. Thank you PDSA!"
Total cost of treatment: £385.89.

PDSA is the UK's leading veterinary charity. Through our 48 Pet Hospitals and Pet Care scheme, we save the lives of poorly pets who would otherwise be left untreated.
Every year, we helped over 388,000 pets. Without us, emergency cases like Miley's would be left untreated and many pets could lose their lives or be separated from families who love them.
We wouldn't be here for cats like Miley without your support. Please consider donating today.

Give pets like Miley a fighting chance
Pets who have been there for us during the pandemic deserve somewhere to turn when they need life-saving treatment.
Your help will save pets like Miley
Every £1 donated will help us make sure sick and injured pets get the treatment they desperately need.
Donate to PDSA
Sign up to our newsletter
Want to read more stories like Miley's, keep up with the latest pet wellbeing news, or perhaps you just want to support PDSA? Get your latest PDSA news with our Newsletter.
Sign up today
First aid for wounds
Check our vet's advice on first aid for bleeding wounds.
Visit the hub