Five-month-old Staffordshire Bull Terrier puppy, Misty, is on the mend thanks to PDSA Vets.
When Misty, a five-month-old Staffordshire Bull Terrier, suffered a painful collision with the sofa, she needed emergency surgery to repair a fracture near her kneecap.
Speaking about Misty, her owner Sophie (31, unemployed) said: "I chose the name Misty because she has a misty blue coat, and also because of the song 'Misty Blue' by Dorothy Moore. She's a beautiful dog with a loving and caring temperament. She's very affectionate too - she especially likes it when I stroke her paws."
One afternoon at home, things took a sudden turn when Sophie heard Misty yelp out in pain.
​She explained: "Misty was running around the house doing her usual zoomies when she jumped onto the sofa and hit her back right leg. She squealed out in pain, so I immediately knew something was wrong. I ran over and realised she couldn't put her paw down to walk properly. I called Birmingham (Aston) PDSA Pet Hospital, who told me to bring her in for an emergency appointment."
On examination, Namnish Heran, a Vet at Birmingham (Aston) PDSA, was concerned at how painful Misty was on her leg.
Namnish said: "Misty's leg was very uncomfortable, and her knee was swollen. We were worried that she may have a fracture, so we gave her medication to reduce the swelling and arranged an X-ray."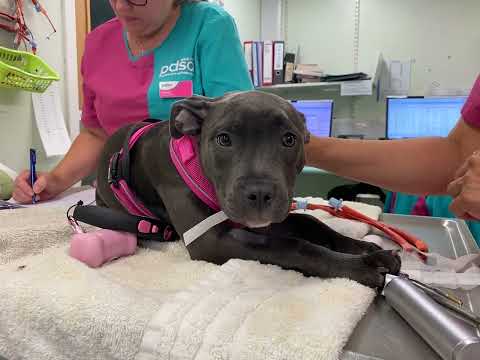 Video found at youtu.be/0TYpvtUpZ1s
Misty was given pain relief injections, and X-rays were scheduled for the following day. Sadly, when the X-rays were taken under general anaesthetic, the results showed a tibial tuberosity fracture (the bump of bone just below the kneecap), which would need surgery to repair. 
Namnish added: "We tend to see this injury in younger dogs whose bones are still developing, often after a blow to the knee, which happened when Misty hit the sofa. If the fracture is not operated on, the leg can remain painful and may not function properly."
Sophie said: "I was really nervous when I was told that Misty needed surgery, especially because of her age. She was just five months old then, and I didn't know how she would cope." 
Thankfully, Misty's fracture repair surgery and anaesthetic went well. She was reunited with Sophie later that day with pain relief, antibiotics to give at home, and instructions for strict rest.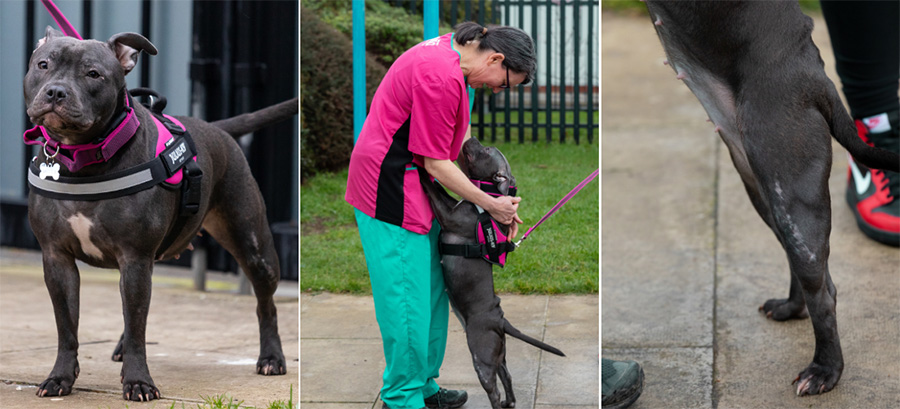 Sophie continued: "Misty needed to limit her movements after surgery to allow the pins to stay in place and her fracture to heal, so I made sure she got plenty of rest. She was only allowed out to the garden on a short lead to go to the toilet. Seeing her not be her usual playful self was hard, but I knew how important it was for her to rest properly. Now, Misty has fully recovered, and she's back to being a happy, healthy puppy. 
"I don't know what I would've done without PDSA, as I don't know how I would have afforded the treatment she needed. Misty was well looked after from her operation to her long recovery, and the team supported me through everything. I can't thank them enough for helping my Misty!"
Cost of Misty's treatment: £1,040.89

PDSA is the UK's leading veterinary charity. Through our 48 Pet Hospitals and Pet Care scheme, we save the lives of poorly pets who would otherwise be left untreated.
Every year, we helped over 388,000 pets. Without us, cases like Misty's would be left untreated and many pets could lose their lives or be separated from families who love them.
We wouldn't be here for dogs like Misty without your support. Please consider donating today.

Help us be there for pets in need
Pets are family. They don't deserve to suffer or lose their life because of financial hardship.
Your support helps to provide vital vet care to pets in need
Donate now to keep people and pets together during the cost of living crisis.
Donate to PDSA
Will you give now to help people and pets in need?
As the cost-of-living rises, vet care could be out of reach for many. Please donate today so we can help people and pets like Sophie and Misty. 
Find out more
Low-cost ways to care for your pet
We've put together top tips and advice, such as low-cost activities to do with your pets and health checks you can do yourself at home, which you might find helpful during this difficult time.
Read our advice
Sign up to our newsletter
Want to read more stories like Misty's, keep up with the latest pet wellbeing news, or perhaps you just want to support PDSA? Get your latest PDSA news with our Newsletter.
Sign up now