Easter bunny gets her hop back after a major operation – despite losing a leg
A Manchester bunny named Nora nearly lost her hop after breaking her leg, but after an operation performed by our vets, she's back on all three paws in time for Easter.
Concerned owner, Ashleigh (21), from Bolton, noticed that Nora, her eight-month-old bunny, was refusing to put weight on her back leg and seemed in pain. So Ashleigh took her in to our Manchester PDSA Pet Hospital to be checked over.
Following an examination, our vets confirmed that she had suffered a nasty fracture.
As Nora was so young, the vet team hoped she would bounce back with rest to avoid surgery. Unfortunately, painkillers and rest provided no cure, and the Manchester PDSA team had to amputate Nora's leg.
Ashleigh said: "She wasn't improving so we knew something had to be done. But she's so tiny we were really worried she wouldn't make it through a major operation. We didn't want her to suffer in pain so, with PDSA's help, we decided the best option was to amputate."
PDSA Vet Emma Deards said: "The operation was a success and Nora was able to go home later that day. Her check-up a few days later showed she's making a brilliant progress and she's already got her hop back! It's wonderful to see pets like Nora recover from injury, and much of our work is being made possible by ongoing support from players of People's Postcode Lottery."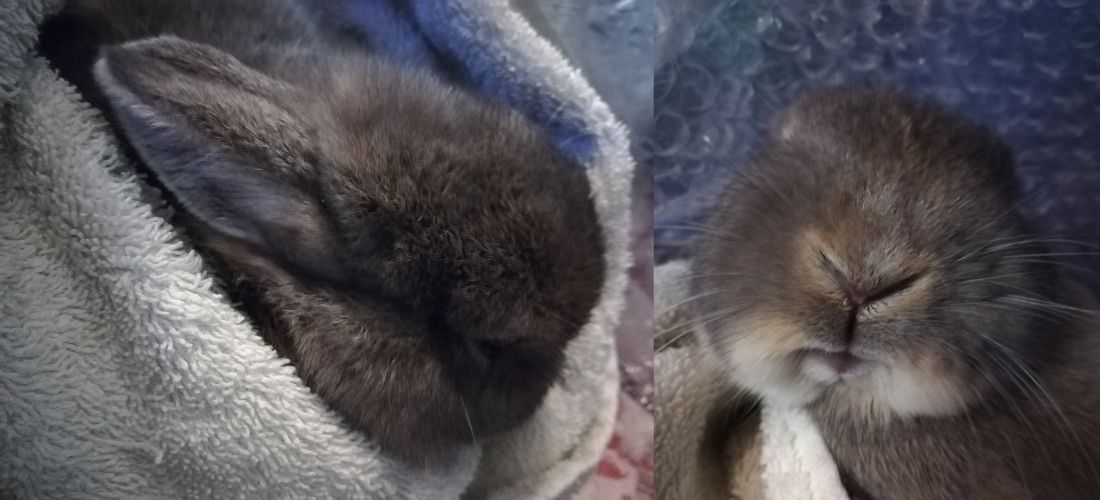 Ashleigh continued: "I'm so relieved to have her home. She's back to ruling the roost and she's even chasing our dog around the house, so we know she's back to her old self!"
Bunnies are more than just an Easter gift, our 2019 PDSA Animal Wellbeing (PAW) Report found that rabbits are still the most misunderstood of all our pets. The Report found that 540,000 rabbits are still kept on their own, when they really need another rabbit as a companion; frequently their hutches are far too small; and a lack of sufficient hay in the diet creates dental problems for thousands of domestic rabbits. 
Emma is one of ten experienced PDSA vets whose roles are kindly being supported thanks to players of People's Postcode Lottery this. Without our dedicated veterinary teams, we couldn't provide our vital service for pets in need, and our established vets provide a wealth of experience, support and expertise, enabling us to prevent suffering and save pets' lives.

PDSA is the UK's leading veterinary charity. Through our 48 Pet Hospitals and Pet Care scheme, we save the lives of poorly pets who would otherwise be left untreated.
Every year, we helped over 388,000 pets. Without us, emergency cases like Nora's would be left untreated and many pets could lose their lives or be separated from families who love them.
We wouldn't be here for rabbits like Nora without your support. Please consider donating today.

We need your help so we can treat more pets like Nora
Pets who have been there for us deserve somewhere to turn when they need life-saving treatment.
Your support will help us continue to treat pets like Nora
Every £1 donated will help us make sure sick and injured pets get the treatment they desperately need.
Donate to PDSA
Poorly pet?
Get vet-approved advice on common symptoms, conditions and medications for pets on our Pet Health Hub.
Visit the hub
Sign up to our newsletter
Want to read more stories like Nora's, keep up with the latest pet wellbeing news, or perhaps you just want to support PDSA? Get your latest PDSA news with our Newsletter.
Sign up today