Nugget survives after falling from a second-storey window
PDSA vets saved an eight-year-old cat called Nugget after falling 30-foot from a window.
One evening, Nugget's owner's 21-year-old son heard a strange scratching sound coming from his window, followed by a thud. They soon realised their beloved cat Nugget had plummeted to the ground from their apartment.
Nugget's owner, Veronica, said: "It was late at night and we were all horrified and in a complete panic thinking the worst. Nugget often sits happily by the window, so we couldn't believe she'd fallen.
"We dashed downstairs worried about what we'd find. We were astonished to find Nugget limping along, trying to get back home! She was very shaken, and we were extremely worried she could have broken bones or suffered internal injuries."
Veronica rushed Nugget to an emergency vet, where she received pain relief. Vets explained that x-rays and treatment could cost over £1,000.
Unsure of how she was going to afford these veterinary fees, Veronica turned to PDSA for help.
PDSA vet, Olivia Anderson-Nathan, said: "We x-rayed Nugget to check whether she had suffered any traumatic injuries, but amazingly, tests revealed she hadn't broken a single bone! She is one incredibly lucky cat. Bruises and a couple of scrapes to her face are the only signs of her remarkable tale of surviving a 30-foot fall! She will have been very sore from her bruises for the next few days, but we were so pleased she was able to make a full recovery."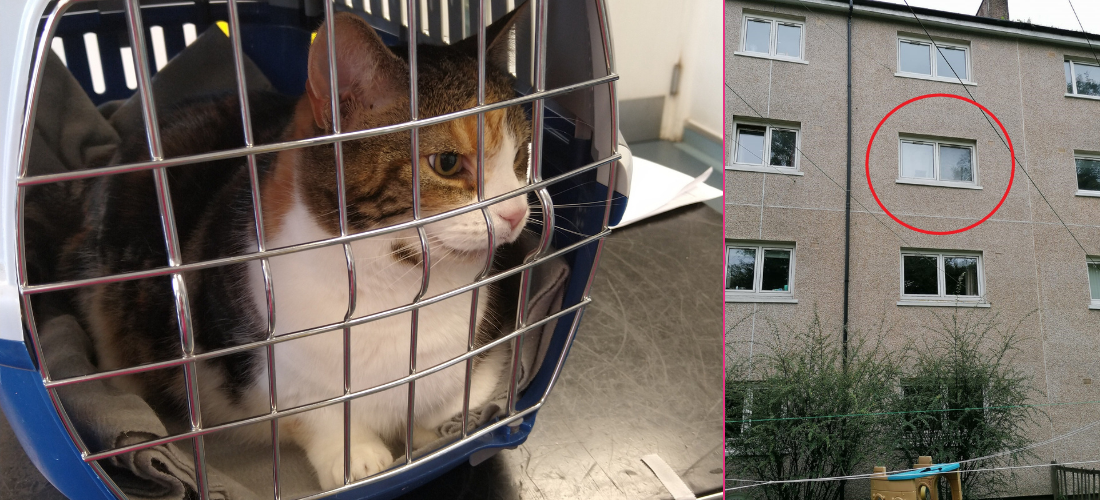 Thankfully, Nugget's owners were able to take her home the same day with painkillers and strict instructions to keep her well-rested.
Veronica added: "We're so grateful to the fantastic team at PDSA – they were brilliant and we don't know what we would have done without them. To have PDSA there for Nugget during this crisis meant so much, especially during lockdown when everything was particularly hard. We were over the moon that there were no serious injuries and she hadn't broken anything. She's already back to her normal self, and we're making sure that all windows are extra safe so this can't happen again!"

PDSA is the UK's leading veterinary charity. Through our 48 Pet Hospitals and Pet Care scheme, we save the lives of poorly pets who would otherwise be left untreated.
Every year, we helped over 388,000 pets. Without us, emergency cases like Nugget's would be left untreated and many pets could lose their lives or be separated from families who love them.
We wouldn't be here for cats like Nugget without your support. Please consider donating today.

Give pets like Nugget a fighting chance
Pets who have been there for us during the pandemic deserve somewhere to turn when they need life-saving treatment.
Your help will save pets like Nugget
Every £1 donated will help us make sure sick and injured pets get the treatment they desperately need.
Donate to PDSA
Poorly pet?
Get vet-approved advice on common symptoms, conditions and medications for pets on our Pet Health Hub.
Visit the hub
Get a free Pet First Aid guide
Our vets have put together a special Pet First Aid guide with handy tips, advice and steps to follow if you ever find yourself in an emergency situation where your pet is in danger.
Download now