Perci survives horrific road traffic accident
Perci the cat, a two-year-old tabby, was rushed to PDSA for emergency veterinary treatment after being hit by a car and suffering life-threatening injuries. 
Perci was taken to Leicester PDSA Pet Hospital after a car struck him. Vets gave him pain relief and made sure he was comfortable. Shortly after, x-rays revealed that he had broken three of his legs.

His owner, Charlotte, said: "We found Perci screaming and wailing, making a sound that I've never heard a cat make before. He was in a horrific state. PDSA vets warned us that Perci was in shock and that there was a high chance he may not pull through because his injuries were so severe. The next few days were critical as to whether he'd survive." 
Perci needed PDSA's help to live.
Thankfully, Perci is a fighter. After a few days recovering from his ordeal and building up his strength, he was operated on to repair his three broken legs. Over the next seven days, Perci had three major operations in a bid to save his life. 

Charlotte added: "It would have been unthinkable to put Perci down; he's my world. I have autism, so I bond better with animals than I do with people. PDSA did everything they could to save him. I'm so thankful.

"He's been through the wars, and it was touch and go. But thankfully, he's making a slow but steady recovery. He lost nearly 1kg, a lot of weight for a cat, but he's started to put the weight back on and looks more like his normal self. He loves the attention he's getting, that's for sure!"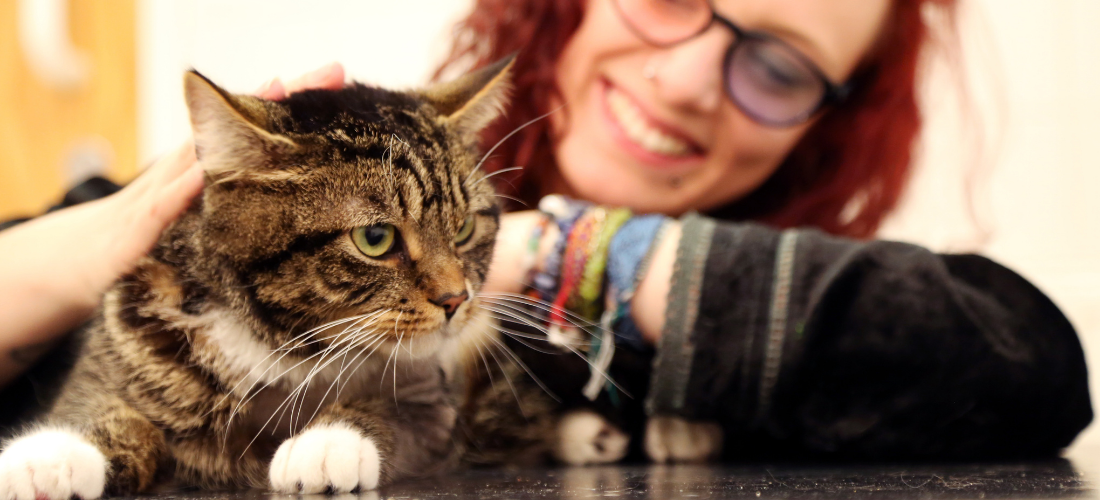 Thanks to PDSA vets, Perci is on the road to recovery.
Veterinary surgeon Chris Sherwood, part of the PDSA team who treated Perci, said: "He sustained terrible injuries. It's very rare to see a cat with three badly broken legs. But he's strong, and while his injury means he may never gain full mobility of his back right leg, he has lots of life in him yet. We're so pleased he's making such a brilliant recovery."

Charlotte concluded: "I'm so grateful to the PDSA team in Leicester who did all they could for him. I wanted to give something back so I set up a fundraising page to help pay the charity back for some of Perci's life-saving treatment. With the support of friends and family, we have raised an amazing £1,300 for PDSA. I'm over the moon they can carry on treating other animals like Perci. 'Thank you' doesn't cover how grateful I am."

PDSA is the UK's leading veterinary charity. Through our 48 Pet Hospitals and Pet Care scheme, we save the lives of poorly pets who would otherwise be left untreated.
Every year, we helped over 388,000 pets. Without us, emergency cases like Perci's would be left untreated and many pets could lose their lives or be separated from families who love them.
We wouldn't be here for cats like Perci without your support. Please consider donating today.

Give pets like Perci a fighting chance
Pets who have been there for us during the pandemic deserve somewhere to turn when they need life-saving treatment.
Your help will save pets like Perci
Every £1 donated will help us make sure sick and injured pets get the treatment they desperately need.
Donate to PDSA
Poorly pet?
Get vet-approved advice on common symptoms, conditions and medications for pets on our Pet Health Hub.
Visit the hub
Sign up to our newsletter
Want to read more stories like Perci's, keep up with the latest pet wellbeing news, or perhaps you just want to support PDSA? Get your latest PDSA news with our Newsletter.
Sign up today