PDSA saves Pickle from deadly womb infection
Eleven-year-old Border Collie crossbreed Pickle has made a full recovery, thanks to PDSA, after developing pyometra - a dangerous womb infection that could have killed her.
Pickle's owner, Sharon (49), noticed something wasn't right when her beloved pooch began vomiting, stopped eating or drinking, seemed lethargic and started peeing in the house.
Concerned, Sharon contacted her local PDSA Pet Hospital. After hearing Pickle's symptoms and deteriorating condition, the charity's vet team recommended that Pickle was brought in immediately to be seen as an emergency case at Oldbury PDSA.
PDSA Vet, Kinga Kuc, said: "The symptoms Pickle was experiencing were tell-tale signs of pyometra, a potentially fatal womb infection. Her owner rushed her to the Pet Hospital, and when she arrived, we ran a series of tests, including an ultrasound scan of her abdomen, which confirmed our fears; Pickle was suffering from pyometra."
Pyometra is a womb infection that affects unneutered female dogs. It usually develops four to eight weeks after a season and is deadly if left untreated. Dogs suffering need emergency surgery to remove their womb to survive.
Sharon, from Brownhills, said: "I was distraught when I found out Pickle had pyometra. I couldn't bear the thought of losing her. She is a much-loved family member who's grown up with my children and grandchildren. Pickle is also a reminder of my late husband, as we got her together when she was just a puppy.
"During the pandemic, Pickle has been a huge comfort. I suffer from anxiety and depression, and being in lockdown affected my mental health. While I was isolated from my friends and family, Pickle was always there for a cuddle and a chat."
Kinga continued: "To give Pickle the best chance of survival, we needed to place her on an intravenous fluid drip and operate quickly. If left untreated, she wouldn't have survived.
"Thankfully, during the emergency surgery, our team were able to remove her infected womb successfully, and she was kept at the Pet Hospital overnight for post-op care and close monitoring."
Sharon said: "I was so relieved when PDSA called to say the operation was a success and that I could collect Pickle."
Pickle needed several follow up appointments at PDSA during her recovery, so vets carried out check-ups and further tests.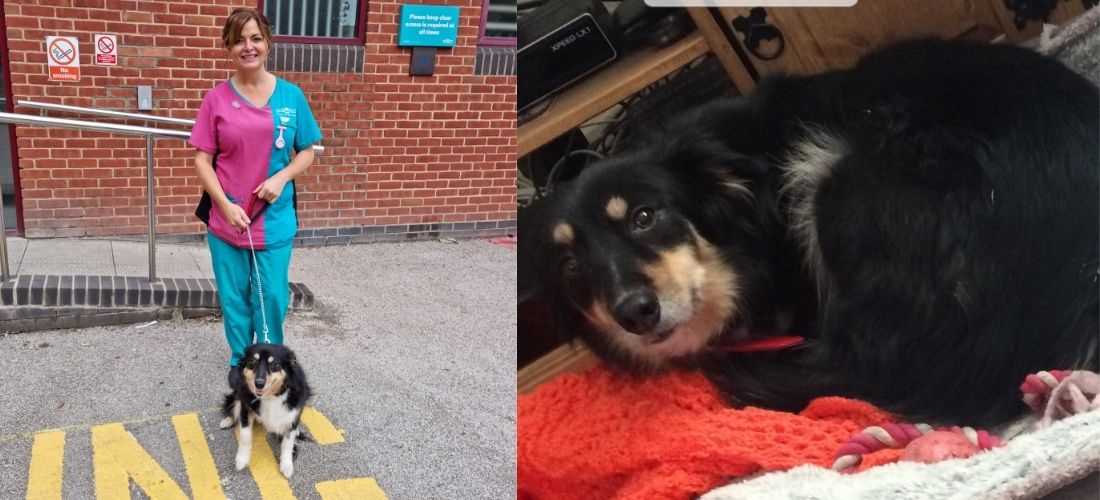 Sharon said: "Pickle recovered really well, was obviously glad to be home, and was back to her bouncy self, playing with my grandchildren in the garden.
"The team at PDSA were fantastic. They were friendly, helpful and were there to support us every step of the way. If PDSA weren't there when Pickle became seriously ill, I dread to think what might have happened. I wouldn't have been able to afford costly vet bills. I'm so very grateful to them for saving Pickle's life."

PDSA is the UK's leading veterinary charity. Through our 48 Pet Hospitals and Pet Care scheme, we save the lives of poorly pets who would otherwise be left untreated.
Every year, we helped over 388,000 pets. Without us, emergency cases like Pickle's would be left untreated and many pets could lose their lives or be separated from families who love them.
We wouldn't be here for dogs like Pickle without your support. Please consider donating today.

Give pets like Pickle a fighting chance
Pets who have been there for us during the pandemic deserve somewhere to turn when they need life-saving treatment.
Your help will save pets like Pickle
Every £1 donated will help us make sure sick and injured pets get the treatment they desperately need.
Donate to PDSA
Poorly pet?
Get vet-approved advice on common symptoms, conditions and medications for pets on our Pet Health Hub.
Visit the hub
Get a free Pet First Aid guide
Our vets have put together a special Pet First Aid guide with handy tips, advice and steps to follow if you ever find yourself in an emergency situation where your pet is in danger.
Download now