8-year-old Patterdale Terrier Pip received life-saving treatment at PDSA after another dog bit her and severely injured her jaw.
Distressed, Pip's owner, Shannon (28), rushed her to the emergency vet before being transferred to Swansea PDSA Pet Hospital the following morning.
Shannon said: "I have never been so distraught in my life. I didn't think she was going to make it. Just seeing her jaw hanging there like that, thinking her last few days alive would be spent in pain and suffering was so upsetting for me and my 71-year-old father, Eric.
"Pip has lived with us for eight years since she was a puppy. She has helped me get through everything in my adult life since I was 20 years old - from my first boyfriend, my first heartbreak, trauma and tears, to happiness and joy.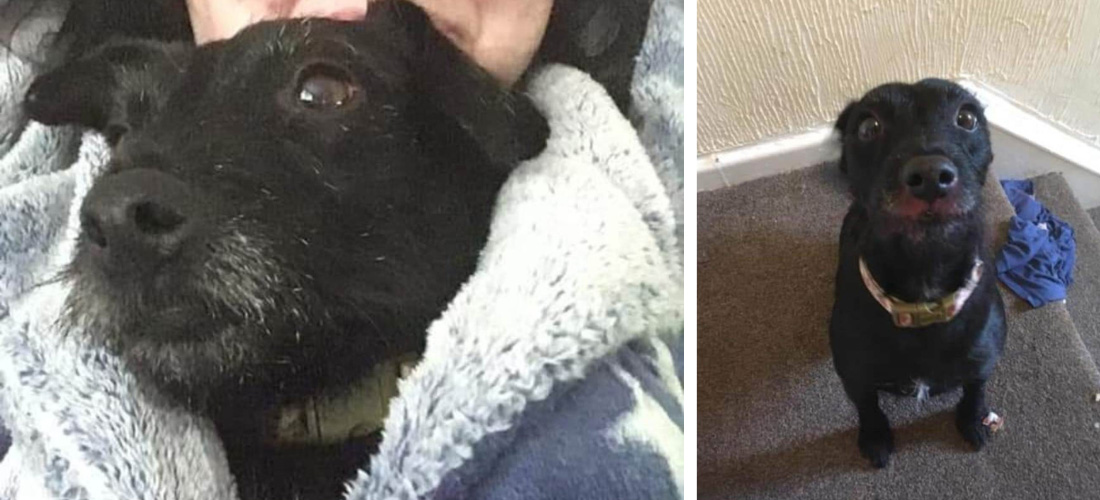 "Both me and my father have a special bond with Pip. I take her for walks, and she sleeps on my bed. Whereas she loves to sit on the sofa with my father under a blanket while they watch TV together."
When PDSA Vets examined Pip, they quickly realised she would need surgery to repair her jaw.
A PDSA Vet said: "When Pip was presented to us, her jaw was fractured. She had to have a general anaesthetic while we used a strong suture material to stabilise the jaw and allow the fractures to heal."
To her owners' relief, Pip was able to go home that evening with pain relief and antibiotics as well as a recovery cone and a soft muzzle to help keep her jaw in place. She needed regular follow-up appointments at PDSA to monitor her recovery, and a soft diet to reduce the movement of her jaw when eating.
Shannon said: "The surgery Pip received at PDSA was so skilfully done that you can't tell what happened to her, despite my friends and family warning me that she could be disfigured. She still looks like our puppy, and I can't thank PDSA enough for what they did. The fact that they exist truly is a blessing to anyone with a beloved pet."
The total cost of Pip's treatment to PDSA was £360.52

PDSA is the UK's leading veterinary charity. Through our 48 Pet Hospitals and Pet Care scheme, we save the lives of poorly pets who would otherwise be left untreated.
Every year, we helped over 388,000 pets. Without us, emergency cases like Pip's would be left untreated and many pets could lose their lives or be separated from families who love them.
We wouldn't be here for dogs like Pip without your support. Please consider donating today.

Keep pets like Pip together with their owners
As many families like Pip's struggle to pay unexpected vet bills, they need our urgent support to provide their pets with life-saving treatment before it's too late.
Will you help save Pip's life?
Every £1 donated will help us make sure sick and injured pets get the treatment they desperately need.
Donate to PDSA
Dog friendly-toys
Read our vets' advice on safe toys your dog will love to play with.
Find out more
Poorly pet?
Get vet-approved advice on common symptoms, conditions and medications for pets on our Pet Health Hub.
Visit the hub