PDSA vets save Poppy after horrific dog attack
Poppy, a seven-year-old Shih-Tzu, was left needing emergency surgery after being badly bitten by another dog during a walk. Her life-changing injuries left PDSA vets with no option but to remove her damaged eye.
Poppy was walking just outside her home in Leicester with her owner when a dog launched an unprovoked attack, biting her on the face.
Her owner, Rhiannon Clarkson, said: "It all happened so fast. One minute Poppy and the other dog were next to each other, and the next minute the dog was biting Poppy's head.
"We could see she was badly hurt, so we carried her inside to look at her injuries. We were horrified to see her eye had popped out of the skull and knew she needed urgent veterinary care."
In a panic and worried about Poppy's severe injuries, her owners contacted Leicester PDSA Pet Hospital for help.
Rhiannon said: "The whole family was in bits, and we didn't know what to do. But thankfully, the vets at PDSA were calm and reassuring. After a telephone consultation, they asked us to bring Poppy to the Pet Hospital right away."
PDSA vet, Carmela Rizza, said: "When Poppy's owner brought her in, her left eye was completely out of its socket. This type of injury usually happens when there is too much pressure around the eye. In Poppy's case, the dog's strong jaws around her head caused the wound. Unfortunately, flat-faced dogs like Shih-Tzus are more at risk of these types of injury due to the shape of their skulls. The damage was so serious that our only option was to operate to remove Poppy's injured eye."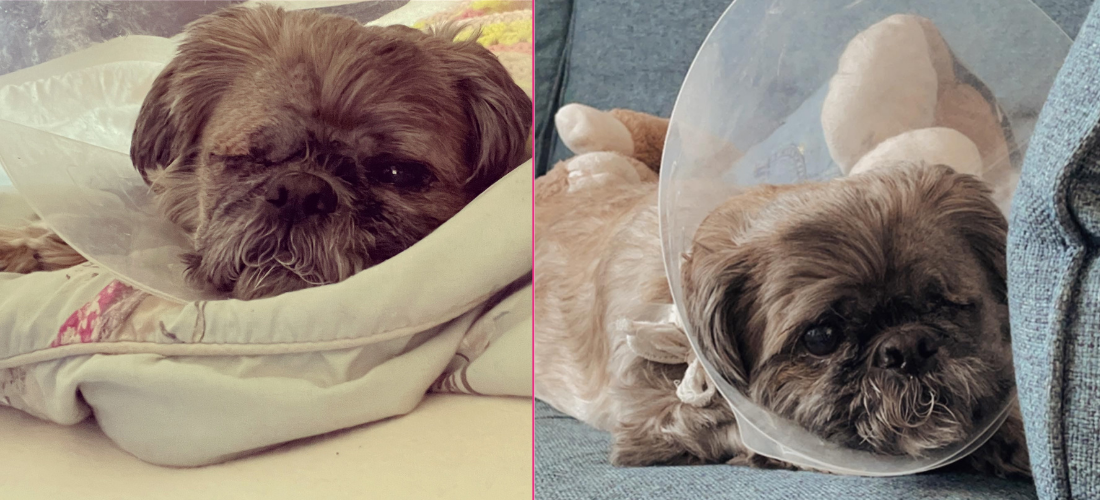 After an intense operation, Poppy's family got the long-awaited call to say it was a success and they could collect her. She was prescribed pain relief, antibiotics and was under strict orders to get plenty of rest.
PDSA vet, Carmela Rizza, added: "Sadly, we realised that the attack had also caused Poppy to lose vision in her right eye, leaving her completely blind. Serious eye injuries like Poppy's can result in inflammation in the nerves of the uninjured eye. However, Poppy recovered well and seemed very settled after her operation.
"We saw Poppy a week later to check her progress. Thankfully, she was recovering well from surgery, and she seems to be slowly getting some vision back in her right eye as the inflammation improves."
Rhiannon said: "Poppy is getting better and is enjoying playing with her teddy bears again. We honestly don't know what we would have done without PDSA. They were amazing and showed so much care towards Poppy.
"There's still a way to go until she's over the ordeal and fully recovered, but we're just so happy to have our furry family member back home with us."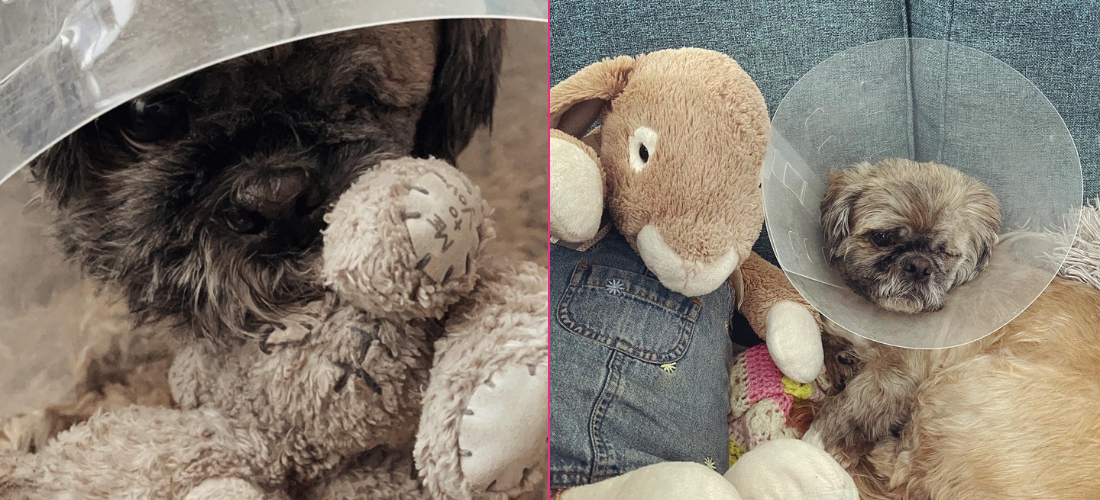 PDSA is the UK's leading veterinary charity. Through our 48 Pet Hospitals and Pet Care scheme, we save the lives of poorly pets who would otherwise be left untreated.
Every year, we helped over 388,000 pets. Without us, emergency cases like Poppy's would be left untreated and many pets could lose their lives or be separated from families who love them.
We wouldn't be here for dogs like Poppy without your support. Please consider donating today.

Give pets like Poppy a fighting chance
Pets who have been there for us during the pandemic deserve somewhere to turn when they need life-saving treatment.
Your help will save pets like Poppy
Every £1 donated will help us make sure sick and injured pets get the treatment they desperately need.
Donate to PDSA
Dealing with dog attacks
Get vet-approved advice on dealing with dog attacks, like the one that happened to Poppy. 
Find out more
Caring for your dog
Our vets have tonnes of top tips for looking after your dog.
Find out more
Sign up to our newsletter
Want to read more stories like Poppy's, keep up with the latest pet wellbeing news, or perhaps you just want to support PDSA? Get your latest PDSA news with our Newsletter.
Sign up today