13-year-old American bulldog Roscoe weighed in at a whopping 75kg when his owner, Craig Wilson, took him for a consultation at PDSA
Craig was concerned about Roscoe's weight gain as he could see it negatively impacting his quality of life. Sad to see his best friend struggling, Craig contacted his local PDSA Pet Hospital in Stoke for help.
He said: "Roscoe was so big it was difficult to get him out on walks, and even during a short walk to the corner shop, he would need a few stops along the way. His breathing was awful at some points, and you could tell he struggled to carry his body weight around."
As the pounds piled on, Craig knew he needed some expert advice on how to help Roscoe lose weight to get him back to his old, active self.
Craig said: "Roscoe's very fond of the odd treat from our dinner, so I knew dropping this was the first step, but beyond that, I wasn't sure what to do about his food, and he definitely wasn't fit enough to take on any long walks at this point. We really needed some help! During a consultation at PDSA, the vet discussed with me that Roscoe was overweight, agreed that Roscoe needed help to lose weight, and arranged an appointment with a Veterinary Nurse, who gave me great advice and set Roscoe up with a weight loss plan.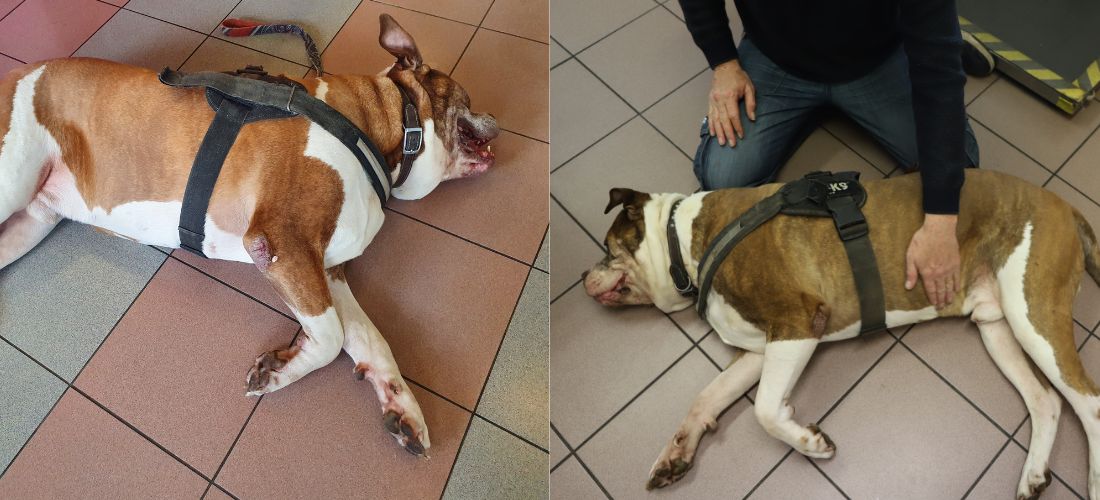 PDSA Vet Nurse Susan Norcop said: "The first step in a pet's weight loss journey is to give them a thorough health check and carry out a 'Body Condition Score'  – (a 'hands-on' way of feeling how much fat is covering the outside of the body). Sadly, we know that overweight pets are at a higher risk of getting all sorts of health problems and injuries. We recommend making small changes to help pets lose weight gradually – aiming to lose 1-2% of your pet's starting weight each week is a good target.
"When Roscoe came to see us he weighed 75kg and needed to lose at least 25kg.  We arranged for regular check-ups to have his body condition score assessed and weight recorded, so we could make sure he was losing the weight steadily and safely. You could see how much the excess weight was affecting his daily life through his breathing and energy levels, so we all knew that losing weight was vital for his health and happiness.
"Thankfully, with the right advice, diet and exercise regime, Roscoe did really well. But he couldn't have done it without Craig, weight loss plans are never easy and take real dedication. He's lost weight steadily, and now at 52kg, he's almost at his ideal weight. Once that's achieved, we'll make sure we help and support Craig to maintain Roscoe at his perfect size."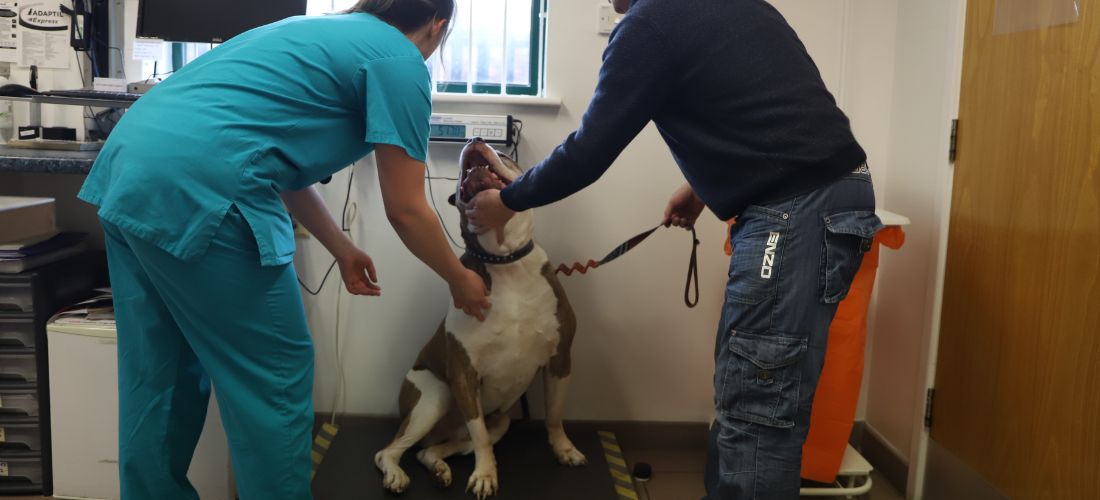 Craig said: "From struggling to walk him around the local green to seeing him run around with dogs in the park, I'm so pleased we got expert advice to kick-start his weight loss journey. Roscoe has such a big personality, he's cheeky, loving, and is very intelligent, but when he was overweight, he wasn't the same dog.
"Thankfully, he's back to his old, happy self and I can't thank PDSA enough for giving us the support we needed to get Roscoe to where he is today. And I'm so pleased we've been able to keep the weight off, although Roscoe does get a little confused still when we don't give him any leftovers from a Sunday roast."
Susan commented: "Instead of feeding your pet, perhaps you could show your love or reward them with extra fun-filled playtime, a new toy, extra snuggles or even a good groom!
"But if food is your go-to treat to reward good behaviour, we recommend making sure treats don't take up more than 10% of your dog's daily food allowance - and their usual food will need to be reduced by the same amount to make sure they aren't overeating."
If you're looking for advice about your pet's weight, have a look at our 'Weigh Up' campaign, that's full of useful information about keeping your pet happy and healthy.

PDSA is the UK's leading veterinary charity. Through our 48 Pet Hospitals and Pet Care scheme, we save the lives of poorly pets who would otherwise be left untreated.
Every year, we helped over 388,000 pets. Without us, emergency cases like Roscoe's would be left untreated and many pets could lose their lives or be separated from families who love them.
We wouldn't be here for dogs like Roscoe without your support. Please consider donating today.

Give pets like Roscoe a fighting chance
Pets who have been there for us during the cost of living crisis deserve somewhere to turn when they need life-saving treatment.
Your help will save pets like Roscoe
Every £1 donated will help us make sure sick and injured pets get the treatment they desperately need.
Donate to PDSA
Weigh Up
Like people, pets need to eat the right diet and get plenty of exercise to live long, healthy and happy lives. But as many of us know, doing those things isn't always easy.
Find out how to keep your pet in shape
Caring for your dog
Our vets have tonnes of top tips for looking after your dog.
Find out more
Sign up to our newsletter
Want to read more stories like Roscoe's, keep up with the latest pet wellbeing news, or perhaps you just want to support PDSA? Get your latest PDSA news with our Newsletter.
Sign up today