Manchester PDSA Pet Wellbeing centre helps Ruffin and his complex skin disorder
Sixteen-year-old West Highland white terrier, Ruffin, is a familiar face at PDSA in Manchester. He suffers from a complex skin disorder and requires regular treatment from PDSA vets to manage the condition.
His skin condition requires special shampoos and medications prescribed by the charity's vets to keep it under control. He also struggles with ear problems, suffering with repeated infections and has regular check-ups to keep the inflammation under control.
His 79-year-old owner, Agnes Harvey, from Manchester has been taking him for regular appointments since 2017.
Ruffin was first brought in for an appointment when his skin condition became itchy and painful. He had also started having some toilet accidents overnight, so he was checked over to make sure nothing was causing them. Luckily a urine test gave him the all clear and the vet team started him on a treatment to help his skin.
Agnes said: "The Manchester hospital is absolutely brilliant and makes a real difference to both me and Ruffin."
When the new city's PDSA Pet Wellbeing Centre opened in 2019, Agnes continued to attend for Ruffin's appointments.  The larger facility, with a purpose-build layout, allows owners and pet patients to visit a calm and stress-free environment.
Ruffin's recurring health conditions and appointments to see the vet are now made much easier for him and Anges.
She said: "The waiting room is much bigger at the new hospital, less cramped and stressful, especially now that the dog and cat areas are separate."
"Before Covid restrictions were put in place it was great to be able to look around the pet shop there too, and knowing that anything I spent would help the charity."
"I would be completely lost without PDSA, I honestly would. The treatment they give him ensures he is comfortable and has a good quality of life. They've been a lifeline to me and Ruffin, who is my best friend. His health problems are a constant worry for me, especially as he gets older, as I wouldn't be able to afford a private vet. PDSA takes that worry away and means the world to us; having the new Centre makes our visits even more special."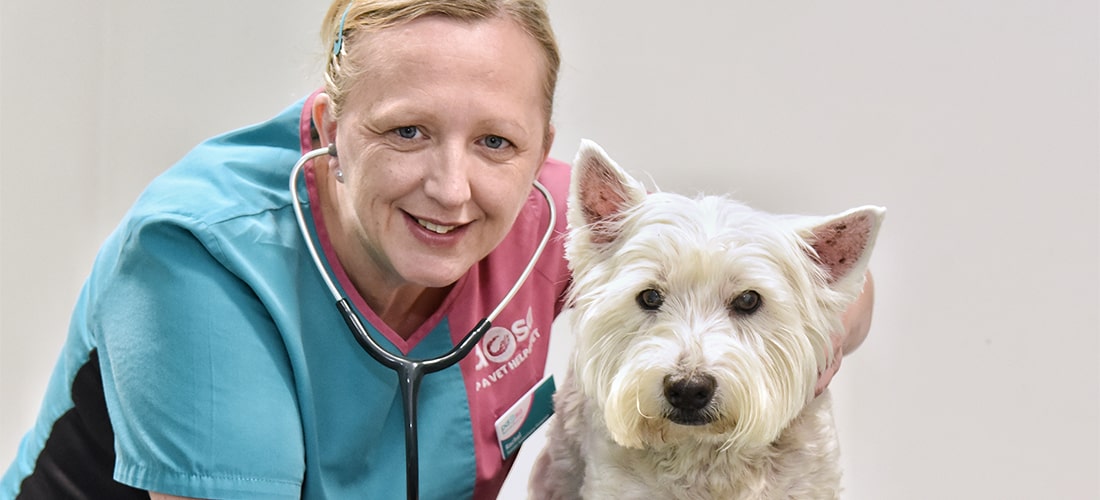 Senior Veterinary Surgeon Rachel Smith who works at the Manchester Pet Wellbeing Centre said "Moving to the new site has been incredibly positive for our team. The building is much larger than the previous building in Old Trafford and very well laid out. To work in and visit such a modern, bright space is wonderful for the team and pet owners alike."
The space was designed to benefit everyone that either visits or works at the centre, with vet, pet and owner's wellbeing at the forefront of the design.
Rachel continued: "The staff room is bright and has plenty of room for our large team to enjoy their break times together. Car parking is ample with separate spaces for owners and staff. The thoughtfully designed surgical suite, kennel and cattery areas are much increased in comparison to the old site. We have separate diagnostic, radiography and dental suites along with two modern, well-equipped operating theatres."
"During the pandemic, we have not been able to make full use of the new hospital's facilities but having so much space has enabled us to work safely as a team. We are very fortunate to be able to offer veterinary care to Manchester pet in need in such a superb hospital."

PDSA is the UK's leading veterinary charity. Through our 48 Pet Hospitals and Pet Care scheme, we save the lives of poorly pets who would otherwise be left untreated.
Every year, we helped over 388,000 pets. Without us, emergency cases like Ruffin's would be left untreated and many pets could lose their lives or be separated from families who love them.
We wouldn't be here for dogs like Ruffin without your support. Please consider donating today.

Give pets like Ruffin a fighting chance
Pets who have been there for us during the pandemic deserve somewhere to turn when they need life-saving treatment.
Your support will help us continue to treat pets like Ruffin
Every £1 donated will help us make sure sick and injured pets get the treatment they desperately need.
Donate to PDSA
Visit the Pet Health Hub
Does your pet have a skin condition like Ruffin? You can find veterinary advice on a wide range of topics on the Pet Health Hub.
Find out more
West Highland Terriers
Find out all about Westies with our detailed breakdown of their characteristics and some fun facts about the breed.
Westies