Thanks to PDSA Vets, Savi the cat is back on all four paws again after getting his toe stuck in a plughole.
11-month-old Savi was being washed by his owner Kriss (33, unemployed), when one of his back paws became trapped in the plughole.
Kriss explained: "I was bathing Savi as he was suffering from diarrhoea and got in a bit of a mess. He didn't enjoy being bathed, so he kicked his legs to get out, which is when one of his toes became stuck. He couldn't release his paw.
"It was really scary. I've never been in a situation like that so I didn't know what to do. I was alone in the house too, which made things worse as no one could help us.
"I tried to remove his toe but couldn't - it was firmly stuck. So instead, I removed the plughole from the bath itself. Once it released, I straightaway took Savi to our local PDSA."
A distraught Kriss brought Savi to Coventry PDSA Pet Hospital, where the vet team carefully assessed his injuries.
PDSA Vet Maisie Hopkins, who treated Savi at the Pet Hospital, said: "Both Savi and Kriss were distressed when they got to us. After examining Savi's toe, we gave him a general anaesthetic before removing the plughole with wire cutters. We then stitched up the wound and applied a bandage before he returned home."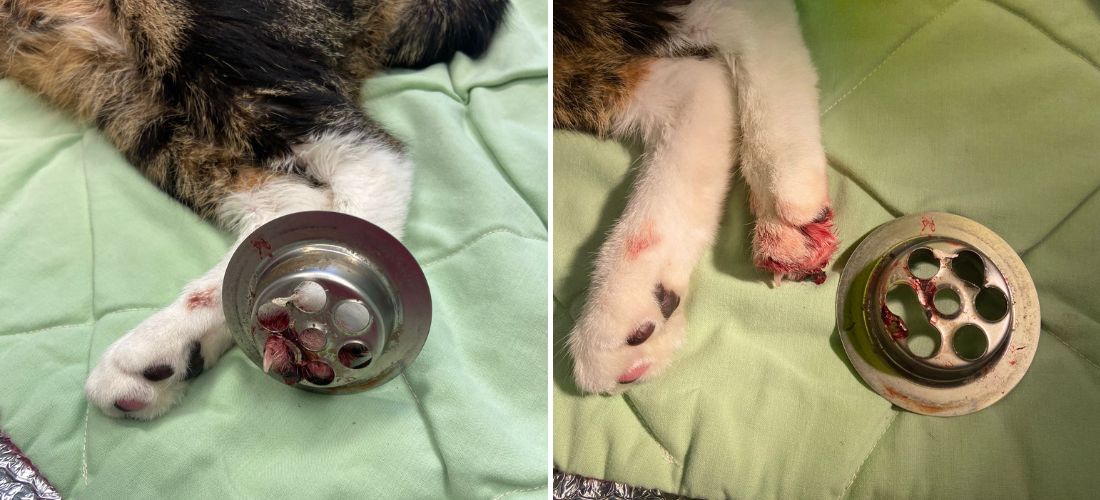 At his post-op check-up appointment a few days later, both Kriss and the PDSA Vet were pleased that Savi's wound was healing well.
Kriss, who is currently out of work training towards his security guard licence, says that the current cost-of-living crisis has been "tough" for him and his fiancé Joanna (29). However, the couple ensures their beloved Savi always "comes first".
He explained: "Times are hard because of the cost of living crisis. We've noticed our bills going up – and not just gas and electricity like you see in the papers. Everything has gone up – food, shopping, basic stuff. It's tough.
"I always make sure Savi has what he needs though. He comes first. He is a loving, funny – but also lazy – cat. He loves to play as much as he loves to sleep. I was worried he wouldn't be the same after what happened because it scared him, but he's back to his usual self.
"I'm very grateful to the kind PDSA staff who helped us. I'm not sure what we would have done without them. They were really there for us when we needed them."
Total cost of Savi's treatment: £281.59

PDSA is the UK's leading veterinary charity. Through our 48 Pet Hospitals and Pet Care scheme, we save the lives of poorly pets who would otherwise be left untreated.
Every year, we helped over 388,000 pets. Without us, emergency cases like Savi's would be left untreated and many pets could lose their lives or be separated from families who love them.
We wouldn't be here for cats like Savi without your support. Please consider donating today.

Give pets like Savi a fighting chance
Pets who have been there for us during the pandemic deserve somewhere to turn when they need life-saving treatment.
Your help will save pets like Savi
Every £1 donated will help us make sure sick and injured pets get the treatment they desperately need.
Donate to PDSA
Poorly pet?
Get vet-approved advice on common symptoms, conditions and medications for pets on our Pet Health Hub.
Visit the hub
Sign up to our newsletter
Want to read more stories like Savi's, keep up with the latest pet wellbeing news, or perhaps you just want to support PDSA? Get your latest PDSA news with our Newsletter.
Sign up today