PDSA save Shenzi the Dalmatian after she swallowed a kebab skewer
Thanks to PDSA, three-year-old Dalmatian, Shenzi, narrowly escaped death after swallowing a six-inch bamboo kebab skewer.
Shenzi's family, who, like many families across the UK, are feeling the impact of the cost of living crisis, could have been faced with a bill totalling hundreds of pounds to treat her life-threatening injuries. Luckily, PDSA was there to help Shenzi and her family. After receiving emergency treatment at the Derby Pet Hospital, Shenzi's on the road to recovery. 
Shenzi's owner, Megan (29), who suffers from Non-Epileptic Attack Disorder and is a full-time carer for her disabled son, explained: "Shenzi appeared a little under the weather, but she was still eating, drinking, and going to the toilet, so initially, we thought she was feeling a bit unwell and would be fine. We were shocked when we saw a lump on her back the following day. 
"We feared the worst and were terrified that it could be cancer. The lump grew bigger as the day went on, so we called our local PDSA Pet Hospital in Derby, who booked us an appointment."
When Megan and her partner, Matt, who works as a scaffolder, arrived at the Pet Hospital, the skewer started to protrude from the back of Shenzi's rib cage, piercing through her skin.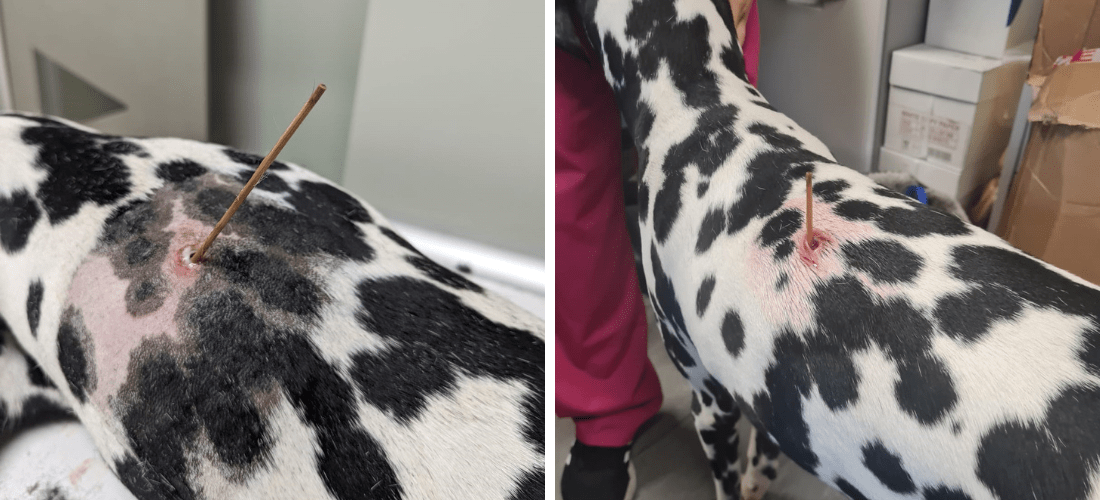 Megan continued: "We couldn't believe what we were seeing. By the time Shenzi was in the consultation room, the skewer was sticking out by a couple of inches. It was absolutely horrifying, and we were distraught. The vets told us they would do everything possible to save Shenzi, but we were also warned to prepare for the worst."
Shenzi was immediately put on a fluid drip and given sedation and pain relief so X-rays could be taken to check where the skewer was sitting. Thankfully, the images revealed that it had not gone into her chest cavity, where it could have punctured or collapsed her lung. The next step was emergency surgery to determine exactly what damage had been done to Shenzi's abdomen.
PDSA Vet Chris Furniss, who performed the surgery, said: "This was a highly unusual case – Shenzi was extremely fortunate that the skewer did not cause her a fatal injury or infection. During surgery, we found it had pierced through her stomach before passing through the abdominal wall, amazingly missing all of her other internal organs on the way. 
"Once we had fully inspected Shenzi's abdomen for any further damage and taken measures to prevent gastric leakage, a drain was placed into the wound to help any fluid and infection drain freely – helping her recover as quickly as possible. Shenzi was given antibiotics and further pain relief and kept at PDSA overnight for observation and treatment. The following morning, she was much brighter and well enough to return to her loving family, much to their, and our, relief."
The drain was removed a few days later, followed by the stitches the week after.
Megan added: "I genuinely cannot explain the relief we felt when the vet called to say the operation was a success and Shenzi was recovering well. We braced ourselves for the worst news and couldn't believe she was ok. The last thing we would ever have imagined to be causing the problem was a kebab skewer, and we had no idea that she had swallowed it. 
"We are so grateful to PDSA for saving Shenzi's life. I suffer from ill health, and my seven-year-old son is severely autistic, so our dog is a great source of comfort to us and really boosts our mental well-being. 
"Shenzi joined our family when my partner and I were working, but our circumstances have changed dramatically. Money is a constant worry, particularly with the price of essentials like heating, fuel, and groceries going through the roof. If we hadn't been able to access veterinary treatment from PDSA, I genuinely don't know what we would have done. Shenzi is a huge part of our life; we would be lost without her."
Total cost of Shenzi's treatment: £771.10

PDSA is the UK's leading veterinary charity. Through our 48 Pet Hospitals and Pet Care scheme, we save the lives of poorly pets who would otherwise be left untreated.
Every year, we helped over 388,000 pets. Without us, emergency cases like Shenzi's would be left untreated and many pets could lose their lives or be separated from families who love them.
We wouldn't be here for dogs like Shenzi without your support. Please consider donating today.

Give pets like Shenzi a fighting chance
Pets who have been there for us during the pandemic deserve somewhere to turn when they need life-saving treatment.
Your help will save pets like Shenzi
Every £1 donated will help us make sure sick and injured pets get the treatment they desperately need.
Donate now
What to do if your dog eats something harmful
Find out what to do if your dog eats something harmful like Shenzi did.
Visit the Hub
Sign up to our newsletter
Want to read more stories like Shenzi's, keep up with the latest pet wellbeing news, or perhaps you just want to support PDSA? Get your latest PDSA news with our Newsletter.
Sign up now
A little treat
Looking to pamper your pet? Why not shop some of our vet-approved products! When you buy with us, you'll help pets like Shenzi.
Shop now