PDSA Vets Save Sunny's Life After He "Inhaled" A Beef Bone
Six-year-old Sunny, a Red Fox Labrador from Glasgow, narrowly escaped death after getting his paws on a beef bone.

His loving owner, Linda Lyttle (45), who like many people across the UK is feeling the impact of the cost-of-living crisis, was faced with a potential bill of thousands of pounds to save his life.

Thankfully, we were on hand to help and, after receiving emergency care at our Glasgow East PDSA Pet Hospital, Sunny is well on the road to recovery.
Mum-of-two Linda said: "It was a complete accident how Sunny came to eat the beef bone. A family member brought it for him, without knowing the problems bones can cause. I left it in the kitchen to dispose of it properly, but my children gave it to him whilst I wasn't there. They said he practically inhaled it."
When Linda returned home the following day, she became increasingly worried about Sunny.

She said: "Sunny didn't look right and his tummy was contracting. I tried taking him for a walk to see if it would get his bowels moving but he just wasn't his usual self – he wasn't excited for the walk and kept stopping. Eventually, I had to call my husband to come and meet us to carry him home. We called our local vets as soon as we got back.".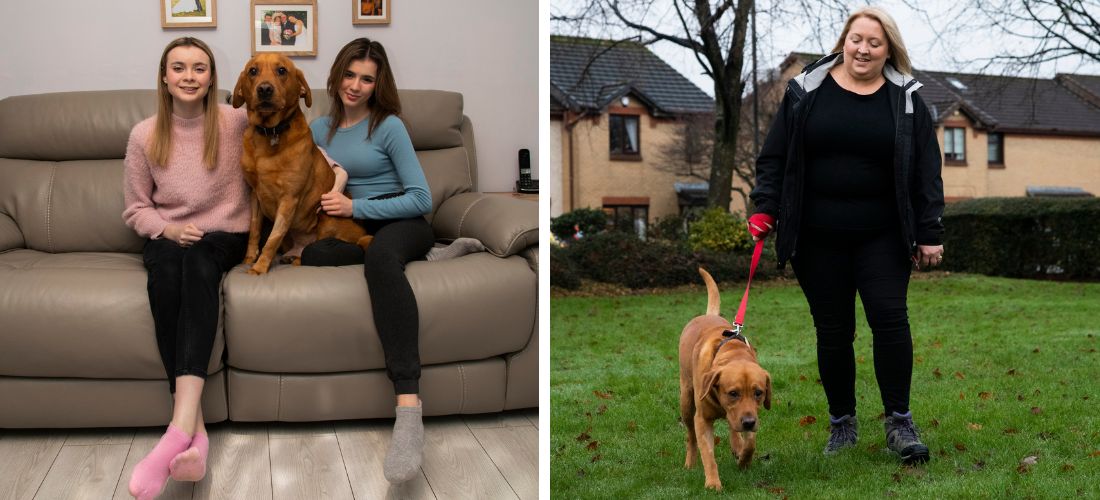 Linda's local vets discovered that the bone was causing a blockage in his intestines and would require intensive care and emergency surgery to remove it, which could cost up to £6,000 – much more than his insurance covered.

Linda, who has a neurological condition and receives tax credits, was devastated as she scrambled to find the funds to save her best friend.

She said: "There was no way I was letting him go. Sunny is my boy, my companion. I got him as a puppy as I was getting lonely; I was on long-term sick leave at the time, due to my neurological condition, and my daughters were at school. He's my shadow, he follows me everywhere."

Fortunately, Linda's husband remembered that a family friend had taken his poorly dog to PDSA before.

Linda said: "I called PDSA straight away and explained Sunny's situation. They told me that the benefits I receive meant I was eligible for reduced cost veterinary care. It was a huge relief."

PDSA Senior Veterinary Surgeon Karin Jamieson said: "Unfortunately the bone had broken up into sharp pieces. As well as the risk that the sharp edges could puncture his intestine, the bone had caused a severe constipation that Sunny was unable to pass. He was at high risk of life-threatening peritonitis (infection) and sepsis, so we had to operate swiftly."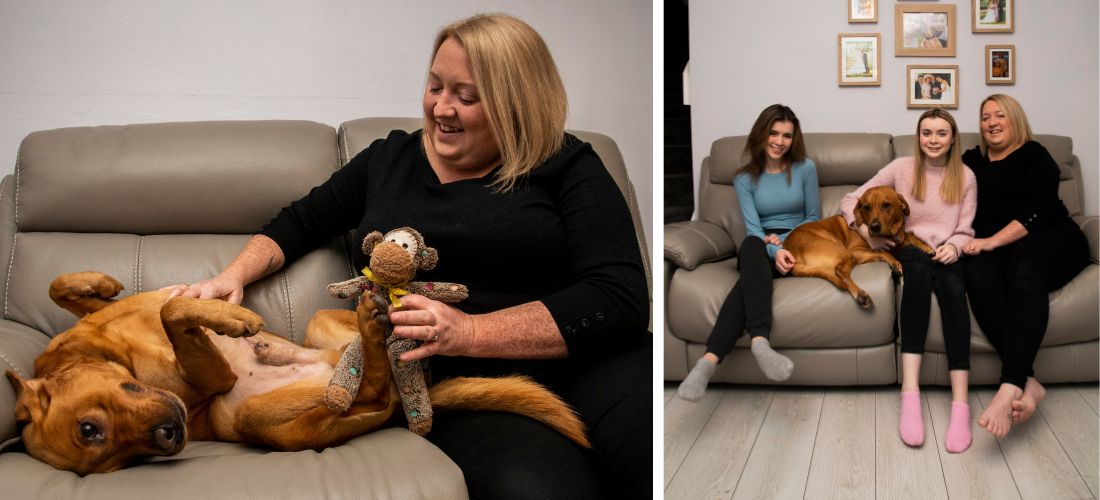 Linda, who wouldn't have been able to afford Sunny's life-saving surgery without PDSA, shared her concerns about being a pet owner during the current cost-of-living crisis.
She said: "My stress levels are through the roof about the cost-of-living crisis. Even though it's much less than what I was expecting to pay privately, I needed to pay for Sunny's treatment and it's coming up to Christmas. But our Sunny is here, we've got out dog. That's all that matters."

She continued: "We're having to cut back on everything. We're not getting Sunny as many toys and treats as he used to get. I've even noticed it's almost £2 for a bag of treats. That's money that could go on something else. I don't cut down on his food though."
"My worry is there are people who don't even know about PDSA - and that you can help them. The fact that people might get into debt unnecessarily or be forced to make an agonising decision about their pet, it's just horrendous. The way things are going now, people can't even afford pet insurance. What do you do? Do you put food on the table or pay for your dog's insurance? I don't want people to go through what we did."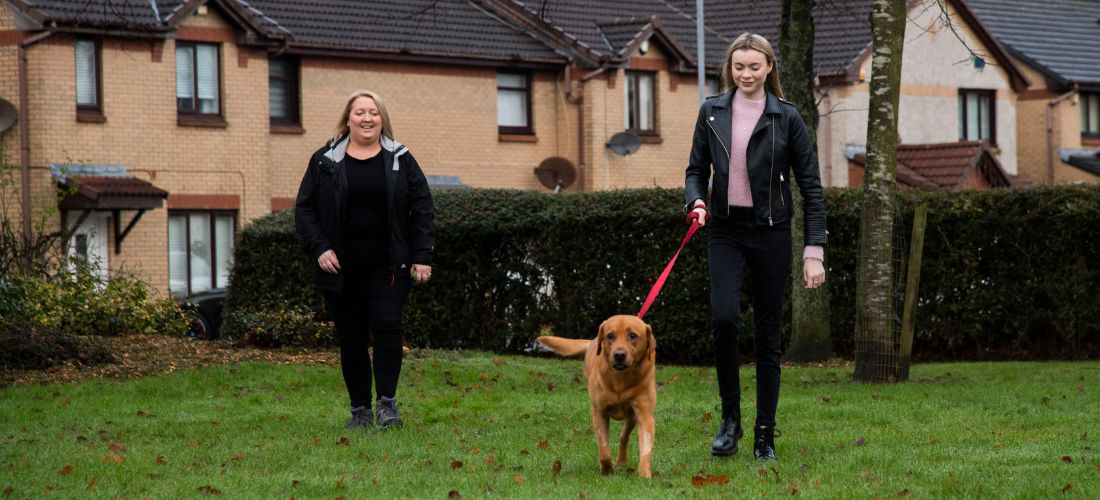 Linda added: "PDSA means the world to me. If it wasn't for PDSA, my boy wouldn't be here - I think even he knows that. At our last visit to PDSA, he went bouncing and flying through the doors. I'm so appreciative of what you've done."

PDSA is the UK's leading veterinary charity. Through our 48 Pet Hospitals and Pet Care scheme, we save the lives of poorly pets who would otherwise be left untreated.
Every year, we helped over 388,000 pets. Without us, emergency cases like Sunny's would be left untreated and many pets could lose their lives or be separated from families who love them.
We wouldn't be here for dogs like Sunny without your support. Please consider donating today.

Help us be there for pets in need
Pets are family. They don't deserve to suffer or lose their life because of financial hardship.
Your support helps to provide vital vet care to pets in need
Donate now to keep people and pets together during the cost of living crisis.
Donate to PDSA
Will you give now to help people and pets in need?
As the cost-of-living rises, vet care could be out of reach for many. Please donate today so we can help people and pets like Linda and Sunny. 
Find out more
Sign up to our newsletter
Want to read more stories like Sunny's, keep up with the latest pet wellbeing news, or perhaps you just want to support PDSA? Get your latest PDSA news with our Newsletter.
Sign up now