Teddy Bear the cat loses his leg in a shocking airgun attack
A cat from Birmingham has been left with life-changing injuries after his leg was amputated following a horrific airgun attack.
Seven-year-old 'Teddy Bear' the cat was taken to Aston PDSA Pet Hospital by his worried owners Rhian and Sharon Bhatoe after coming home with an injury to his leg.
"Teddy Bear hadn't been home in a few days which was really out of character, and when he finally turned up I noticed he had a small wound on his leg, but I didn't know what it was," said Rhian. "I cleaned it up and kept a close eye on him. He seemed to be getting on ok, but then a week later his leg started to swell up and I realised it must be something more serious so I took him straight to the vet."
After arriving at Dulverton Road Pet Hospital, Teddy Bear was examined by PDSA vets, who could see he was in a lot of pain. X-rays revealed the shocking cause – an airgun pellet was lodged in the muscle of his leg.
"X-rays showed that Teddy Bear had sustained a really nasty injury to his hind leg which had been caused by an airgun pellet fracturing the bone. Thankfully, the pellet missed his pelvis, as this would have caused even more serious complications." said PDSA Vet Freddie Allan. "This sort of injury is extremely painful and carries a high risk of bone infection. The damage was so extensive that we were sadly unable to save Teddy Bear's leg and the decision was made to amputate."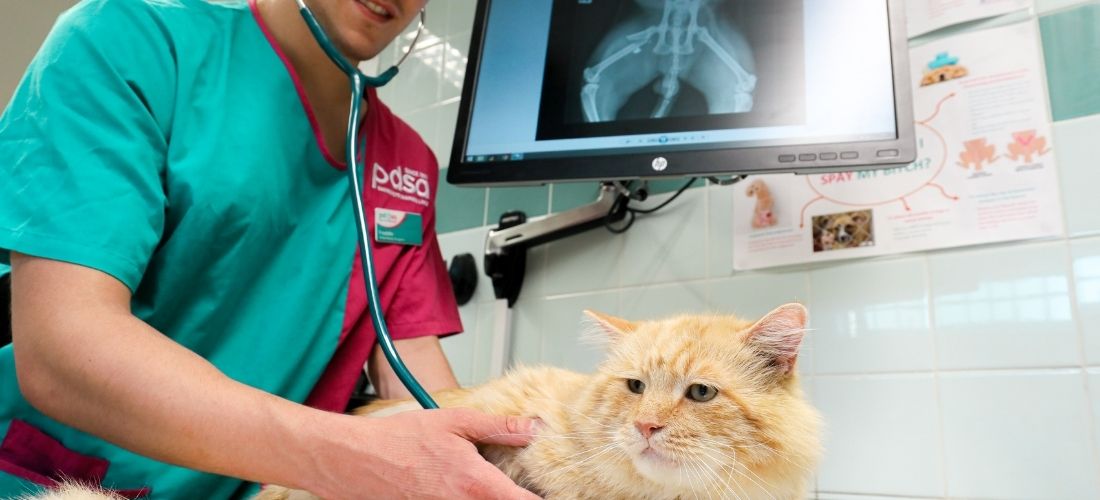 Owner Rhian said: "The team at PDSA really did their best to put our minds at ease. We were so worried that Teddy Bear would have to be put down but they reassured us that they would do everything they could to save his life."
Teddy Bear was allowed to go home on strict rest and was booked in for urgent surgery at the local Aston PDSA Pet Hospital, where the team removed his leg during a 60 minute operation. He was also neutered at the Pet Hospital to help reduce his risk of future fighting and roaming.
PDSA Vet Freddie added: "Air pellet injuries like this can be really difficult to spot as the wounds tend be very small, plus cats can be very good at hiding when they are in pain. We always recommend that you get any unexplained marks or injuries on your cat checked over by a vet as soon as possible."
Following surgery, Teddy Bear stayed at the Pet Hospital overnight, where he was given fluids, pain relief and was closely monitored. The next day, he was able to go home with a buster collar to protect the wound and painkillers to continue his recovery. He visited the Hospital for regular check-ups to monitor his recovery and, despite some initial issues with his surgical wound, is recovering well.
"He is adjusting well to life on three legs," says Rhian. "He is still quite active and getting around. The care Teddy Bear received from PDSA was excellent. The staff were so kind and helpful. I know that Teddy Bear's treatment cost the charity over £1000, which I wouldn't have been able to afford, so I'm incredibly grateful for the support PDSA has provided."

PDSA is the UK's leading veterinary charity. Through our 48 Pet Hospitals and Pet Care scheme, we save the lives of poorly pets who would otherwise be left untreated.
Every year, we helped over 388,000 pets. Without us, emergency cases like Teddy Bear's would be left untreated and many pets could lose their lives or be separated from families who love them.
We wouldn't be here for cats like Teddy Bear without your support. Please consider donating today.

Give pets like Teddy Bear a fighting chance
Pets who have been there for us during the pandemic deserve somewhere to turn when they need life-saving treatment.
Your help will save pets like Teddy Bear
Every £1 donated will help us make sure sick and injured pets get the treatment they desperately need.
Donate to PDSA
Poorly pet?
Get vet-approved advice on common symptoms, conditions and medications for pets on our Pet Health Hub.
Visit the hub
Get a free Pet First Aid guide
Our vets have put together a special Pet First Aid guide with handy tips, advice and steps to follow if you ever find yourself in an emergency situation where your pet is in danger.
Download now