Thea was close to death after being neglected and attacked
Thea was just four months old when she was attacked by an older dog and had been severely neglected. She was in pain, bleeding and terrified of everyone around her.
Without PDSA, Thea wouldn't have lasted much longer.
At just four months old, Thea had already suffered an unimaginable amount of neglect. She had scars across her tiny body and was afraid of her own shadow. The Staffie cross had only had bad experiences of the big wide world and had never been taught how great being a dog can be.
In her short life Thea had never known a loving home. She was alone and had no-one to take care of her.
One day, Thea was attacked by an older dog and needed urgent care. Her neck was badly bitten and she was in a lot of pain. Her chances of survival were looking slim.
Without PDSA, Thea wouldn't have survived
Thea was brought to a PDSA Pet Hospital in a terrible state. She was just skin and bone and the one of the bite wounds on her neck was dangerously close to her jugular.
She urgently needed stitches to stop further bleeding and a lot of care from the veterinary team. She was so timid and distressed it was hard going for the staff at first.
It took a while, but Thea finally began to trust Linda, a Student Veterinary Care Assistant, who was looking after her during her hospital stay.
Thea was on the mend – and found a loving new home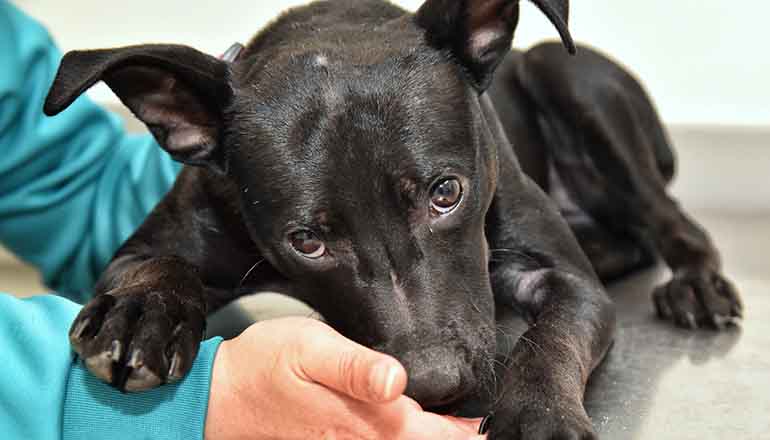 As Thea was signed over to the care of PDSA, Linda was the natural choice to offer her a loving new home. The two bonded from the moment Thea came into the hospital and Linda has been teaching her that the world isn't so scary after all!
They're still taking it one day at a time, but thanks to PDSA Thea has been given a new lease of life and a loving home to go with it.

PDSA is the UK's leading veterinary charity. Through our 48 Pet Hospitals and Pet Care scheme, we save the lives of poorly pets who would otherwise be left untreated.
Every year, we helped over 388,000 pets. Without us, emergency cases like Thea's would be left untreated and many pets could lose their lives or be separated from families who love them.
We wouldn't be here for dogs like Thea without your support. Please consider donating today.

Give pets like Thea a fighting chance
Pets who have been there for us during the pandemic deserve somewhere to turn when they need life-saving treatment.
Your help will save pets like Thea
Every £1 donated will help us make sure sick and injured pets get the treatment they desperately need.
Donate now
Sign up to our newsletter
Want to read more stories like Thea's, keep up with the latest pet wellbeing news, or perhaps you just want to support PDSA? Get your latest PDSA news with our Newsletter.
sign up today
A little treat
Looking to pamper your pet? Why not shop some of our vet-approved products! When you buy with us, you'll help pets like Thea.
Shop now