Timmy receives emergency treatment for a painful tooth root abscess
14-year-old cat Timmy was rushed to New Cross PDSA Pet Hospital after coming home with his jaw hanging open.
Timmy's owner, Leanne O'Sullivan (34), was extremely worried when she discovered that her beloved cat couldn't close his mouth and was unable to eat.
Leanne, a Nursery Teacher from Bromley in South East London, said: "When Timmy came inside I noticed his mouth was open and that he couldn't close it. I was worried that his jaw was broken and he could be in pain, so I contacted my local PDSA for help, and they asked to see Timmy right away."
PDSA Vet, Jenni LePard, said: "When Timmy arrived at the Pet Hospital, we examined him and found that he was unable to close his mouth fully. We saw no obvious signs of a fractured jaw, but he was clearly in a lot of pain, so we needed to sedate him to carry out a full examination and find out what had happened.
"Timmy was anaesthetised and x-rayed, which showed there were no fractures or dislocation to his jaw. We found that his upper right canine tooth (fang) root had an abscess, which had caused the tooth to loosen and sit at an angle, catching on the lower right canine and preventing Timmy from closing his mouth. We operated to extract the tooth and made sure the rest of his mouth was comfortable. He was discharged the same day with antibiotics, pain relief and strict orders to get plenty of rest."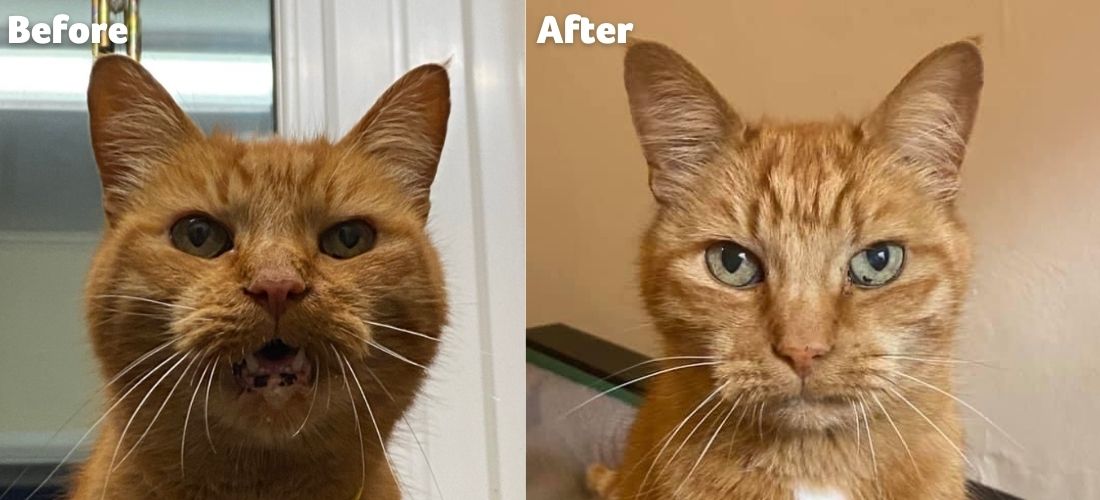 Leanne said: "When I first discovered that Timmy was injured I thought the worst. My pets are my world, and I was distraught at the thought of losing Timmy.
"However, thanks to the fantastic team at New Cross PDSA Pet Hospital, Timmy is now back to his usual, cuddly self. I don't know what we would have done without PDSA. I can't thank them enough for everything they have done for us; they are amazing."

PDSA is the UK's leading veterinary charity. Through our 48 Pet Hospitals and Pet Care scheme, we save the lives of poorly pets who would otherwise be left untreated.
Every year, we helped over 388,000 pets. Without us, emergency cases like Timmy's would be left untreated and many pets could lose their lives or be separated from families who love them.
We wouldn't be here for cats like Timmy without your support. Please consider donating today.

Give pets like Timmy a fighting chance
Pets who have been there for us during the pandemic deserve somewhere to turn when they need life-saving treatment.
Your help will save pets like Timmy
Every £1 donated will help us make sure sick and injured pets get the treatment they desperately need.
Donate to PDSA
Poorly pet?
Get vet-approved advice on common symptoms, conditions and medications for pets on our Pet Health Hub.
Visit the hub
Sign up to our newsletter
Want to read more stories like Timmy's, keep up with the latest pet wellbeing news, or perhaps you just want to support PDSA? Get your latest PDSA news with our Newsletter.
Sign up today