Tinkerbelle received treatment at PDSA when her owner was worried about a lump
7-year-old Rottweiler cross Tinkerbelle was treated by PDSA vets for an abscess that had grown to the size of a tennis ball on her chin.
Tinkerbelle lives with her owner Sarah Jones (47) and her youngest daughter Katie (18) in Birmingham. They have been through so much together, and have been inseparable since Sarah rescued her when she was just a three-month-old puppy.
Worryingly for Sarah, a small lump appeared on Tinkerbelle's chin and quickly grew to the size of a tennis ball. Sarah feared the worst, so she got in touch with the team at Oldbury PDSA Pet Hospital.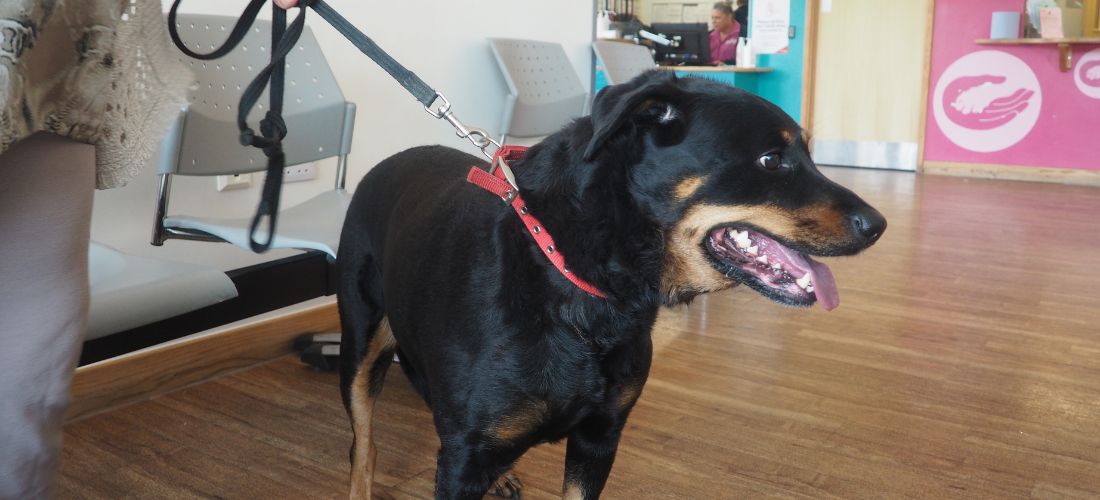 Sarah said: "After a telephone appointment, the team at PDSA quickly arranged a face-to-face appointment to check her over. I was really worried about her and was dreading what the outcome might be.
"Tinkerbelle is our world. Just the thought of losing her was devastating, so I was hoping the lump wasn't something sinister and it could be treated quickly."
PDSA Vet Ian Fleming examined Tinkerbelle's lump and found it was badly infected.
Ian said: "Lumps and bumps are common in pets. They can result from many things, and owners are often understandably anxious about them, especially as their pet gets older. The lump had been causing Tinkerbelle some discomfort, and Sarah told me that she had been scratching it, which had caused it to bleed. We were concerned the lump could be an abscess, which can develop when dogs get infection under their skin, resulting in a build-up of pus, so we prescribed antibiotics and arranged to see Tinkerbelle for a recheck.
"At her check-up appointment, we were pleased to see the lump had reduced completely. Abscesses can sometimes be a recurring problem, so we asked Sarah to keep a close eye on the affected area and to get in touch with any concerns."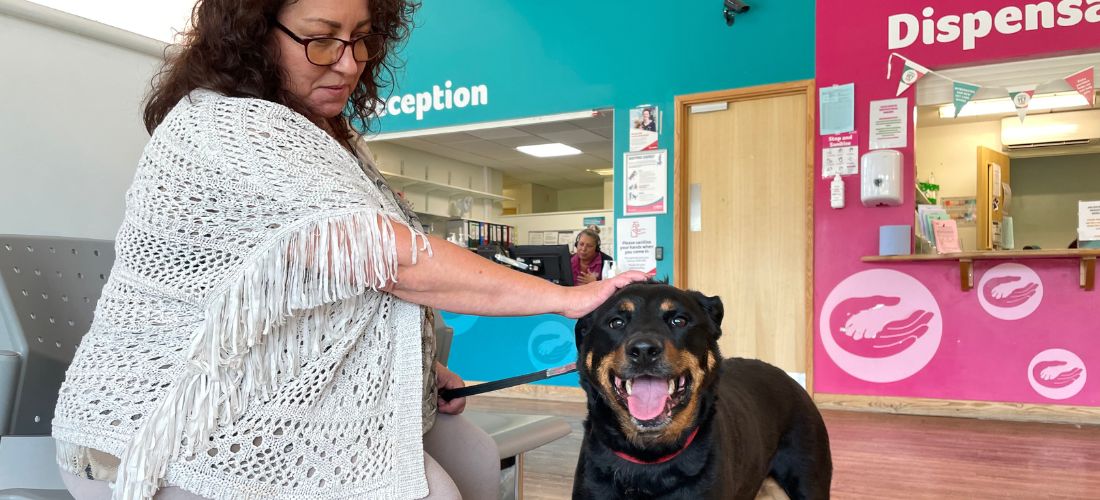 Tinkerbelle has now fully recovered - the abscess went away completely after the course of antibiotics prescribed by the vet.
Sarah said: "My financial situation was a lot different seven years ago when I rehomed Tinkerbelle, and I was confident I could afford to look after her. I used to take her to a private vet, but unfortunately, a few years later, my circumstances changed when my landlord wanted to sell the property we were living in and I had no option but to go on the homeless register. Thankfully we are now settled into a new home, but moving twice and being out of work due to my mental health has been a huge financial hit for me."
Sarah now relies on PDSA's vital services for Tinkerbelle's vet care.
Sarah continued: "I don't know what I would do if PDSA didn't exist. Tinkerbelle has given us so much love and happiness since she's been a part of our family; we couldn't be without her.
"And now, with the cost-of-living crisis, money is tight and we have relied on food parcels, so there's no way I could have afforded additional vet fees when Tinkerbelle suddenly became unwell.
"When my circumstances change again for the better, I will donate as much as I can to PDSA. The amazing staff have been there for us when I haven't been able to afford private vet care, so that will be my way of saying thanks."

PDSA is the UK's leading veterinary charity. Through our 48 Pet Hospitals and Pet Care scheme, we save the lives of poorly pets who would otherwise be left untreated.
Every year, we helped over 388,000 pets. Without us, emergency cases like Tinkerbelle's would be left untreated and many pets could lose their lives or be separated from families who love them.
We wouldn't be here for dogs like Tinkerbelle without your support. Please consider donating today.

Help us be there for pets in need
Pets are family. They don't deserve to suffer or lose their life because of financial hardship.
Your support helps to provide vital vet care to pets in need
Donate now to keep people and pets together during the cost of living crisis.
Donate to PDSA
Will you give now to help people and pets in need?
As the cost-of-living rises, vet care could be out of reach for many. Please donate today so we can help people and pets like Sarah and Tinkerbelle. 
Find out more
Skin lumps on dogs
We know how worrying it can be to find a lump on your dog. To be safe, check your dog regularly and have any new lumps checked by your vet, even if they look harmless.
Read our advice
Sign up to our newsletter
Want to read more stories like Tinkerbelle's, keep up with the latest pet wellbeing news, or perhaps you just want to support PDSA? Get your latest PDSA news with our Newsletter.
Sign up now