Toby makes a jaw-some recovery
A severely injured cat called Toby has survived after needing emergency surgery to wire his jaw back together, thanks to PDSA.
His distraught owner, Brian, found four-year-old Toby covered in blood, with bite marks to his ear and a painful, unstable jaw.
Brian said, "I was absolutely devastated when I discovered Toby in such a distressing state. He lay there in my arms not moving and I feared the worst.
"He is usually a lively cat so it was really upsetting to see him so badly injured and in terrible pain. There was so much blood and his jaw was a mess. We think he'd been attacked by another animal, but we'll never know for sure.
"I'm a pensioner so I was worried about the costs. I took Toby to my private vet who gave him first aid but then I could not afford the £2,000 treatment costs needed to investigate his injuries and fix his jaw. They recommended PDSA and I was able to transfer Toby there, where they treated him as part of their low-cost scheme. I can't fault them, they put Toby's care above everything else."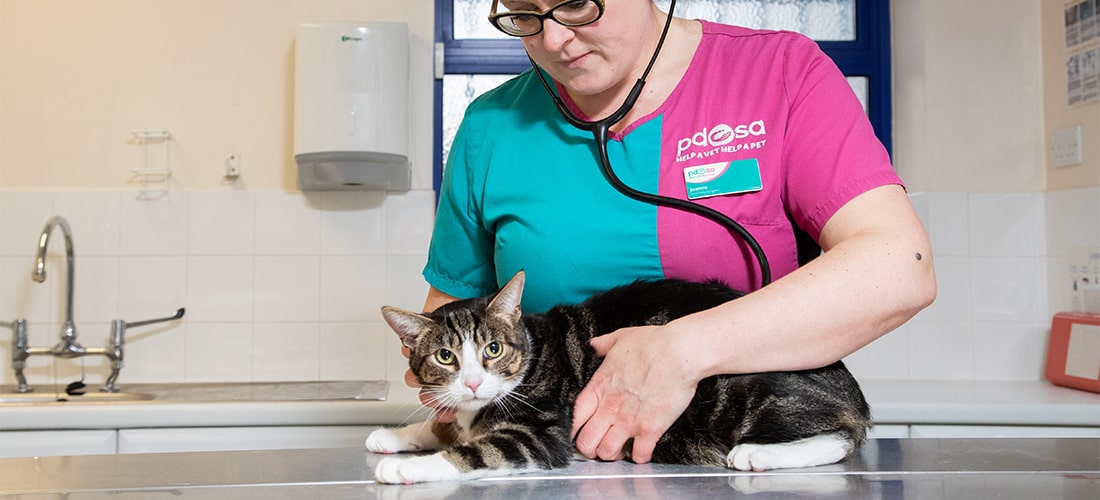 Vets at PDSA diagnosed Toby with a broken jaw and identified multiple puncture wounds across his ear. Toby was also suffering with a painful injury to his back leg.
PDSA Vet Joanne Trow said, "Poor Toby was in pretty bad shape when he came in. As well as his injured jaw he had numerous puncture wounds and was struggling with a nasty limp where his leg had been injured. Thankfully the leg wasn't fractured, but his jaw did need surgical treatment. We come across our fair share of pets that have been in fights, but this was a particularly upsetting case".
"Having a fractured jaw is incredibly painful and can make eating extremely difficult or impossible. So it was essential that we wired Toby's jaw, allowing his bones and tissue to fuse back together. We also used medication to help control Toby's pain throughout his ordeal, making his recovery to full health as smooth as possible."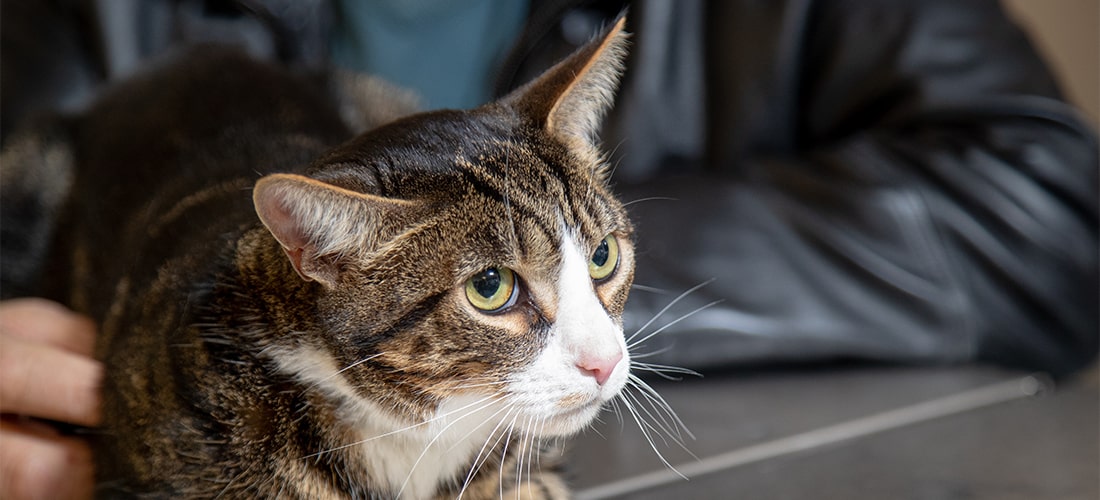 Toby was allowed to go home to recover from his surgery. Following weeks of dedicated care and support from his owner Brian and the veterinary team at Nottingham PDSA Pet Hospital, Toby is now well on the road to recovery.
Vet Joanne added, "Toby has made fantastic progress in a short space of time. His wounds are healing nicely and we have now been able to remove the wire that was supporting his jaw during the healing process. Brian has worked really hard at home to keep Toby comfortable and care for his needs which has really aided his recovery."
Brian said, "We were so incredibly relieved to hear he was going to be ok. Toby has been a massive part of our lives since we adopted him and we would be lost without him. Toby is not quite back to his usual self, but we are getting there slowly. I am keeping a close eye on him and make sure he doesn't stray too far whilst he recovers. Toby has always been there for me, so now we have to be there for him.
"I can't thank PDSA enough for everything they have done for Toby. All the staff – from the receptionists to the vets and vet nurses – were so caring and compassionate. They really looked after Toby and I dread to think what would have happened without their support."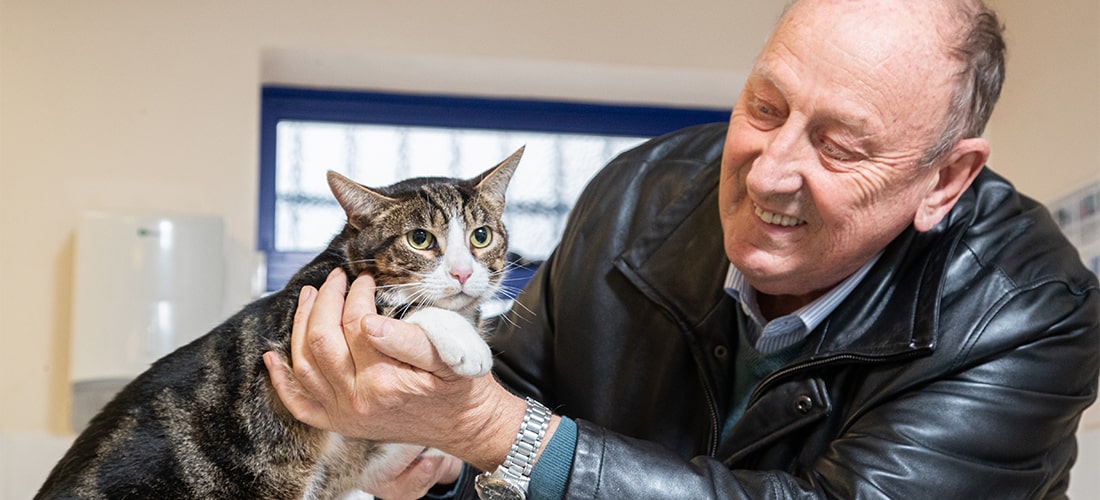 PDSA is the UK's leading veterinary charity. Through our 48 Pet Hospitals and Pet Care scheme, we save the lives of poorly pets who would otherwise be left untreated.
Every year, we helped over 388,000 pets. Without us, emergency cases like Toby's would be left untreated and many pets could lose their lives or be separated from families who love them.
We wouldn't be here for cats like Toby without your support. Please consider donating today.

Give pets like Toby a fighting chance
Pets who have been there for us during the pandemic deserve somewhere to turn when they need life-saving treatment.
Your help will save pets like Toby
Every £1 donated will help us make sure sick and injured pets get the treatment they desperately need.
Donate to PDSA
Poorly pet?
Get vet-approved advice on common symptoms, conditions and medications for pets on our Pet Health Hub.
Visit the hub
Caring for your cat
Our vets have tonnes of top tips for looking after your cat.
Find out more
Sign up to our newsletter
Want to read more stories like Toby's, keep up with the latest pet wellbeing news, or perhaps you just want to support PDSA? Get your latest PDSA news with our Newsletter.
Sign up today