PDSA saves cat flu kitten twins
Four-month-old kittens Twilight and Calypso were taken to Cardiff PDSA Pet Hospital, The Marian and Christina Ionescu Centre, for life-changing surgery after contracting cat flu.
Thankfully PDSA were there to help worried owner Tammi, when her kittens Twilight and Calypso needed help during lockdown. Both were suffering from a severe bout of cat flu, which had started to affect their eyes.
Following an initial telephone consultation with the charities vets, the kittens were taken in for an appointment. Initially, Twilight seemed to be the worst affected.
PDSA vet, Beth Scarrott, examined him when he arrived at the PDSA Pet Hospital, she said: "Twilight was surprisingly bright, but unfortunately his right eye had ruptured, which must have been causing him a lot of pain."
Sadly, Twilight's eye was too badly damaged to be saved. PDSA vets operated to remove it the following day. Once stable he was able to return home with pain relief and medication to treat his other eye.
Tammi described learning that Twilight needed surgery as "daunting", but knew he was in good hands.
While Twilight recovered from his operation, she realized that Calypso was deteriorating fast and also needed urgent help. She said: "Calypso had initially been sneezing and had runny eyes, which the vets had told us are typical symptoms of cat flu."
Despite treatment, Calypso's eye continued to get worse, to the point that she also had to have her eye removed.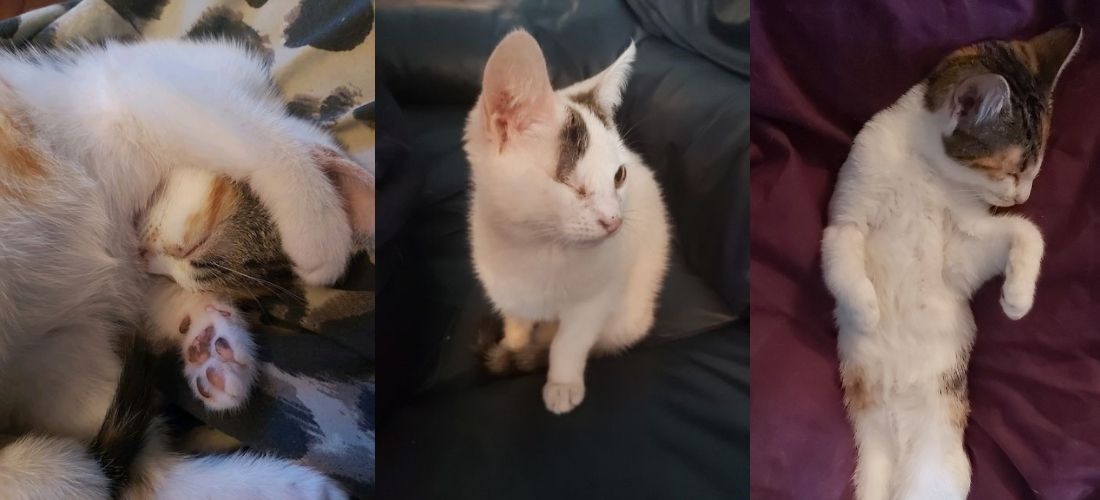 Despite quite an ordeal, including a post-operative infection for Twilight which needed further antibiotics, both kittens have recovered well.  Tammi said: "Their playful behaviour made it difficult to get them to rest. But I'm so pleased with how well they are both doing. They've adapted amazingly."
She continued: "I don't know what I would have done without PDSA. If it wasn't for them, I could have lost them both. They became so poorly so quickly, it was terrifying.  I had never heard of cat flu, so had no idea how serious it was. PDSA are true life savers."
PDSA vet Beth finished: "Cat flu can unfortunately have serious and long-lasting consequences. Luckily Twilight and Calypso were both strong enough to fight the disease and recovered from surgery well. However, they will remain at risk of flare ups for the rest of their lives."
"Vaccination plays a vital role in protect cats against devastating diseases like cat flu."
Both kittens have since gone on to make a full recovery and their playful behaviour has been a great source of laughter during the lockdowns.
Tammi said: "They have helped us massively when we had down days throughout lockdown and we love watching them zooming around and creating a mess with their toys. They have also comforted us by cuddling up on the sofa as if they knew something was wrong. They mean a lot to us, PDSA has helped us all as a family."

PDSA is the UK's leading veterinary charity. Through our 48 Pet Hospitals and Pet Care scheme, we save the lives of poorly pets who would otherwise be left untreated.
Every year, we helped over 388,000 pets. Without us, emergency cases like Twilight and Calypso's would be left untreated and many pets could lose their lives or be separated from families who love them.
We wouldn't be here for cats like Twilight and Calypso without your support. Please consider donating today.

Give pets like Twilight and Calypso a fighting chance
Pets who have been there for us during the pandemic deserve somewhere to turn when they need life-saving treatment.
Your help will save pets like Twilight and Calypso
Every £1 donated will help us make sure sick and injured pets get the treatment they desperately need.
Donate to PDSA
Poorly pet?
Get vet-approved advice on common symptoms, conditions and medications for pets on our Pet Health Hub.
Visit the hub
Sign up to our newsletter
Want to read more stories like Twilight and Calypso's, keep up with the latest pet wellbeing news, or perhaps you just want to support PDSA? Get your latest PDSA news with our Newsletter.
Sign up today