PDSA vets come to the rescue after a 10-week old puppy takes a tumble
Willow, an adorable 10-week old Cockapoo puppy, needed emergency help from PDSA when she slipped off a garden bench and fractured her thigh bone.
Willow's owner, Lauren (23), had only recently brought her new furry family member home. She explains: "When we first saw Willow with her mum, she was such a tiny little thing. We thought the name 'Willow' was sweet and dainty, just like her, so it was perfect. She's a lively puppy and loves playing with her Frisbee, but she's at her happiest when she's surrounded by people. She's so loving and affectionate."
On the day of the accident, Lauren was also looking after her Mum's Cocker Spaniel, Dolly. She explains: "Willow is besotted by Dolly. The two are inseparable and Willow loves following her around everywhere. That morning, the two dogs were playing together in the garden when suddenly I heard a loud cry come from outside. It was a sound I will never forget.
"I ran to the garden straight away, not knowing which dog was hurt until I saw Willow on the floor, crying out in pain, and unable to move."
Though Lauren did not see what happened, she suspected Willow had tried to jump onto the garden bench in an attempt to copy Dolly's actions. As a small puppy, this was beyond Willow's capability, causing her to fall and seriously injure herself.
Distressed and unsure of where to turn, Lauren rang her Mum for advice. She continued: "I was in shock and I felt sick with fear. I called my Mum and she told me to ring PDSA immediately. She reassured me that Willow was in safe hands, as whenever she had needed PDSA in the past, they had always provided the best care. I called them right away."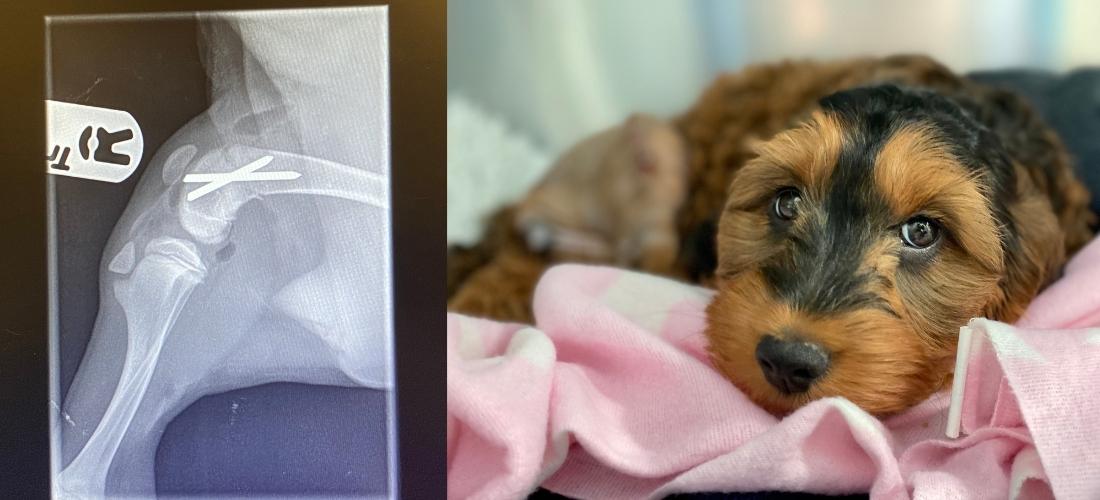 Unable to bear any weight on her right hind leg, Willow was rushed to PDSA Bristol Pet Hospital where she quickly received pain relief medication. She was then sedated for an x-ray.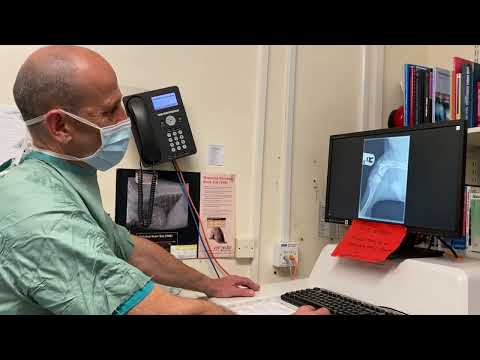 Video found at youtu.be/csRu2pTH1YQ
PDSA vet, Manolo Hervada-Gonzalez, said: "X-ray results showed that Willow had fractured her right femur (thigh bone) and would need emergency surgery to pin the fracture together. As a young puppy very much still in her growth stage, it was crucial that we tended to the injury quickly. We successfully operated on Willow the next morning and she was discharged later on that day with pain relief medication and instructions for strict rest."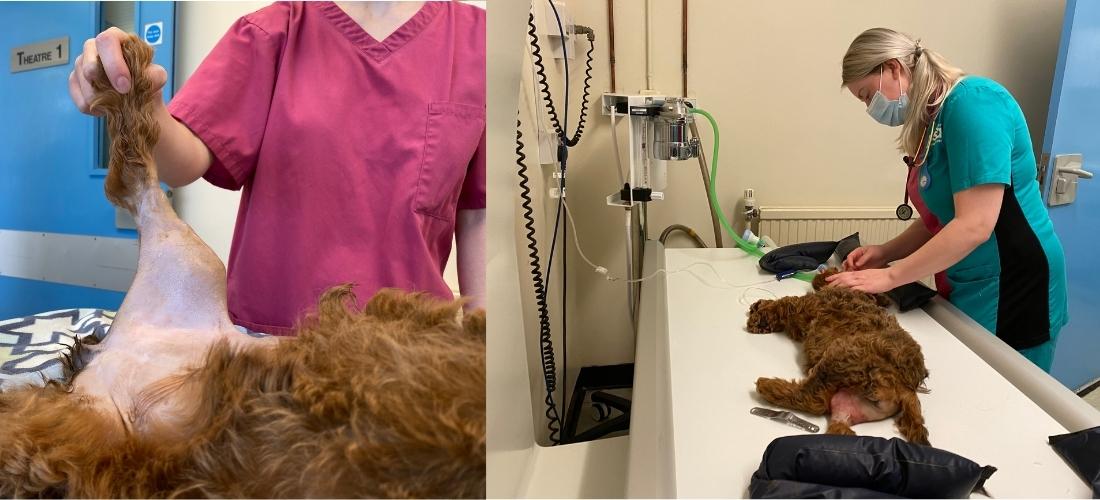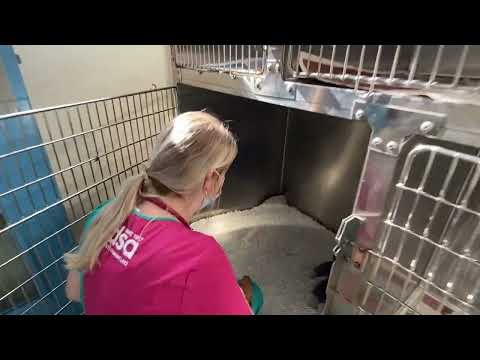 Video found at youtu.be/envI9ObbGX0
Four days later, Lauren took Willow back to the Pet Hospital for a check-up appointment. During this time, Willow had already made huge progress.
Lauren explains: "To my disbelief, Willow was already able to bear weight on her leg less than a week after her operation, keeping her quiet was the challenge! Fast forward a few weeks, she's recovering better than anybody anticipated and we're now able to go on walks together. She is so happy and her tail is constantly wagging!"
She continued: "I can't thank PDSA enough. The team at the Bristol Pet Hospital were simply amazing - they were so quick to treat Willow and reassured me every step of the way. I don't know what I would have done without PDSA's help as I would struggle to afford private veterinary care. I'll be forever grateful that they were there for Willow and I when we needed them."

PDSA is the UK's leading veterinary charity. Through our 48 Pet Hospitals and Pet Care scheme, we save the lives of poorly pets who would otherwise be left untreated.
Every year, we helped over 388,000 pets. Without us, emergency cases like Willow's would be left untreated and many pets could lose their lives or be separated from families who love them.
We wouldn't be here for dogs like Willow without your support. Please consider donating today.

We need your help so we can treat more pets like Willow
Pets who have been there for us deserve somewhere to turn when they need life-saving treatment.
Your support will help us continue to treat pets like Willow
Every £1 donated will help us make sure sick and injured pets get the treatment they desperately need.
Donate to PDSA
Poorly pet?
Get vet-approved advice on common symptoms, conditions and medications for pets on our Pet Health Hub.
Visit the hub
Sign up to our newsletter
Want to read more stories like Willow's, keep up with the latest pet wellbeing news, or perhaps you just want to support PDSA? Get your latest PDSA news with our Newsletter.
Sign up today