Willow received emergency treatment for her overgrown teeth
Willow, the rabbit, developed painful overgrown teeth, which prevented her from closing her jaw and eating correctly.
5-month-old rabbit Willow lives in Bolton with her loving owners Katie Humphreys (31) and her daughter Holly (12). Katie said: "Holly ensures Willow is fed and entertained every day, and she always helps me clean her hutch."
Katie grew concerned though, when she noticed Willow wasn't being her usual self and she wasn't eating as much.
Katie said: "When I noticed Willow was off her food, I had a look at her mouth and noticed her front teeth seemed overgrown, and her mouth didn't look normal.
"I was worried about her, so I contacted my local PDSA Pet Hospital for help, and they asked to see her the same day."
Vets at Manchester PDSA Pet Hospital examined Willow's teeth. Sadly, Willow's teeth had become overgrown and misaligned so she was struggling to close her jaw.
As rabbits' teeth grow continuously throughout their lives, it's important their teeth are aligned so they wear down evenly. Some rabbits sadly are born with teeth that don't line up correctly, resulting in overgrown and misshapen teeth. This is a particular problem in flat faced, or brachycephalic breeds such as Miniature Lops and Netherland Dwarfs. Rabbits can also develop problems with their teeth if they don't have enough opportunities to chew and grind their food, which is why hay is such an important part of their diet.
The only option for Willow was to have a procedure under general anaesthetic to remove her incisors (front teeth). While this is a major operation for such a young rabbit, if the teeth are left they will continue to grow out of place, causing long term problems and pain.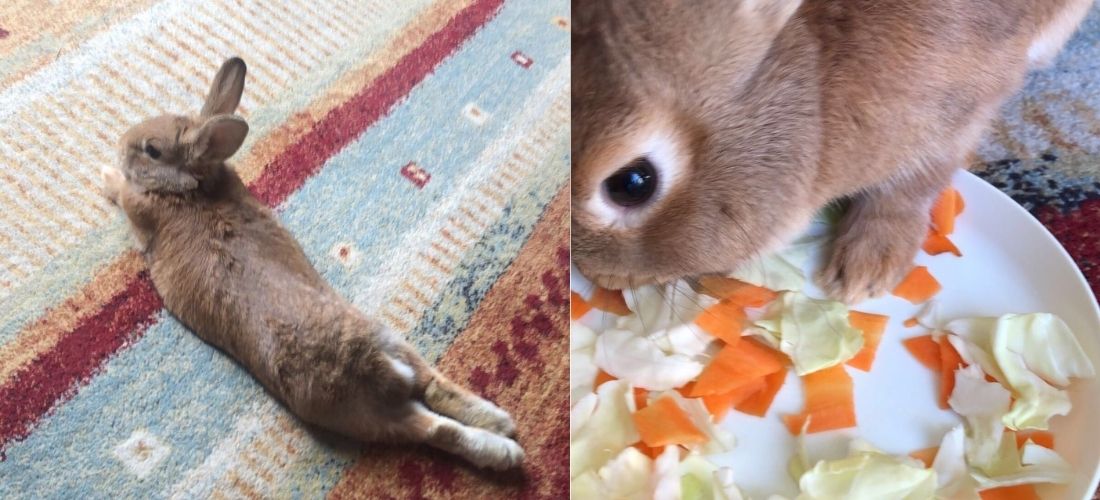 PDSA Vet Lynne James said: "Even though Willow had been fed plenty of hay to help keep her teeth healthy, they had overgrown, likely as a result of inherited problems with her mouth shape. If left untreated, teeth can grow into the rabbit's gums or the roof of their mouth and cause further issues.
"Incisors (front teeth) are for picking up and cutting food. If they overgrow or grow in the wrong direction, your rabbit will have problems eating, drinking, grooming and closing their mouth. If front teeth are causing problems, the back teeth will likely also be problematic, so it's important to monitor your rabbits' teeth regularly."
Following Willow's dental treatment she was discharged home to her owners with pain relief and special rabbit recovery food, which needed to be fed via a syringe. Thankfully, she has fully recovered.
Katie said: "Holly loves Willow and was distraught when she found out she needed surgery, but I reassured her she was in good hands at PDSA. I was really upset when I realised that Willow's teeth had grown strangely, I couldn't understand what had happened, as her main diet was hay, so I thought she would be fine, but it just goes to show that even when feeding the correct food, it's important to be aware of potential problems. Now I check Willow's teeth regularly and look out for any signs of her dropping food or not grooming herself properly.
"The treatment she received from the Vets and Vet Nurses was amazing, and they thoroughly explained the procedure and risks involved with her surgery. As a single parent, I would have struggled with private vet costs."

PDSA is the UK's leading veterinary charity. Through our 48 Pet Hospitals and Pet Care scheme, we save the lives of poorly pets who would otherwise be left untreated.
Every year, we helped over 388,000 pets. Without us, emergency cases like Willow's would be left untreated and many pets could lose their lives or be separated from families who love them.
We wouldn't be here for rabbits like Willow without your support. Please consider donating today.

We need your help so we can treat more pets like Willow
Pets who have been there for us deserve somewhere to turn when they need life-saving treatment.
Your support will help us continue to treat pets like Willow
Every £1 donated will help us make sure sick and injured pets get the treatment they desperately need.
Donate to PDSA
Poorly pet?
Get vet-approved advice on common symptoms, conditions and medications for pets on our Pet Health Hub.
Visit the hub
Sign up to our newsletter
Want to read more stories like Willow's, keep up with the latest pet wellbeing news, or perhaps you just want to support PDSA? Get your latest PDSA news with our Newsletter.
Sign up today