Winston's battle to survive after suffering deadly twisted stomach
Winston's stomach was bloated and twisted. He couldn't hold his food down and was in extreme pain, unable to tell his owner what was wrong. He was rushed to PDSA where he stopped eating and his owner was terrified of losing their beloved companion.
Without PDSA, Winston's owner would've had nowhere to turn.
It was just another day for two-year-old Dobermann, Winston, and his doting owner, Stella. The two of them did everything together and Winston would often be found at Stella's side, getting involved in whatever she was up to at the time. Winston was Stella's best friend and loving companion.
He was on a special food because he had a sensitive stomach, so when he started to be sick Stella couldn't understand what was wrong.
Winston was in a lot of pain. He had no way of telling his worried owner. When the usually food-loving pup stopped eating and wasn't his normal bouncy self, Stella took him straight to their local PDSA Pet Hospital to find out what was wrong.
Little did she know, Winston's life was hanging in the balance.
Without PDSA, Winston wouldn't have made it
PDSA Vet Hannah examined Winston straight away. At first she thought it might have been a blockage, but when she felt Winston's stomach she found it swollen and painful.
Winston was rushed through for an x-ray which showed his massive, gas-filled stomach. This was a tell-tale sign of a twisted stomach (GDV) – a deadly condition more common in larger breeds like Winston.
It was a race against time to save Winston's life. His chances of survival were slim as the condition can kill within a matter of hours. Stella was distraught as the vet team prepped Winston for emergency surgery. He was deteriorating fast so every second mattered. They prepared Stella for the worst, but did everything they could to save Winston.
It was a long and intricate operation, but thankfully went well. The team added some extra stitches to help stop the problem from happening again and Winston was kept in to recover. When he was well enough, he returned home with a very pleased – and relieved – Stella.
Winston was able to bounce back to his old self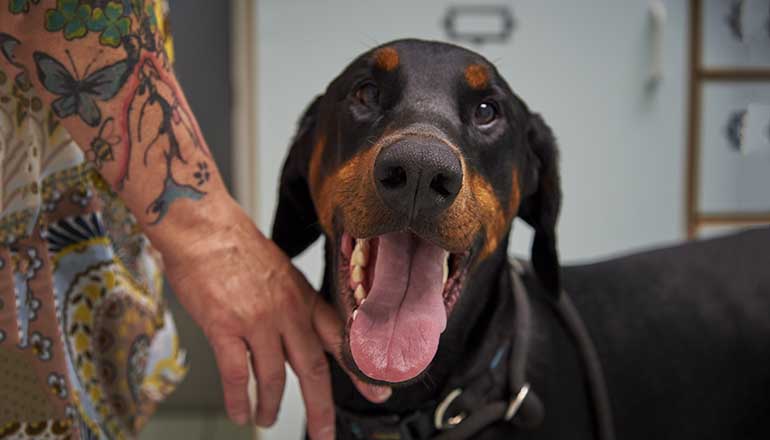 Stella got her best friend back, but without the vets and nurses at PDSA it could have been a very different story.
Stella sees Winston's survival as a miracle made possible by the help of PDSA. He's now home where he belongs, running and playing.

PDSA is the UK's leading veterinary charity. Through our 48 Pet Hospitals and Pet Care scheme, we save the lives of poorly pets who would otherwise be left untreated.
Every year, we helped over 388,000 pets. Without us, emergency cases like Winston's would be left untreated and many pets could lose their lives or be separated from families who love them.
We wouldn't be here for dogs like Winston without your support. Please consider donating today.

Give pets like Winston a fighting chance
Pets who have been there for us during the pandemic deserve somewhere to turn when they need life-saving treatment.
Your help will save pets like Winston
Every £1 donated will help us make sure sick and injured pets get the treatment they desperately need.
Donate now
Gastric Dilatation Volvulus (GDV)
Find out more about the symptoms, causes and treatments for GDV on our Pet Health Hub.
Visit the Hub
Sign up to our newsletter
Want to read more stories like Winston's, keep up with the latest pet wellbeing news, or perhaps you just want to support PDSA? Get your latest PDSA news with our Newsletter.
Sign up now
A little treat
Looking to pamper your pet? Why not shop some of our vet-approved products! When you buy with us, you'll help pets like Winston.
Shop now